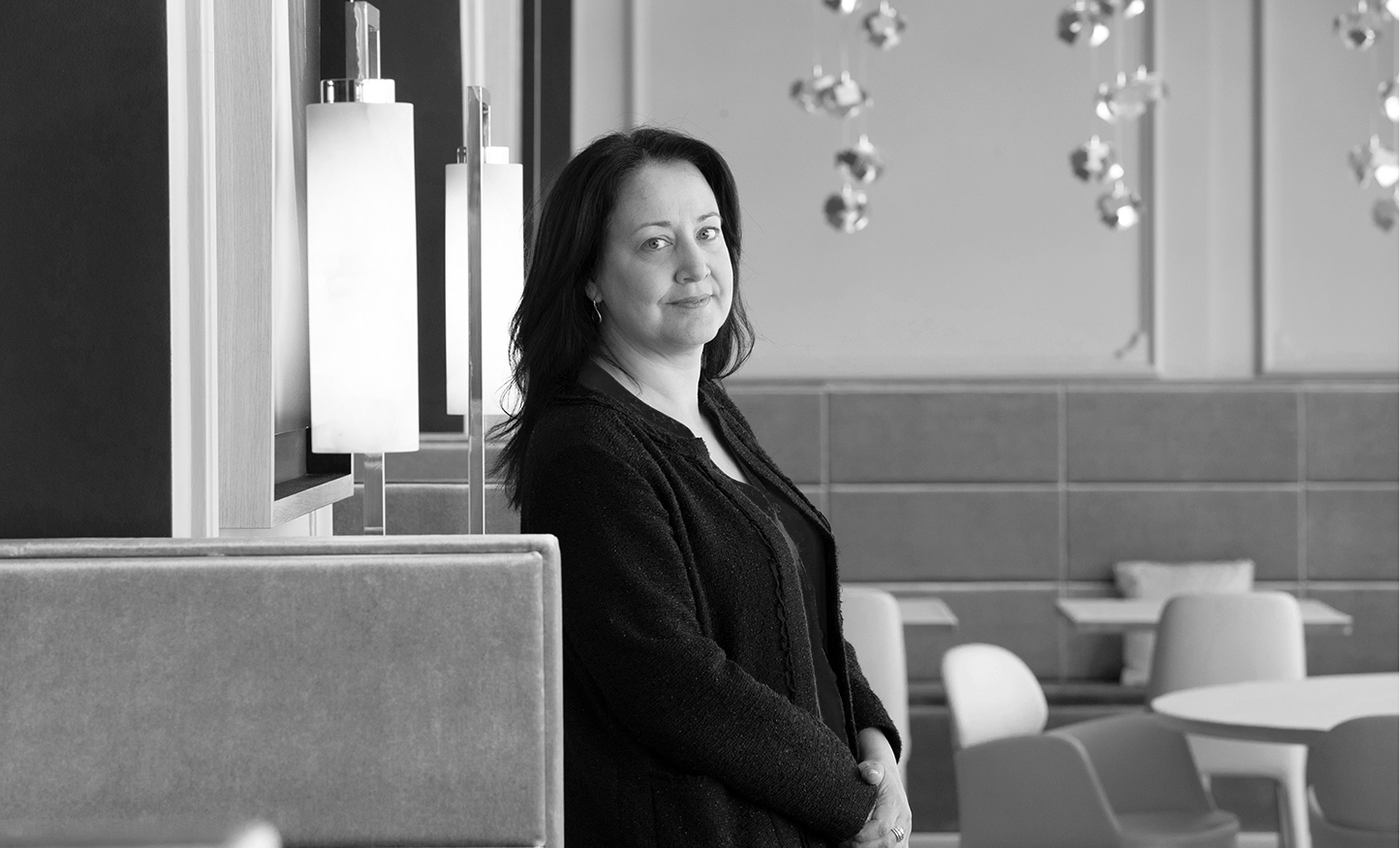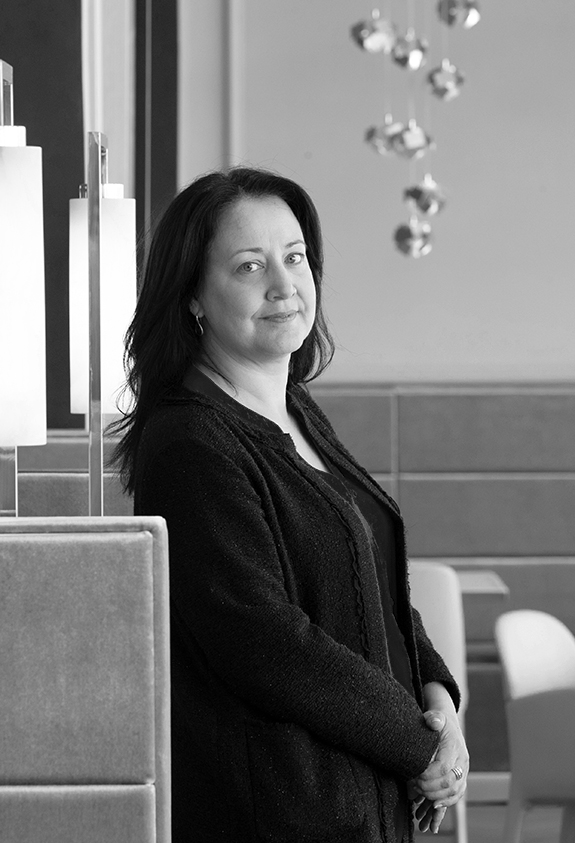 Having put a number of Glion faculty in our spotlight in recent months, we now turn our attention to the person who oversees this incredible reserve of knowledge: Academic Dean Barbara Miller.
"Back when I finished university and my aim was to build my career in hospitality, if you'd asked me what I'd end up doing, I don't think I'd have said Academic Dean! But it's something I really enjoy."
As Glion's Bulle campus sweltered in Europe's summer heatwave, Academic Dean Barbara Miller seemed to have little problem keeping cool, calm and collected. Perhaps this is the kind of serenity that comes with 20 plus years' experience of campus life? Perhaps it's also the sense of personal and professional satisfaction that comes from having recently earned a Doctorate after eight years' study?
Either way, a level head must be a useful asset when taking on such an extraordinarily multi-faceted role.
"I see my job as enabling the people around me to do the jobs – whether that's a faculty member, the teams looking after and managing our academic programs, or our other departments providing resources to students and/or faculty," she explains. "I'm part operational director, since I orchestrate the academic aspects, such as making sure the faculty planning and timetables knit together. I also recruit new faculty and oversee their professional development to ensure a positive teaching and learning experience for students.
"In addition, I have an eye on the strategic side: looking constantly at our programs and making sure what we do today fits with our strategic plan, and that the student competencies developed through our programs and courses are what employers need. Then there's exploring new academic programs, technologies, and products for the future.
"Last but not least, I'm also here as a problem-solver and adviser. For example, if a faculty member has a question about an assessment, or wants to redesign a course or learning outcome, then I can give advice and support through our established governance process. I need to have a strong holistic view over our programs, to make sure all the learning outcomes and requirements are fulfilled by both faculty and students."
"Put all these tasks together and an academic dean's role is complex, creative, as well as being very satisfying as I see our students going on to be highly successful in their careers and lives."
Relishing the freedom to be agile
The freedom to adapt and develop course content is one of the primary reasons why British-born Barbara has stayed both in Switzerland and within the private education sphere for more than two decades.
Naturally enough, this story actually begins in the UK. Having originally studied hospitality at what is now Bournemouth University, Barbara worked within the hotel industry, in both the F&B and rooms division areas. She also became part of a successful consultancy which specialized in turning around distressed hotels.
Then, with around 10 years of industry experience under her belt, Barbara moved into academia, taking a Certificate of Education at London's University of Greenwich to pave the way to becoming a full time teacher.
"When I worked in education in the UK there was a single, set curriculum that everybody followed – it stifled creativity and left no ability to be current, nor to forge closer links with industry. And this is where Glion is just fabulous – we can stay current because we have the flexibility to adjust our programs in no time at all.
"Here in Glion you take responsibility as a faculty member, because it's your course and your content. And the outcome is so much more positive, because this scenario encourages you to constantly update your teaching and content. For example, when our students go out on internship we find out from them whether some particular learning helped them in that professional environment. And when they say, 'yes it really helped me' it's a great feeling, since it confirms to us that our curriculum and consequent learning is valid and useful to both students and employers.
"Ultimately, we're here to help our students to be employable and successful in the longer term. I'm passionate about business education, and hospitality education. It's all about building competency, as well as soft skills like confidence, an eye for detail, positivity, and professionalism."
Demanding doctorate
Barbara's passion for education applies personally, too. It saw her through eight years of classroom learning, research, study and thesis construction; all of which have earned her the letters DBA (Doctor of Business Administration) after her name.
Her doctorate studies revolved around online learning; but from the faculty perspective – at the time a rarely-explored facet of the proliferation of online courses. "I'm very interested in the theory of disruptive innovation, so for my research I adapted it to the world of online learning, and in particular how faculty members were adapting to online environments," she says.
"My study explored employee resistance to disruptive technological change in higher education. I ended up recording the lived experiences of 20 faculty members who have gone through the transition from face-to face to online teaching. For some, the ability to work part time and remotely was a draw; but for others there were worries about the amount of preparation time, a lack of academic freedom, or – most of all – a sense of missing the classroom environment and the face-to-face interactions with students."
Building the most supportive environment
For Barbara, the biggest professional takeaway from her doctorate research is the essential need for close faculty support. "We have to enable faculty to feel secure, whether working face-to-face or in an online setting; also, to ensure that they are recognized for the work they are doing and feel supported by line managers. These were all themes that came through really strongly in my research."
Support from industry is also paramount for Barbara, particularly when it comes to the semester seven specializations which are such a vital part of a Glion Bachelor's student's transition into the professional environment.
"For me, the rationale for semester seven is to enable students to really think about where they want to go in their careers; and how we as an institution can immerse them into a teaching and learning methodology that will feel a little like being in the world of work."
"We're very fortunate to have outstanding industry connections that enable us to make this happen. Many of our faculty come from senior industry roles and they have contacts and a professional network that you won't find in many other institutions."
As the interview concluded, Barbara got back to preparing for her personal highlight of Glion's year: Graduation Day. "This is a very special moment for all of us, not just for the students and their families," she enthuses. "It's always wonderful to see how the graduates have developed and matured in their time with us. So many parents come up to us on Graduation Day and say that their son or daughter is unrecognizable from the person they were three-and-a-half years ago.
"Our graduates are very able people, who go off into industry and do great things. I'm very proud of that."