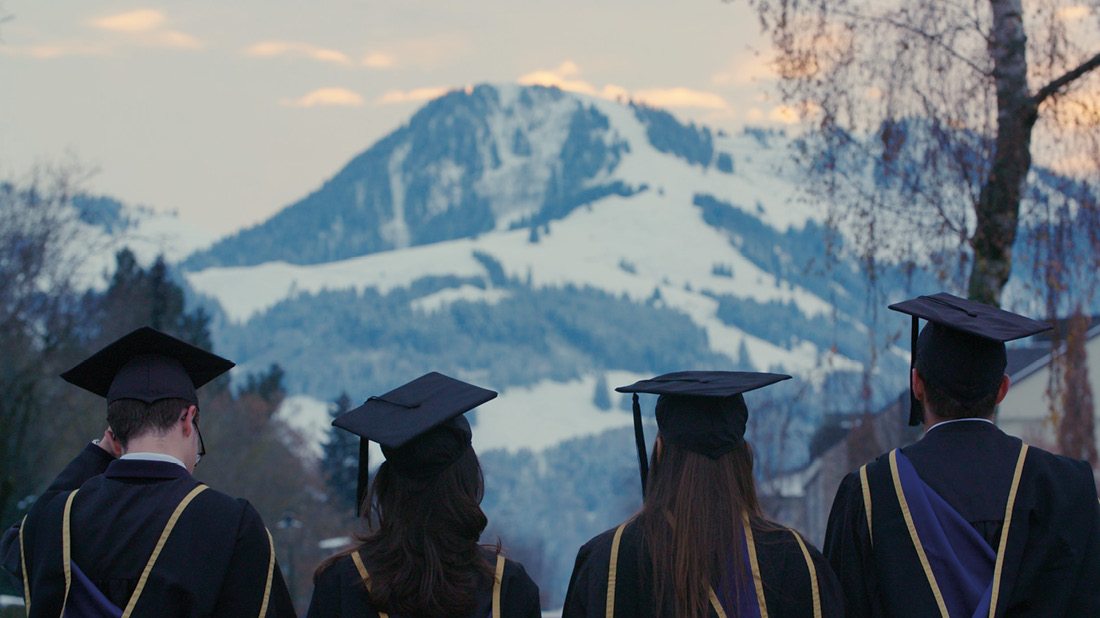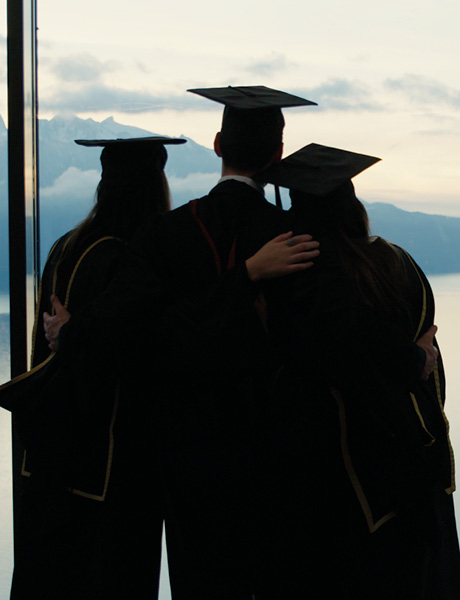 Variety. Opportunities to travel. Flexibility. Teamwork. Passion. New experiences. Prestige. Great perks. If you imagine your dream job, these might be some of the things you're looking for. But can one industry or career path offer it all?
Graduates and young professionals are increasingly looking for job opportunities and career journeys that depart from the traditional 9-to-5. Globally minded Millennials and Gen Z who don't just want a typical "day-job" are actively seeking out a deeper sense of purpose at work. With a taste for travel, socializing and adventures—especially in a post-pandemic world—it's little wonder that the diverse and dynamic industry of international hospitality appeals to students and career-changers alike.
For 60 years, Glion has been among the world's leading institutions for hospitality and luxury management, so we're well aware of the life-defining opportunities and job satisfaction that can be found in the business of hospitality. Those who have never considered a future in our industry might be surprised by the variety of opportunities available—all of which score highly on that exclusive "dream job" wishlist.
What is hospitality? (hint: it's more than just working in hotels and restaurants)
If you ask the average person to imagine a typical hospitality job, they may picture a role behind the desk of a hotel lobby or front of house at a restaurant. The truth is, there is no "typical" job in hospitality. As a hospitality professional, the sheer diversity of the industry means you'll never be limited in your job search.
Defined as offering a warm welcome to guests, "hospitality" is fundamentally about providing a fantastic customer experience. Of course, service excellence is highly valued within hotels and eating establishments, but the skills required to deliver an incredible customer experience are highly transferable. Moreover, the variety of professional roles that come together to deliver that experience are incredibly wide-ranging.
For instance, a hotel is a microcosm that encompasses everything from culinary arts to finance, human resources to project management, communications to purchasing, business management and entertainment. Likewise, you'll find the same variety in other traditional hospitality venues, such as cruise ships, spas, nightclubs, bars, casinos and travel agencies. The industry also crosses over into the world of real estate, tech and all manner of businesses behind the best luxury experiences.
This is what makes a degree in hospitality such a wise option: it's a springboard into a strong, diverse industry, and it opens the doors to wide-ranging, specialized roles.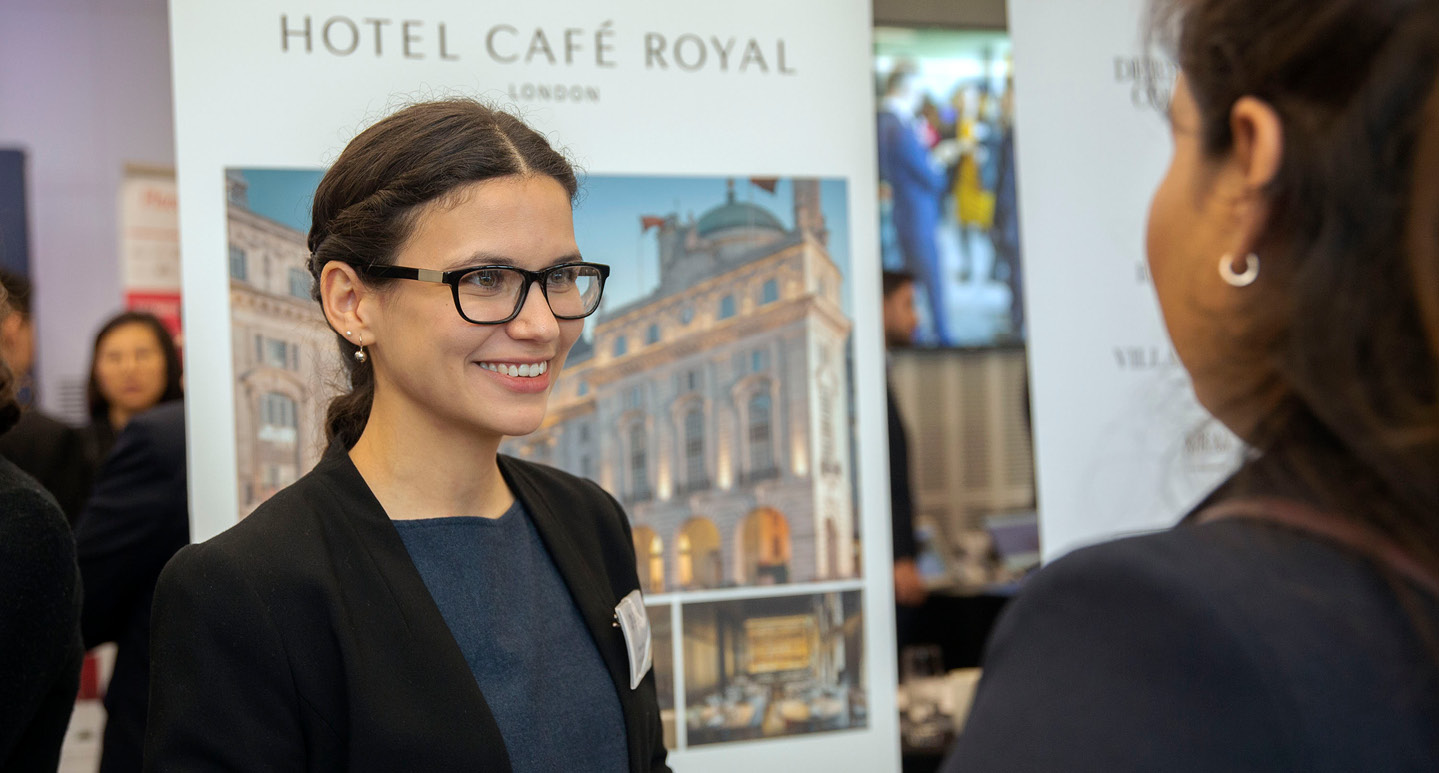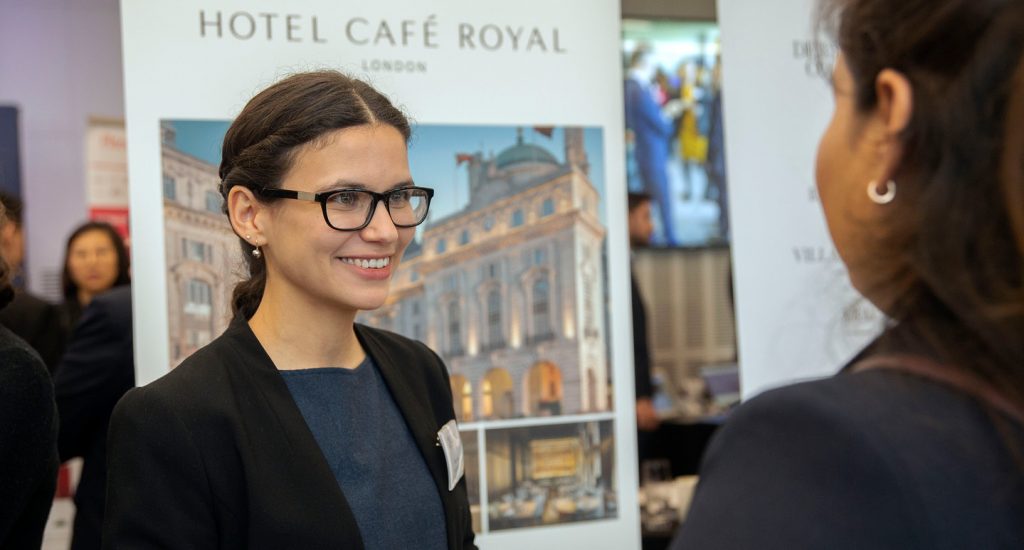 International opportunities, luxury and exclusive employers
If you have a taste for adventure and the finer things in life, hospitality is a particularly smart move. It is arguably the most international career path. Many hospitality and luxury companies have properties on every continent, allowing employees to transfer internally to work abroad. That means that travel isn't just a possibility, it's encouraged and facilitated. This global experience is both personally and professionally enriching—introducing you to other cultures, opening your mind and helping you to better relate to international colleagues and customers.
As new players and concepts within hospitality compete to inspire a new generation of travelers, the bar is constantly being raised with unique, luxury experiences all over the world. In the business of hospitality, you'll very often have exclusive access to try the very best food, fine wines and boutique accommodation. With "perks" like this, a career in luxury is often a natural next step.
Many well-known luxury brands and some of the world's most exclusive employers actively recruit ambitious hospitality graduates. At Glion, we host over 250 recruitment visits per year from companies as diverse as the Mandarin Oriental Hotel Group, Bloomberg and Jaeger-LeCoultre.
From emotional intelligence to cultural fluency: the soft skills that put hospitality professionals in demand in a future of AI
Research from HVS Executive Search found that leaders in the field of hospitality share some common traits. Namely, they have extraordinarily high rates of emotional intelligence. For hospitality professionals, this is a skill set honed by teamwork, experiencing different cultures, extensive social interaction and understanding how to create a comfortable environment for all.
Individuals with higher emotional IQ's have several advantages, from better relationships to better physical health and job success. They're also highly in demand with hiring managers. The soft skills of empathy, cultural fluency, resilience and professional polish that go hand in hand with emotional intelligence are prized within virtually every customer-facing sector.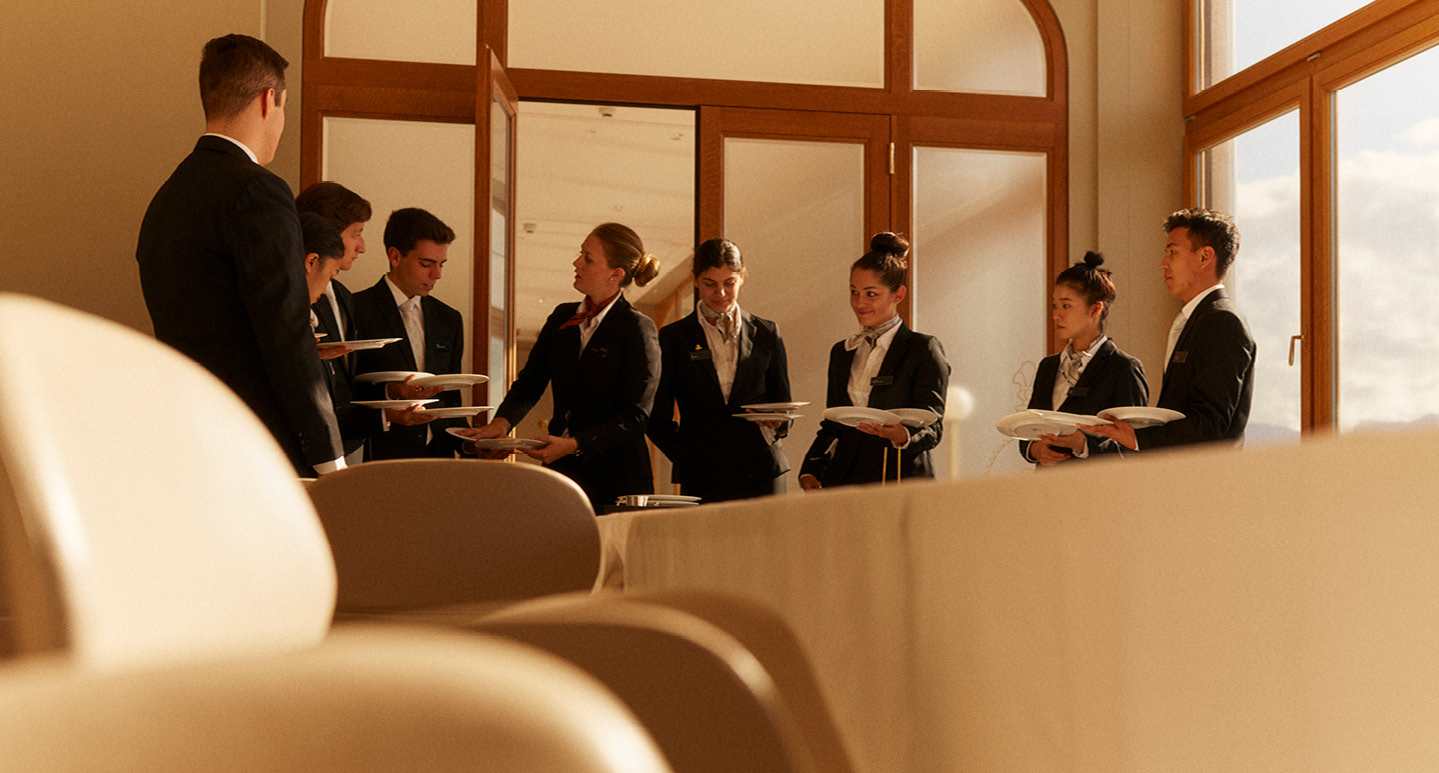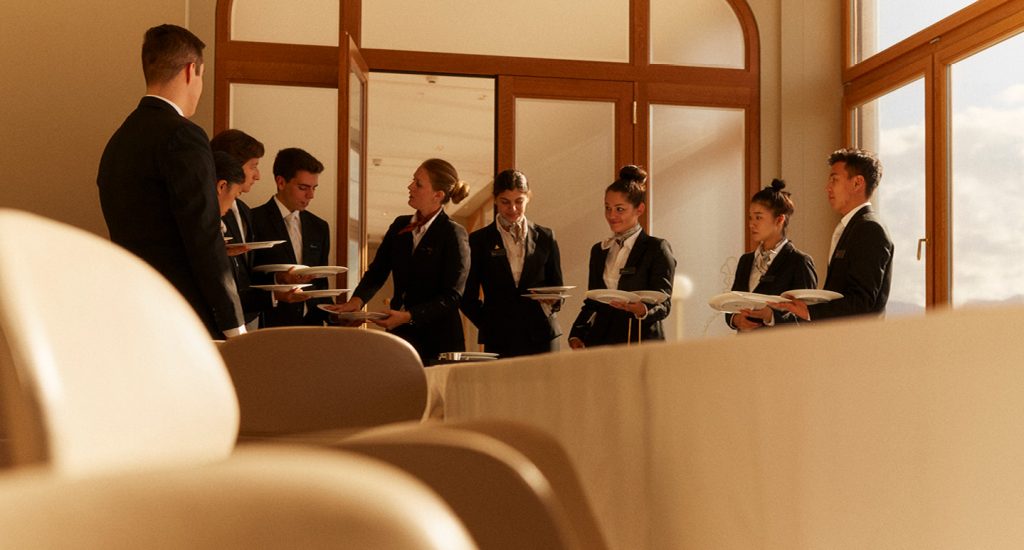 With that in mind, it's easy to see why a grounding in hospitality—an industry built on soft skills—will give you a big advantage in a competitive job market, whatever your career ambitions. The even better news is that, because hospitality is founded on human interaction and soft skills, the industry is much less likely to be affected by automation.
Fortune magazine looked at jobs that are most likely to be replaced by technology by calculating a job's automation potential (AP) as a percentage. Their findings concluded that roles involving "managing and developing people," "decision-making, planning or creative work," and "interacting with customers, suppliers or stakeholders" were among the hardest to automate, and therefore had the lowest AP.
Unexpected career paths for hospitality grads
With every new development in technology or guest experience, even more diverse and specialized job opportunities open up within hospitality—and beyond. Hospitality professionals who have the right skills and qualifications have literally endless career opportunities. They are free to choose where they want to live and work, to change departments or companies, to work part-time or full-time, or to apply their expertise as entrepreneurs.
At Glion, 52% of our alumni successfully go into the fields of tourism, hospitality and food and beverage. But that means that almost half of our students apply the hospitality management skills they've gained to a wide spectrum of other sectors including FMCG (fast moving consumer goods), luxury goods and services, aviation, marketing, events and entertainment, banking and finance.
Some exciting and potentially unexpected career paths for our recent graduates have included high-level roles at J.P. Morgan and Deloitte, jobs as luxury retail executives, revenue management consultants, PR entrepreneurs and start-up CEOS.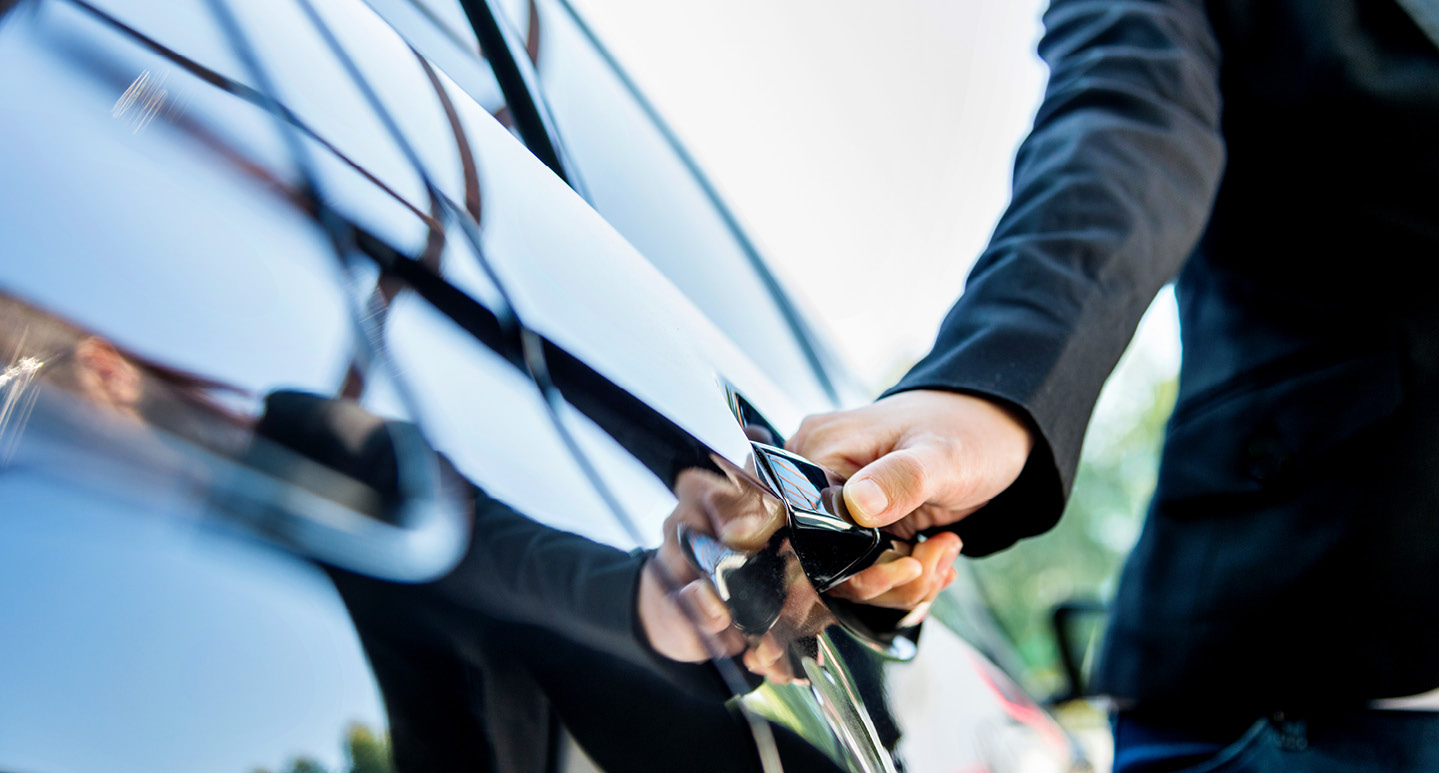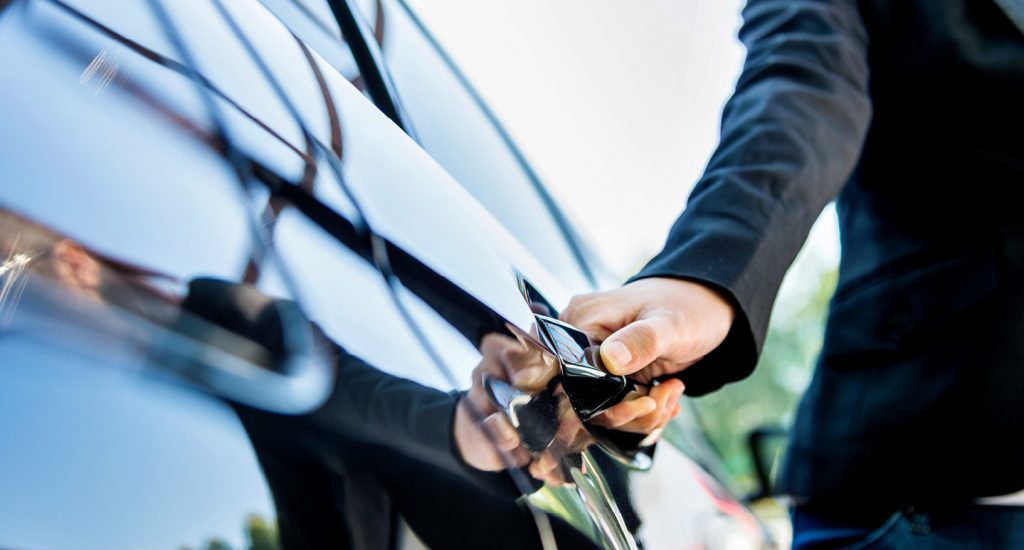 Routes into hospitality & the credentials you need
Like most professional paths, job opportunities within hospitality often come through experience, networking and academic credentials. Perhaps you have a family member in the industry who might be able to set you up with an internship or entry-level role? Or maybe you're thinking about a degree in hospitality management?
If you're considering a degree course, either at the undergraduate or master's level, be sure to prioritize programs that offer real-world industry experience. At Glion, all of our programs are focused on employability. With our extensive industry network, we know what employers are looking for and we make sure that these are the skills you master.
Professional internships are also integrated within our degree courses, so the day you graduate you already have a strong professional network and invaluable industry experience on your CV. With a huge variety of opportunities available, you can choose your internships based on the company, location and future career you desire.
98% of job-seeking Glion students have one or more job offers by graduation day, so they can step off campus and straight onto a career path to their dream job.
About Glion
Founded in 1962, we are firmly established among the world's finest education institutions specializing in hospitality and luxury management. We offer applied business education, combining academic rigor, hands-on practical skills and professional internships—all with a focus on developing the soft skills that are a prerequisite in the modern global economy.
Find out more about our world-leading Bachelor's in International Hospitality Business and our exceptional portfolio of career-focused Master's degrees.
Master your future
Hospitality, luxury, finance, real estate, innovation, entrepreneurship… whatever your career ambitions, we have a Master's that will help you achieve them.