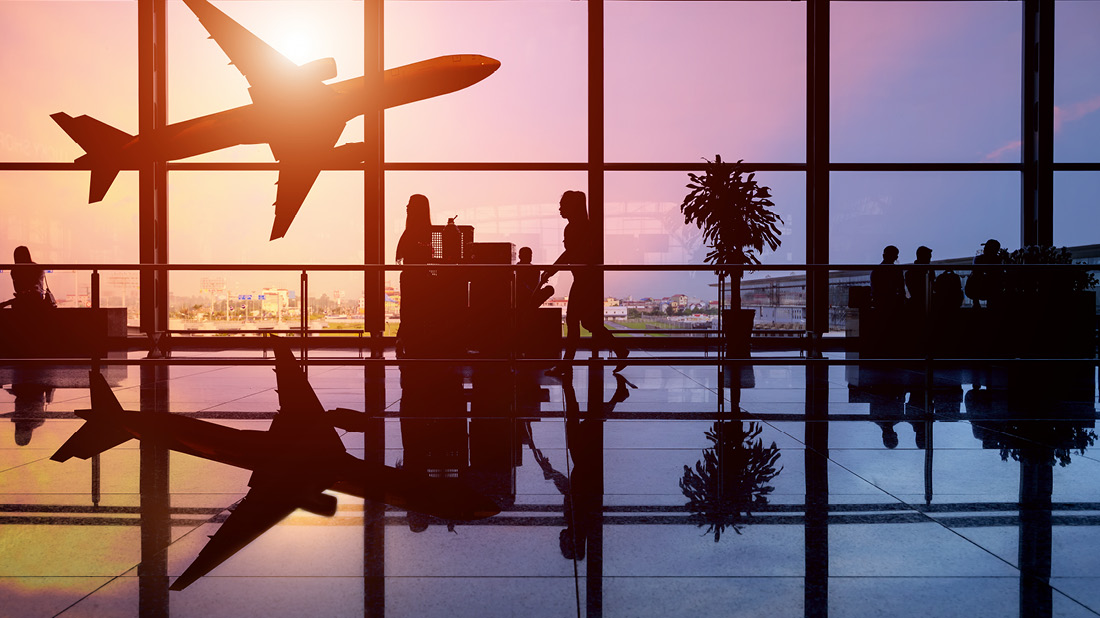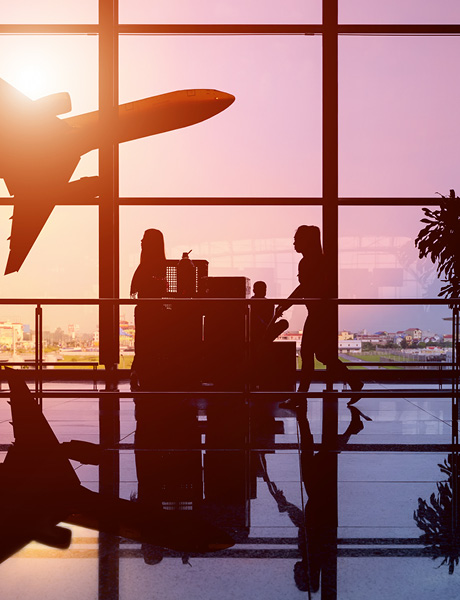 Skift Research has produced a major report on the state of travel in 2022, together with trends that will potentially shape the industry's future. We've reviewed all 194 pages, which are packed with positive pointers for the business of travel, tourism and hospitality.
In the introduction to Skift Research's State of Travel 2022, the authors note that "it took a near-total absence of mobility for the world to realize just how important travel is to us – to our economy, to our personal fulfillment, to how we work, and to how we socialize".
The report does not dwell over the circumstances surrounding the Covid-19 pandemic; instead it uses a wealth of proprietary and external data to try and determine the extent of recovery within the key segments of the travel industry – including hotels.
The travel recovery is well underway
Skift Research uses a proprietary model it calls the Travel Health Index to track the state of the overall market as it compares with the pre-pandemic year of 2019. What the index reveals is that the sector reached its nadir in April 2020, when the score dropped to just 20% of the equivalent 2019 figure.
From that point onwards (despite a few small dips along the way) the overriding trend has been upwards for an industry which is famed for its resilience. By April of this year the index stood at 78% of the equivalent month in 2019. And by October this year (the last month covered), the index stood just 15% below 2019 levels.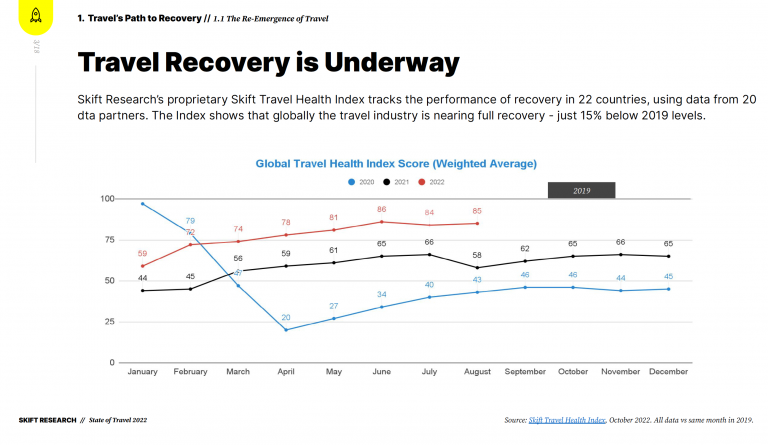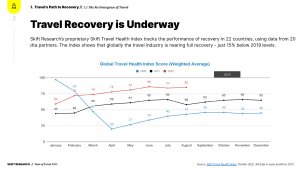 When looked at regionally, the picture is of an industry close to full recovery, with only Asia Pacific lagging behind. And this, it should not be forgotten, is in the face of significant economic and geopolitical headwinds, plus an almost complete absence of Chinese outbound travel.
Hotels are bouncing back
The headline news for 2022 in hotels is that the industry continues to make a strong recovery from the shock of the pandemic. Overall revenues forecast for 2022 are closing in on the figure for the last pre-pandemic year of 2019, and almost twice those seen in 2020.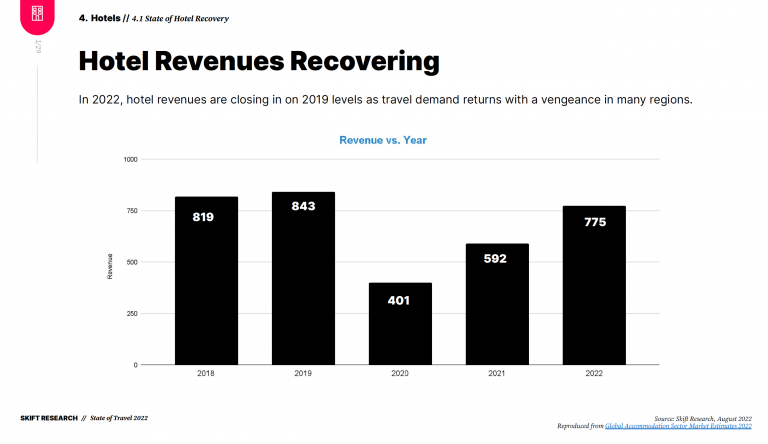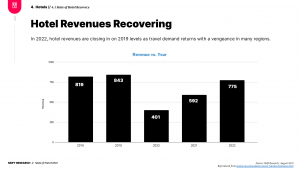 The overall figures do mask some regions – notably APAC – where the recovery has been slower due to ongoing restrictions. That said, with room rates on the rise we can see nominal RevPAR (i.e. not adjusted for inflation) ahead of 2019 levels in the Americas, northern Africa and the Middle East, while having recovered to just above that baseline in Europe.
Loyalty counts
In more good news for the major chains, Skift has found that loyalty members accounted for more than half of all room bookings, with the highest contribution (60%) being earned by Hilton via its Honors program. Hospitality groups have invested significantly in loyalty schemes as a key weapon in winning back control of the customer relationship from OTAs and other third party platforms. These findings indicate that such investments are beginning to pay off.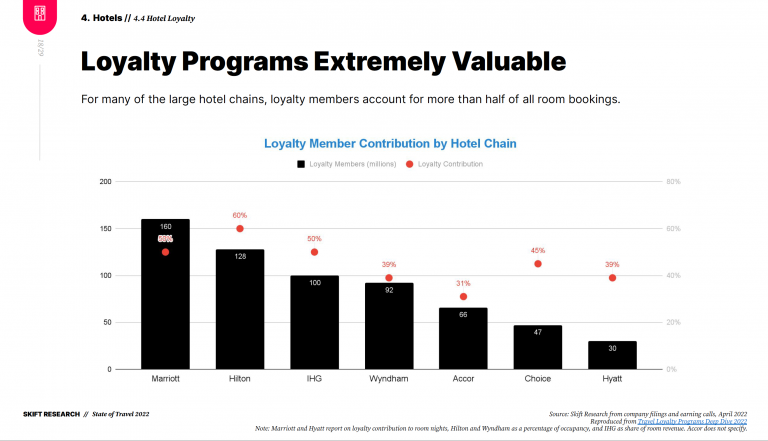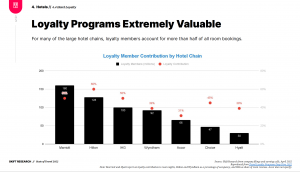 Hotel technology high on the agenda
We know that in many corners of the hotel industry it's still a game of catch-up as far as implementing technology is concerned. Elsewhere in this issue, our Senior Lecturer Michalakis Michael gives his thoughts on how technology could shape future hotel revenue management strategies; while Mandarin Oriental CEO James Riley tells us where his group is looking to leverage digitalization.
The Skift researchers also flag opportunities for greater technology adoption, highlighting areas such as Rate Shoppers and revenue management systems where utilization remains relatively low – certainly in comparison with the almost ubiquitous property management systems.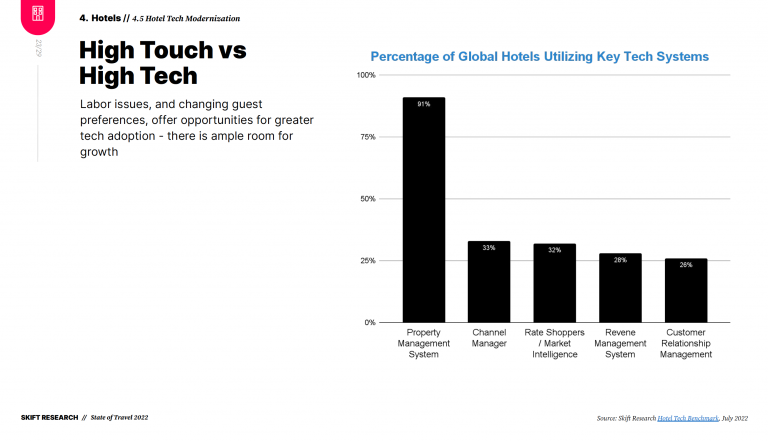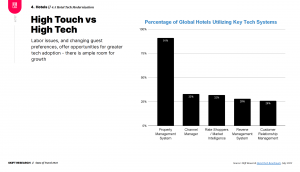 Longer term travel trends
What of the longer term for the travel industry? What will be the drivers of future growth as this century progresses? A surefire driver would appear to be population growth. One of the more fascinating charts in the Skift report shows the remarkable correlation between world population and outbound tourism in the years up to 2019. If we discount the two main pandemic years of 2020 and 2021, it will be interesting to see if this chart goes back to featuring almost parallel lines in the years ahead.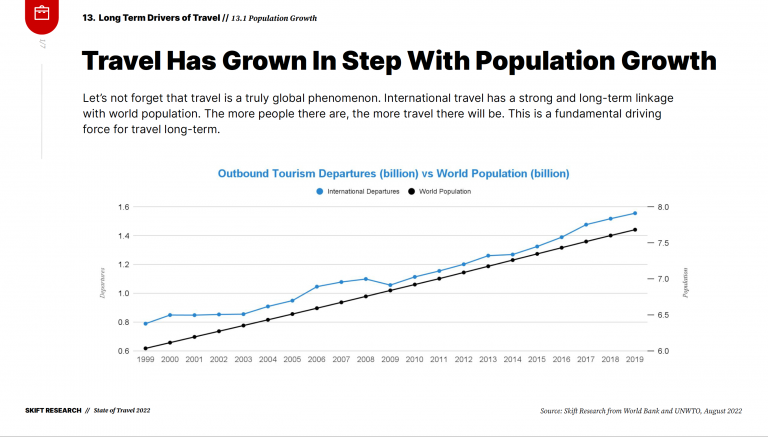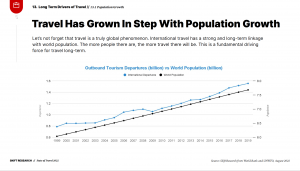 Economic advancement – particularly in the developing world – is another natural growth spur for the travel market. As more and more people escape poverty and join the 'global emerging middle class', this will provide long term tailwinds to travel expenditure. As Skift says, "the wealthier people are, the more they travel".
Another factor is that international travel has become freer in terms of entry and visa requirements. Back in 2006, the average citizen found their passport entitled them to visa-free travel to fewer than 50 countries. Today, that average number has reached more than 90 countries. Skift notes, however, that since 2018 progress has stalled, and points out that the travel industry must take steps to defend these greater freedoms of movement or they risk being rolled back.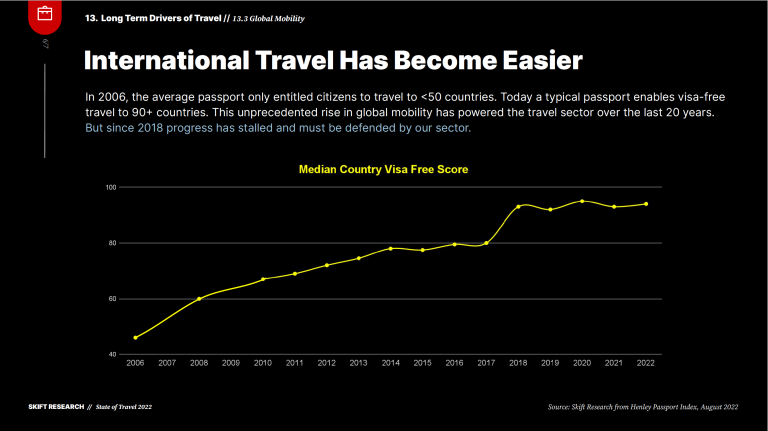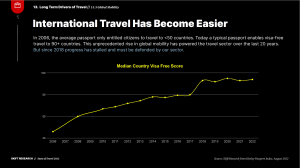 Click this link to download your free copy of Skift Research's State of Travel 2022.
Photo credit:
Main image: Weerasak Saeku/Getty
Launch your career in international hospitality
Our Bachelor's in International Hospitality Business is your first-class ticket to a global career.