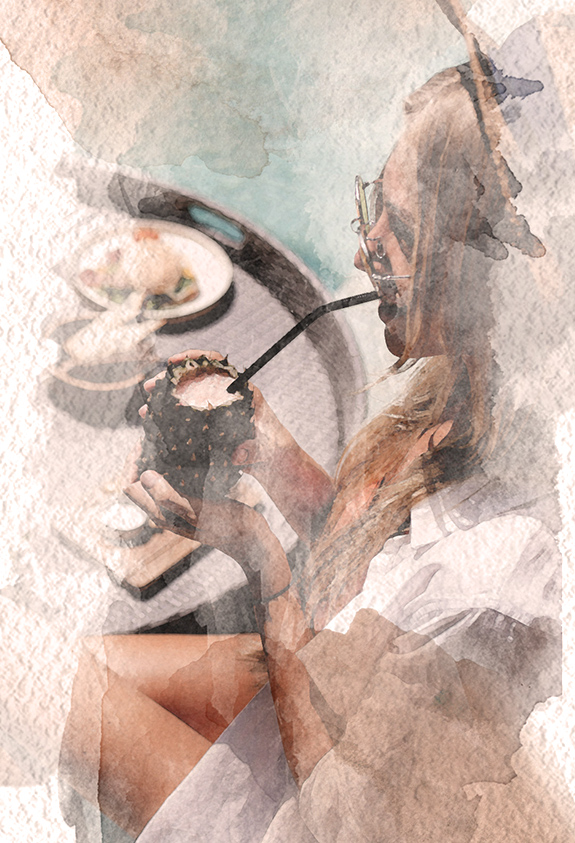 Interview with Glion alumnus Stephen Alden: CEO, The Dedica Anthology
With a rising generation of global millennial travellers, the culture of luxury is in flux. How can luxury brands become more inclusive while still retaining their exclusivity? Ahead of the upcoming Glion Luxury Conference, we asked Glion alumnus Stephen Alden (class of 1981), CEO of The Dedica Anthology, to share his insights.
Luxury is about being exclusive, but many of today's young luxury travellers value informality over formality.
As CEO of a group that holds five very exclusive properties, how do you keep the informal touch for these new guests?
SA: I think it is about creating an environment which is attuned to people's contemporary lifestyles – and not just young luxury travellers, although they tend to be the group who best manage their lives on many levels simultaneously. So they might be eating their avocado for breakfast, preparing for a business meeting, ordering a new piece of furniture and arranging to meet their family – all at the same time. It's up to us, through our hotels, to be in sync with that.
We are fortunate that all our hotels occupy distinctive historic buildings, grandly proportioned, with either an ultra-spacious lobby or a rooftop terrace, or both – naturally sociable spaces where contemporary-minded travellers are able to do anything from order a freshly-roasted coffee and send their emails, to sit down with friends or family for aperitivo and discuss the day's shopping and sightseeing. Having a vibrant lobby is central to our culture.
Luxury brands not only face new standards of informality, but must also work to attract new customers from countries where luxury was relatively unknown until recently.
How can a luxury brand serve every audience segment? Should it even try? How does your company approach this paradox?
SA: It is an age-old dilemma for luxury brands: how to attract new customers without alienating the original ones. The most successful brands, in my opinion, are those which have a strong point of view, execute everything to perfection – including fast-moving digital communications – and take their customers on a journey, adding new ones along the way, because they are, ultimately, so trusted. Obviously those with the most resources are able to create region-specific sales and marketing campaigns to address new markets – and this is a slow process. It doesn't happen overnight – in fact it can take generations.
For The Dedica Anthology, our US market is the biggest, followed by UK and the rest of Europe. We are developing a digital strategy to improve our engagement with Asia. Fundamentally though, we have a strong point of view which we feel cuts through boundaries of both age and region. We are about curated, contemporary hôtellerie, alive in the moment, in rhythm with people's lifestyles in real time – and based on historic properties that have the most wonderful back stories which you couldn't make up. They are places of genuine interest in themselves.
We very much believe in being responsible hoteliers. We're conscious of the fact that our industry is responsible for people travelling thousands of miles by air each year. So we need to do what we can to make a difference
Millennials are constantly changing the hospitality and travel industry. One of their top demands is for unique and authentic travel experiences.
How does The Dedica Anthology provide them with a new and different experience?
SA: Actually, we are not trying to reinvent the wheel. Our hotels are all located in European cities which are inherently attractive in themselves: Rome, Milan, Venice, Budapest, Prague, Nice and Florence. People will go to those cities anyway with a wish list of things to do and see – whether it's an art exhibition or a fashion show or a private guided tour of all the best sights. Or they might be there on business, extending their trip to take in a local experience, maybe with their family. It's our job to be our guests' best friend in the city: their partner in crime, if you like. Our concierge team in Milan has recently won an award for this, but all our teams are a mine of information, stories and access. So if you want to find an artisan workshop in Venice that no one else knows about, we'll be able to direct you. Our own concierge in Prague can take you on a walking tour of the city – he is a brilliant historian and will lead you on or off the beaten track. Closer to home, if you want to organise a private dinner party on the rooftop in Rome, overlooking the rooftops with the snow-capped mountains visible in the distance, we can arrange that too. Our spas in Venice and Rome are small enough that we can literally tailor a treatment around our guests – you don't have to go by a menu. Just say what you want, and we'll work around you and your schedule. A lot of it is about treating guests as individuals – easy to say, harder to do, but that's our goal.
The current industry numbers show that millennials travel in cities more often than previous generations.
As your hotels are all city-based, have you noticed the same trend? From which generation is the majority of your guests at the moment?
SA: It's not a particularly attractive word, but the so-called "bleisure" market is definitely something that has taken off globally, in conjunction with the digital age. Thanks to technology people are now able to travel, do business, sightsee and relax with their families all on the same trip. This is a generational thing but I don't see it as being defined by age. You could be 20, 40 or 60 and still fit into this mindset or set of circumstances. Actually, our current age range is 35-55 but the appeal of our hotels does not derive from them being 'targeted' at any particular age. Just at a contemporary mindset.
Picture-perfect and Instagrammable experiences are important to millennials, and Dedica Anthology hotels are all located in attractive settings.
Has this social media trend shaped the guest experience at Dedica Anthology, either before, during or after the stay? Do you have any examples that you could share with us?
SA: I don't think social media has shaped the guest experience – for example, people have been enthralled by the beauty and artistic allure of the New York Café in Budapest since 1894, well before social media! – but it is clearly a by-product. For example, we recently relaunched the rooftop terrazza, Latitude 45, at Palazzo Matteotti in Milan. It is a stunning indoor/outdoor setting, with a spectacular view of Milan Cathedral. I saw countless people taking selfies with "the view" during the course of the evening – and this obviously fed into social media and generated more awareness of the venue. Posting shots of the Duomo in Florence or the Baie des Anges in Nice from our rooftop terraces always generates a great response. There is a well-known influencer – @sassychris1 – who has often posted shots of herself at Carlo IV in Prague – and we always notice a spike in engagement after this. It's good for awareness and for telling our stories the way we want to, and we hope it ultimately helps to drive bookings. But the guest experience should always come first.
Glion was an eye-opening experience… it introduced me to the multiple cultures of the international students… It taught me about a form of hôtellerie that is steeped in classic and traditional Swiss hotel ways, yet at the same time open to new and innovative methods.
Sustainability is another important factor in travel choices for this new generation.
How do your hotels support this shift in values?
SA: We very much believe in being responsible hoteliers. We're conscious of the fact that our industry is responsible for people travelling thousands of miles by air each year. So we need to do what we can to make a difference, and we are starting to adopt some initiatives across the group. For example, I am very attracted by the National Geographic's "Planet or Plastic" campaign, and so we are taking steps to reduce single-use plastic in our properties and in our head office. We're introducing water-filtering systems and replacing plastic straws with bio-degradable ones. Also, we look to achieve LEED accreditation (leadership in energy and environmental design – a globally recognized system of sustainability) in our renovation projects. I hope that by taking small steps and keeping up the momentum we will be able to make a difference.
Do you think that the current luxury hospitality industry is compatible with millennial demands? How do you see the industry evolving?
SA: Those in our industry who are agile and responsive will thrive. We believe that travelling should be a presence, not an absence – and to this end I think people want to experience a bit of enchantment with their surroundings. The power of regenerative sleep should not be underestimated. We will see much more emphasis on healthy food, letting the ingredients shine – fewer of these elaborate plates that purport to be "fine dining" but are just unnecessarily fussy. I think hotels that recognise some of these things – as I believe we do – will be the most-desired by millennial-minded guests of today and tomorrow.
Glion strives to prepare students with the skills to adapt to these changes and become the luxury leaders of the future.
What skills learnt at Glion have been most valuable during your career in the luxury hospitality industry?
SA: Glion was an eye-opening experience. First of all, arriving from the small island of Malta as I did, it introduced me to the multiple cultures of the international students. It improved my French, as all the lessons at that time were conducted in French. It taught me about a form of hôtellerie that is steeped in classic and traditional Swiss hotel ways, yet at the same time open to new and innovative methods being introduced by the hotel chains that were emerging at the time.
Work experience exposed us to independent hotel owners and American and European hotel groups. The contrast between the two left a mark on me and led me to develop my hybrid style of management that picks the best practice from the larger groups yet keeps a continuous focus on the nuance, the day-to-day and what the guest experiences in real time. The Maybourne Hotel Group in London (Claridge's, The Connaught, The Berkeley), The Set and The Dedica Anthology are all products of that hybrid model.
The natural beauty of Switzerland, the lakes, the mountain walks further emphasised my fascination with the beauty of nature and I was imbued with the Swiss standard for maintaining everything in perfect working order. This today feeds into my obsession for good maintenance and Capex planning.
A summer career period in a busy Geneva kitchen and a subsequent one in housekeeping and front office at the Mayfair in London left me with no illusions that it would not be hard work! But against that you can balance the fascinating side: real estate, brand development, interior design, and so forth, that have become synonymous with international hôtellerie.