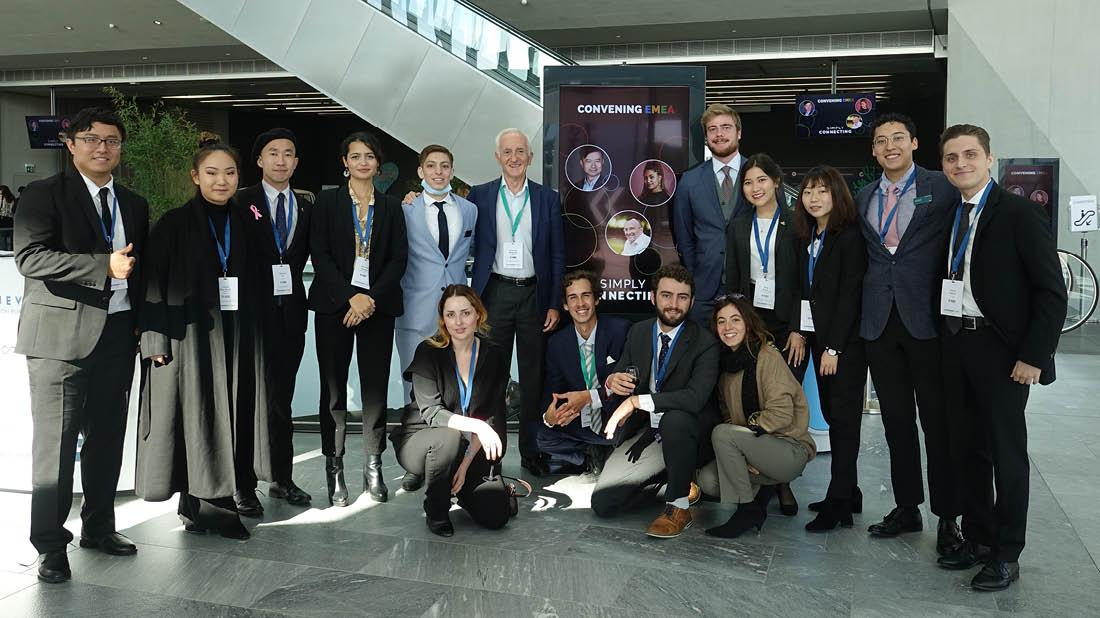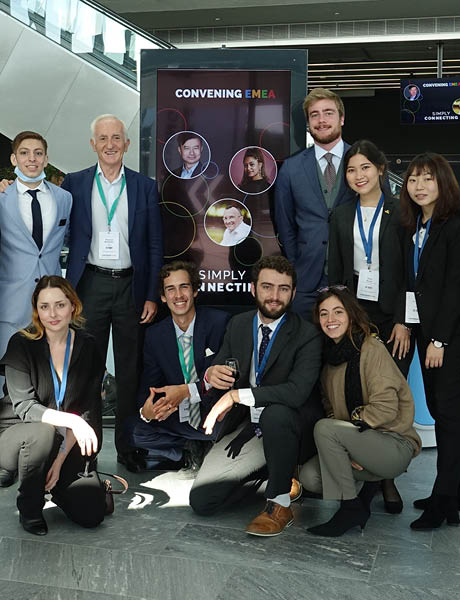 Back in mid-October, 2021, Glion Bachelor's students from the International Event Management Specialization had the opportunity to attend the Convening EMEA event in Lausanne. The event featured three prominent Keynote speakers and is just one of many EXPOs, conferences and behind-the-scenes tours that enable our future hospitality professionals to learn, grow and build their network before graduation.
Organized by PCMA (Professional Convention Management Association), the world's largest network of business events strategists and industry leaders, Convening EMEA brought together events professionals and creatives to connect, explore and discuss the future of the industry.
Glion students attended two days of conferences at the SwissTech Convention Center, with keynotes from Howard Yu, Professor of Management and Innovation at IMD Business School, Yves Pigneur, Professor at The University of Lausanne, and Jahkini Bisselink, Youth Expert at Whetston Strategic Foresight.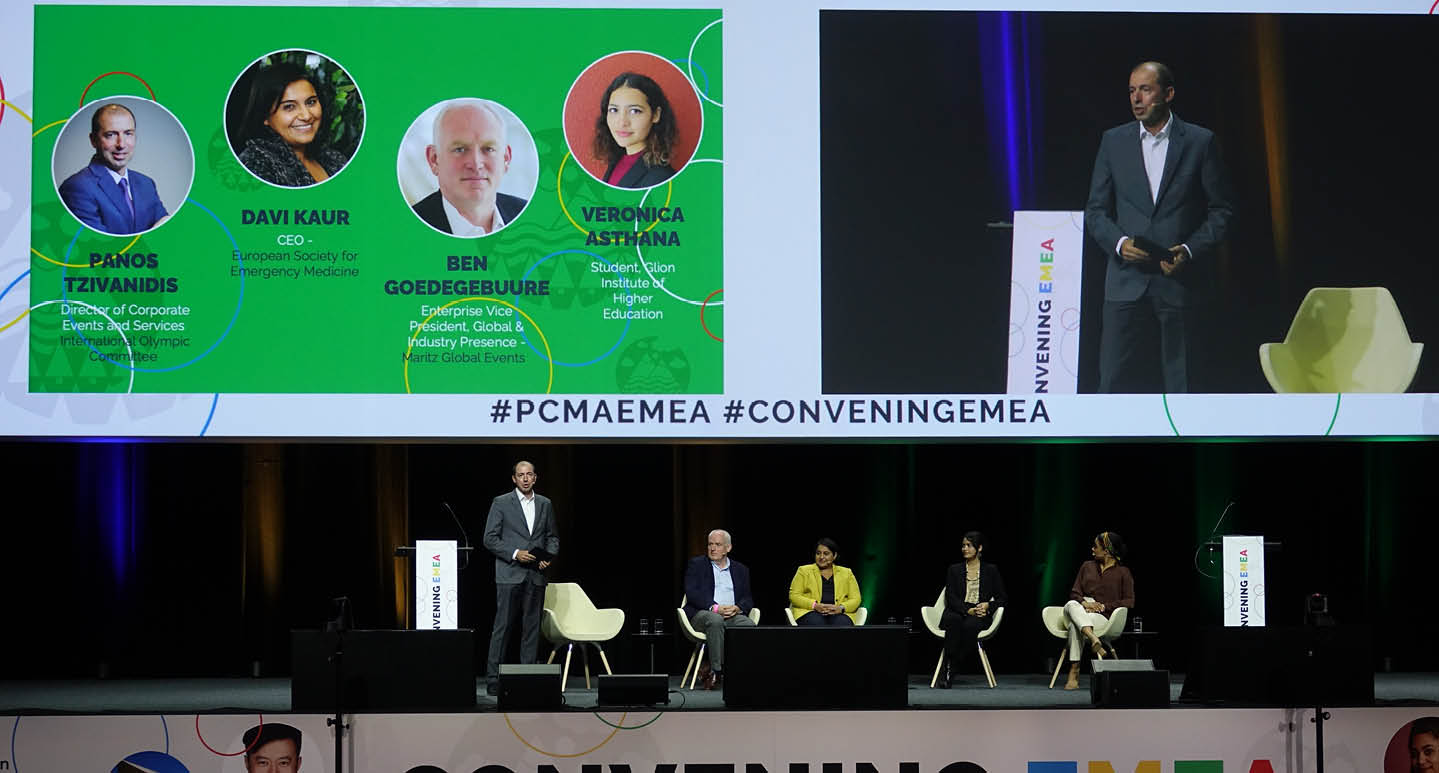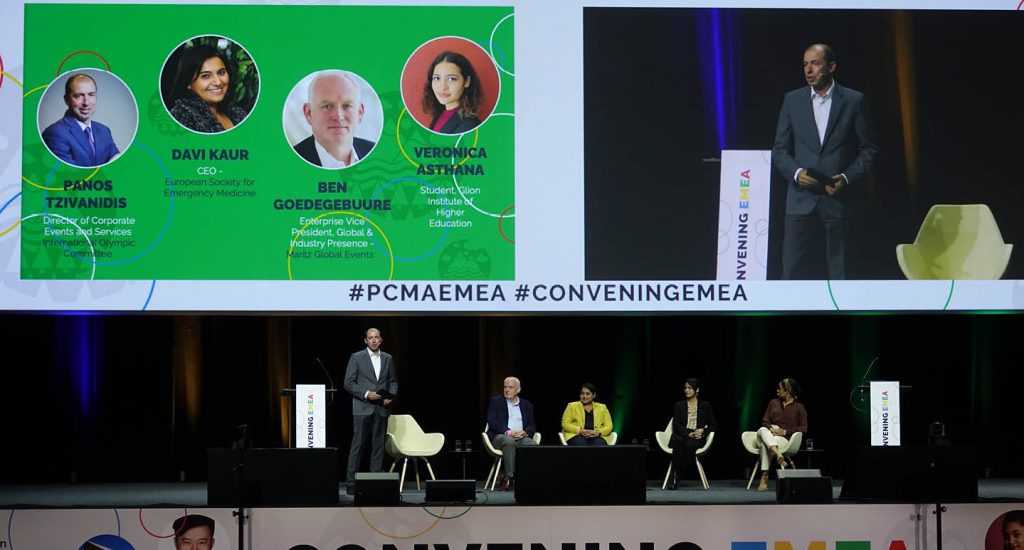 "When you are future ready, you are much more resilient during crisis time."
In his speech titled 'Strategic Resilience: From Business Survival to Future Readiness', Professor Yu presented how the covid crisis has accelerated certain trends and challenged the resilience of companies and organizations. He gave examples of companies that thrived during the pandemic and emphasized the importance for an organization to be aligned with its external environment and not be afraid to make choices, trade-offs and intentional decisions for future growth.
Professor Yu explained how future ready companies are one leap ahead of time, stating: "When you are future ready, you are much more resilient during crisis time." They have a strong core business, but at the same time invest big in new technology, blending mass production and services with custom and curated offerings. He discussed the diversity they have at the top level and the power and agility they gain from giving decision-making autonomy to those closest to the customer.
"…companies must continually reinvent themselves to compete on a superior level."
On the Tuesday of the event, it was Professor Pigneur's turn to speak about what is required from leaders and organizations to survive and thrive in today's world. In his session titled 'Insights into the Invincible Organization' Professor Pigneur shared how to design an innovation culture and cultivate discovery within a company. "Innovation must be at the top and have strong leadership support, and companies must continually reinvent themselves to compete on a superior level."
Professor Pigneur outlined a Business Model Pattern that allows established organizations and startups to compete on better business models, rather than just on new products, technologies, and price. And he made it clear that the product or service doesn't have to always be innovative, but the methods of production do.
Attracting young change-makers
In the last session, Glion Bachelor's students had the opportunity to listen to former United Nations Youth Delegate Jahkini Bisselink, as she gave a speech titled 'Talent + Challenge = Change'. Jahkini shared her expertise on Generation Z and how companies can attract and retain these young change-makers.
In what could be deemed a warning for all companies, Jahkini stated how important it is for organizations to understand what this generation is about, in order to prepare for the future.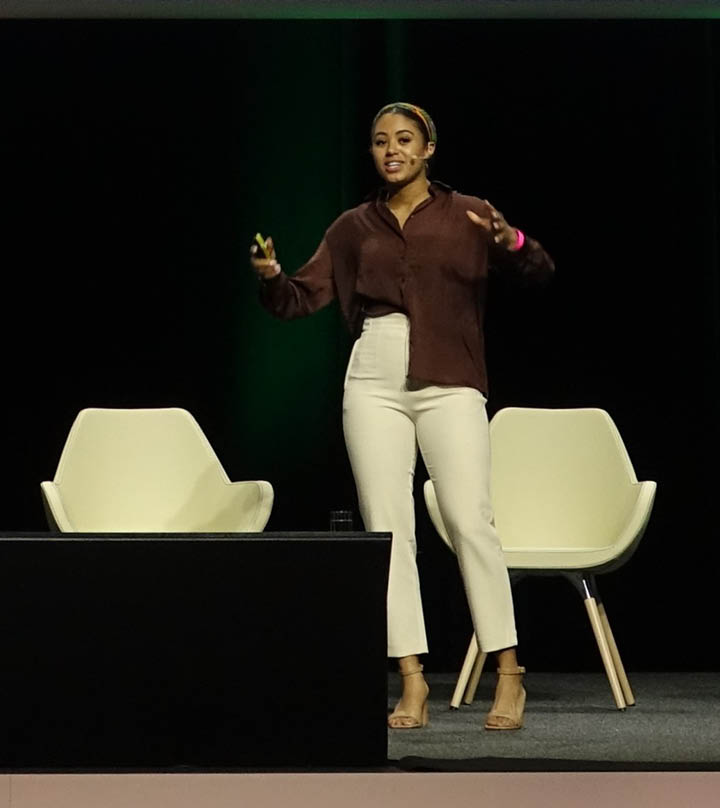 "It's quite special that we talk about this generation as a group, because this is the generation that doesn't like to be put into boxes, they don't like stereotypes, they don't like labels and they don't like binaries."
Jahkini's keynote was timely, as Generation Z now constitutes 30% of the population. They are the future colleagues, consumers, and citizens of tomorrow. In a fascinating recommendation for all events organizations, Jahkini gave an example of how a company could improve its growth by adopting a youth shadow board to fill the gap between generations.
Jahkini went on to stress the importance of intergenerational dialogue in order for businesses to continually transition and evolve, before Glion Bachelor's student Veronica Asthana took to the stage to take part in the panel discussion.
"…we met a lot of industry leaders."
For Bachelor's students Lewis Thomas, Anna Touati  and Luca Silva, the event offered insight both in terms of the speakers and the networking opportunities. "Professor Yu was very eloquent", commented Lewis, "I loved his perspective on the future in general and specifically his perspective on explore and exploit about the marketplace, it was really interesting."
"I personally thought it was an amazing experience, and we met a lot of industry leaders. So, I'm really happy that Glion gave us this opportunity to attend this event", Anna added. For Luca it was also about the unique opportunity, particularly to network with fellow events professionals: "It's a great way to meet and connect with people from different backgrounds and cultures. And everybody is here for the same main goal, which is to learn more about the events business".
Practice the art of world-class hospitality
Find out more about our Bachelor's in International Hospitality Business