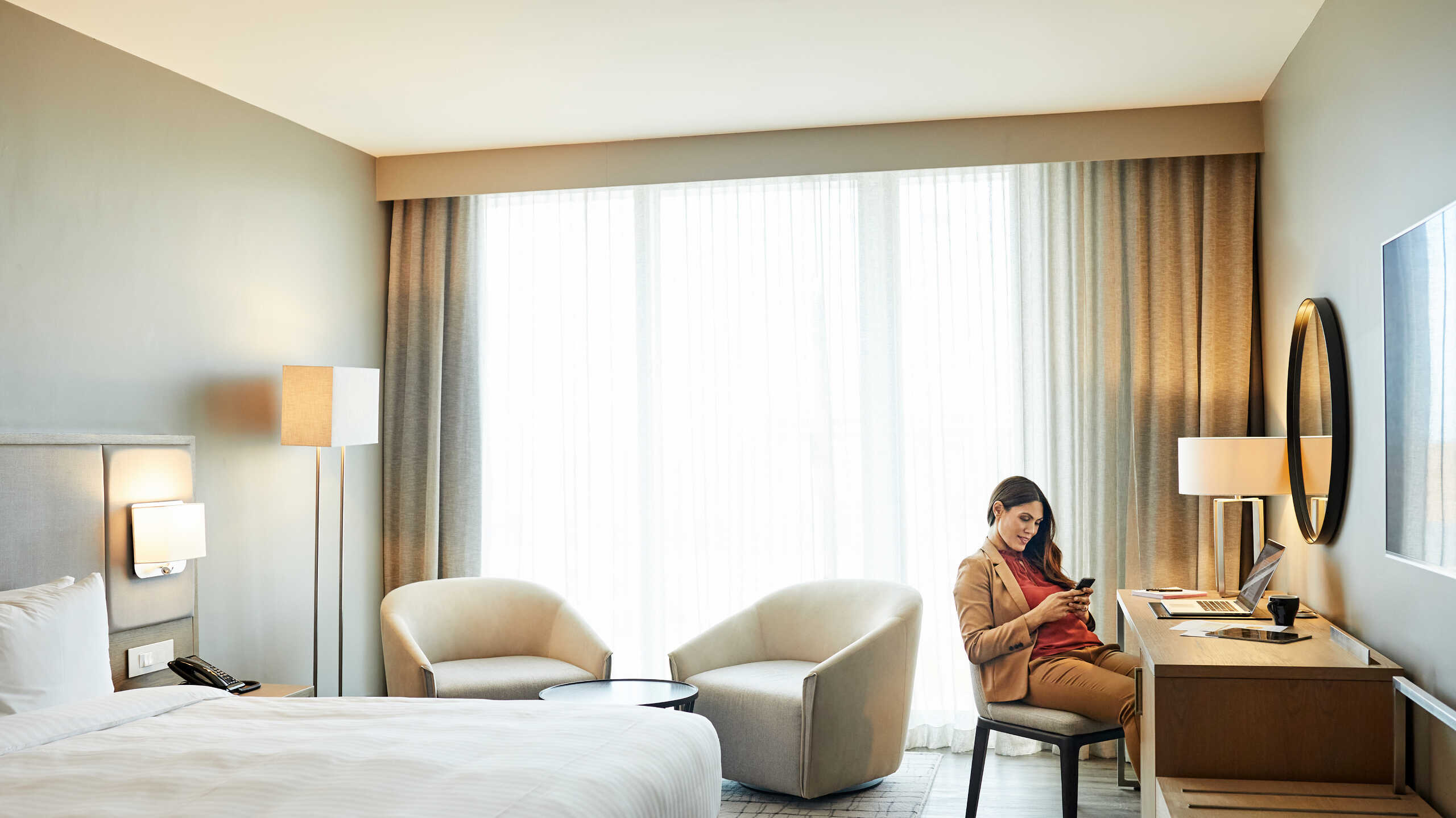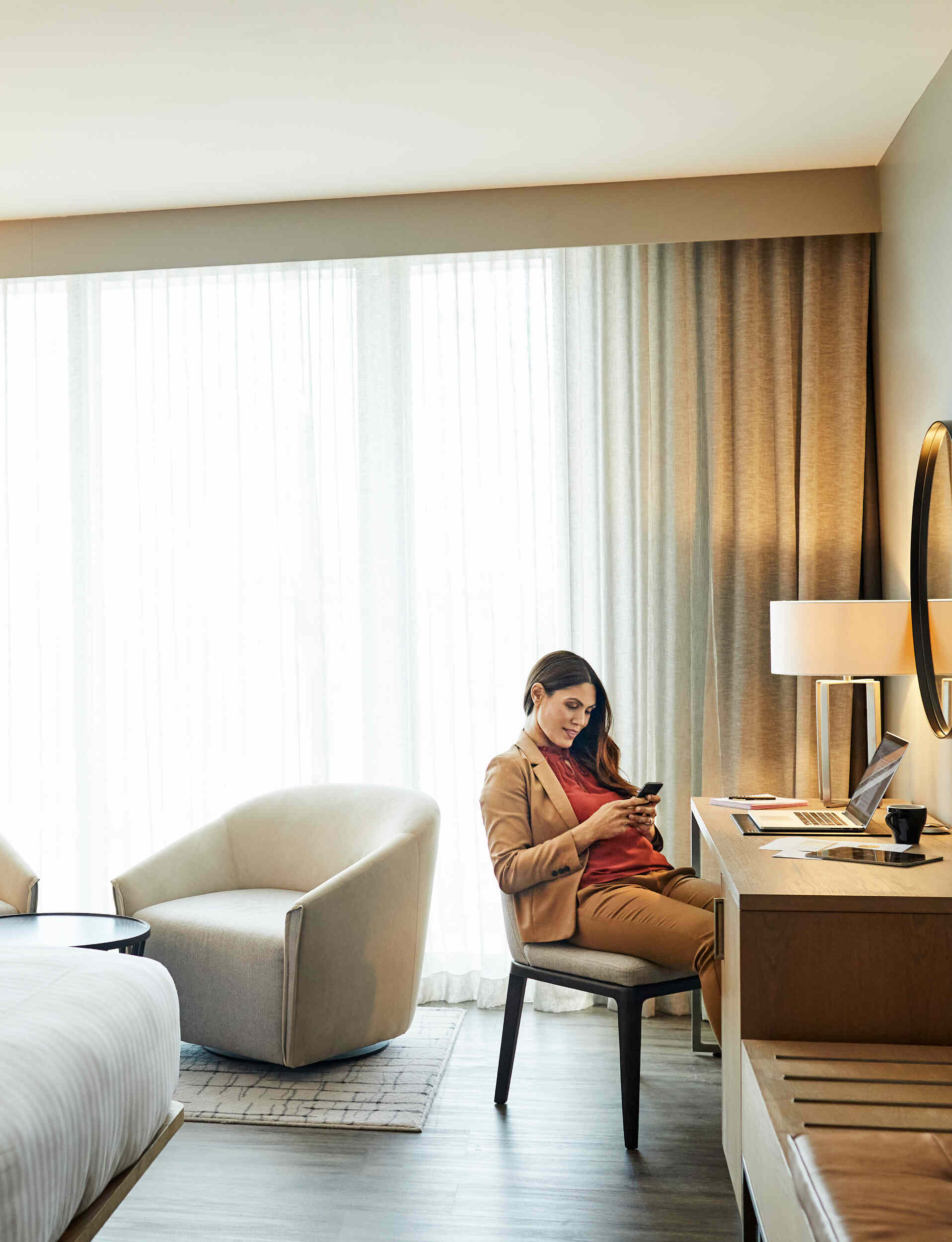 There are more than 700,000 hotels worldwide, and working for a hotel chain has many great benefits, including job security, career growth, flexible work schedules, opportunities for international travel, and competitive wages.
If you're considering working for a hospitality company, the largest hotel chains provide challenging and rewarding experiences and the chance to grow and learn.
Here we'll explore the benefits of working for a hotel chain to help you understand if this is right for you.
What is a hotel chain?
A hotel chain is a group of hotels owned by the same company sharing the same hotel brand name and management system.
Hotels within a chain will typically have similar décor, facilities, and level of service, making them popular with regular travelers such as business travelers.
They can range from small boutique hotels to large international brands with thousands of properties worldwide. 
What is a boutique hotel? It's a small and stylish hotel with a distinct theme or design. A boutique hotel brand can also be part of a larger chain of hotels that maintains consistent standards across its multiple properties.
Launch a thriving hotel career with a world-class Bachelor's degree from Glion.
This Bachelor's of International Hospitality Business provides the knowledge, skills, and hands-on experience to excel in your hotel chain career.
Bachelor of international business
Why pursuing a career in the hotel industry is a great choice
The hotel industry is one of the most varied, dynamic, and fast-paced industries and offers many opportunities for career development. Here are a few reasons why the hotel industry is a great career choice.
Huge variety of career paths available

: Many job roles, including sales, housekeeping, food and beverage, reception, cooking, maintenance, accounting, and HR.

Growing industry

: Constant evolution provides many job opportunities, including entry-level and management positions.

Overseas appointments

: Fantastic opportunities to work in different countries with valuable international experience and experience of different cultures.

Fulfillment

: Helping people, providing great guest experiences, and generally making guests happy is key to the job, making it hugely rewarding.

Transferable skills:

Develop various skills, such as communication, teamwork, and problem-solving, that can be valuable in other industries.

Day-to-day variety:

A fast pace means no two days are the same. This variety helps create an exciting and vibrant working environment where you continuously learn and gain new experiences.
The benefits of studying at a hospitality school
If you're considering how to kick-start your career in the hotel industry, studying at a hospitality school in Switzerland is a great place to begin.
With state-of-the-art facilities and world-class teachers and mentors, you'll gain a solid foundation of knowledge and skills to build on. For example, a hotel management Master's program can empower you with excellent creative problem-solving, entrepreneurial, and management skills to transform hospitality businesses worldwide.
Other benefits of studying at a hospitality school include the following.
Access to a wide range of courses and programs
At a hospitality school, you'll have access to various courses and programs that cover different aspects of hospitality, including hotel management, food and beverage, and event planning.
The in-depth education will enable you to choose the specialization that best fits your interests and career goals.
Learning from experienced and knowledgeable faculty
A leading hospitality school like Glion has experienced and knowledgeable faculty with extensive experience in the industry. They will share their knowledge and experience while keeping you updated with the latest hotel trends for 2023 and beyond.
Opportunities for hands-on experience and internships
A hospitality school like Glion provides valuable hands-on experience through internships and practical training. You'll be able to put classroom theory into practice and gain practical experience that is vital for prospective employers.
Building a strong professional network
When you study at a world-renowned hospitality school such as Glion, you'll have access to a range of experts and professionals in the industry.
You can build a strong professional network through hospitality school events, networking gatherings, and visiting guest speakers, and form relationships that could evolve into future employment or collaboration opportunities.
Achieving qualifications to work in hospitality
d3sign/Momentvia Getty Images
While there are different ways to enter the hospitality industry, qualifications give you an advantage and make you eligible for higher-level roles, such as management positions. Hospitality degrees such as a Bachelor of international business provide knowledge and skills to thrive in this diverse and competitive industry.
What kind of qualifications are needed to work at a hotel chain
Depending on their specific role, many people working for a hotel chain typically have a hospitality management degree and several years of industry experience behind them.
Hospitality schools offer a range of programs and courses that prepare students for working in hotel chains. Students will learn about various areas such as housekeeping, food and beverage management, customer service, marketing, and revenue management.
Tips for choosing the right hospitality school
If you've decided to pursue a hospitality career, your next step is to choose a hospitality school. Here are some tips.
Accreditation

: Check that the school is accredited.

Faculty

: Research the experience and credentials of the school's faculty to ensure they have experience at top hotel chains.

Facilities

: Choose a school that offers modern and well-equipped facilities, including hotel rooms, kitchens, and classrooms.

Industry contacts

: Investigate the school's industry contacts and whether industry professionals give guest lectures.

Practical experience

: Pick a school that provides practical experience for gaining hospitality skills, and in topics like finance, accounting, and marketing.

Internships

: Find out where the school places students for internships – are they reputable hotels?

Employability rate

: The school's graduate employment rate is a good indicator of how graduates fare in the competitive hospitality market after graduation.

Reputation

: Look at the school's reputation among its alumni and the wider hospitality industry.
Professional development and growth opportunities
One of the biggest benefits of working for a hotel chain is the professional development and growth opportunities.
Hotel chains usually have various levels of management, providing excellent opportunities to advance your career within the hotel company. Many hotel chains also provide training and development programs that can help you improve knowledge and skills.
Working at a hotel chain will also expose you to different aspects of the hotel business. You may also have the chance to work in other areas, which will enable you to learn how the different areas of the hotel work together, the importance of communication and teamwork, and develop a better understanding of the hotel industry.
Financial benefits of working for a hotel chain
While working for a hotel chain offers many benefits for your personal and professional development and career prospects, there are also financial benefits.
Many chains offer a competitive salary, along with tempting employee benefits packages, including paid time off, health and life insurance, and dental coverage.
Some hotel chains offer employee discounts on meals, hotel stays, leisure activities, and travel, including discounts on flights and rental vehicles. You may also benefit from retirement savings plans that include employer contributions.
How to pick the right hotel chain for your career
If you're about to embark on a career in the hotel industry, it's a good idea to start thinking about the types of hotels that you'd like to work for. Here are some tips for picking the right hotel chain.
Research the hotel chain
Look at the hotel chain's website, social media, and other sources to learn more about the hotel chain's company culture, values, and mission. Consider whether these align with your own goals and interests.
Look at the development opportunities
Not all hotels offer the same opportunities for training and development. Many of the bigger hotel chains offer excellent employee training programs.
Consider reviews and feedback
It's helpful to find out what past and present employees say about a hotel chain as an employer. This can give you an idea of what it's like working for the hotel chain and whether it's the right hotel chain for you.
What are the different career opportunities available in hotel chains?
shapecharge/E+ via Getty Images
If you're interested in working at a hotel chain, the good news is that you can consider many hotel chain jobs for your career, such as these.
Front office

: Front desk agent or receptionist, porter, and concierge.

Food and beverage services

: Chef, restaurant manager, and server.

Housekeeping and maintenance:

Housekeeper, laundry attendant, and maintenance technician.

Sales and marketing: Sales manager, marketing and brand manager

, and event planner.

Finance and accounting

: Accountant, financial analyst, and controller.

Human resources

: HR manager, recruiter, and training and development manager.

General management

: General manager, assistant general manager, director of operations.
Are there opportunities for international work and travel within a hotel chain?
Many larger hotel chains operate hotels worldwide, with opportunities to work in different countries.
Certain positions, such as regional managers, sales representatives, and corporate trainers, require travel as part of the role, whether to visit different hotels within the chain or other locations for training sessions or meetings.
Top hotel chains
Top hotel chains offer high-quality accommodation, exceptional service, and guest experiences.
They are generally considered the largest hotel chains in the world based on their global presence, number of properties and rooms, and revenue.
The biggest hotel chain worldwide is Marriott International, with more than 7,600 hotels in 133 countries. Here are some other popular hotel chains you may want to consider working for:
Hilton

: Over 6,400 hotels in 119 countries

InterContinental Hotels Group (IHG)

: Over 5,900 hotels in 100 countries

AccorHotels

: Over 4,800 hotels in 100 countries

Hyatt

: Over 1,000 hotels in 68 countries.
Take your hotel management career to the next level.
Expand your skills, knowledge, and expertise with this master's to work around the world for an international hotel chain.
Hotel management masters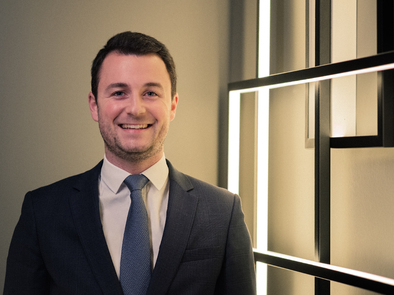 Work-life balance and job security
Many hotel chains offer part-time or flexible-hour positions, job-sharing roles, and the chance to work remotely. Some hotel chains also offer generous paid time off policies, including sick leave, vacation time, and personal days.
With more people investing in hotels and funding innovation, new technologies, renovations, and modernization, the hotel industry is steadily growing, evolving, and creating career development opportunities.
As hotel chains expand, skilled and experienced hotel employees remain in high demand, providing job stability and security that you won't find in many other industries.
Conclusion
There are numerous benefits of working for a hotel chain, including career growth opportunities, job security, and work-life balance.
The hospitality industry is growing rapidly, and hotel chains offer employees great flexibility with stability. There are also financial benefits, from excellent salaries to employee discounts and employer retirement contributions. But ultimately, working for a hotel chain provides an exciting and rewarding career.
Photo credits
Main image: Morsa Images/DigitalVision] via Getty Images