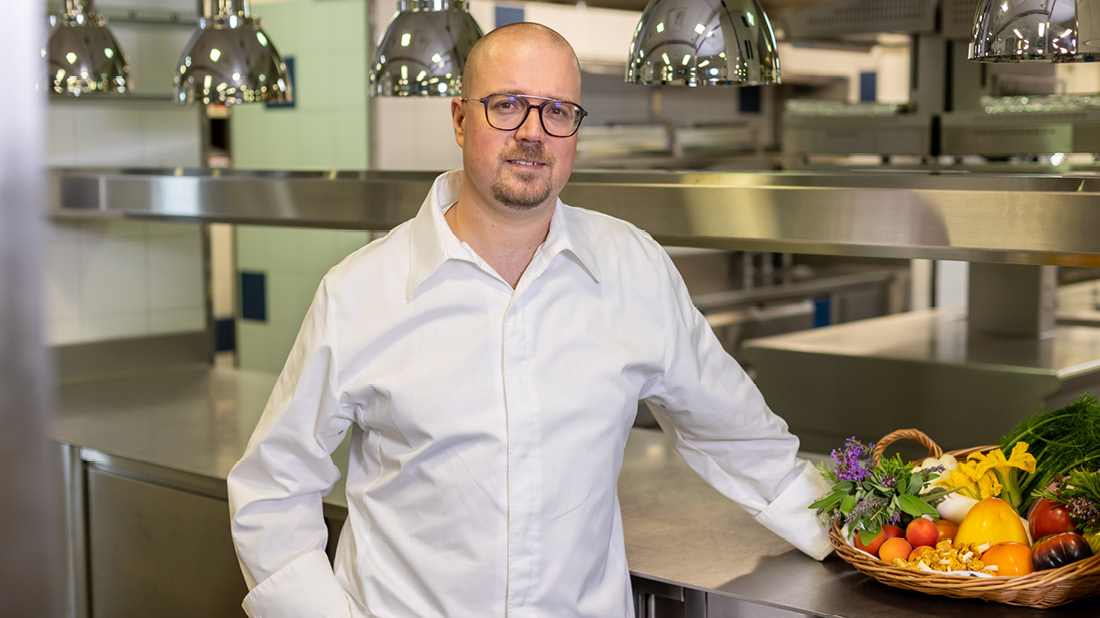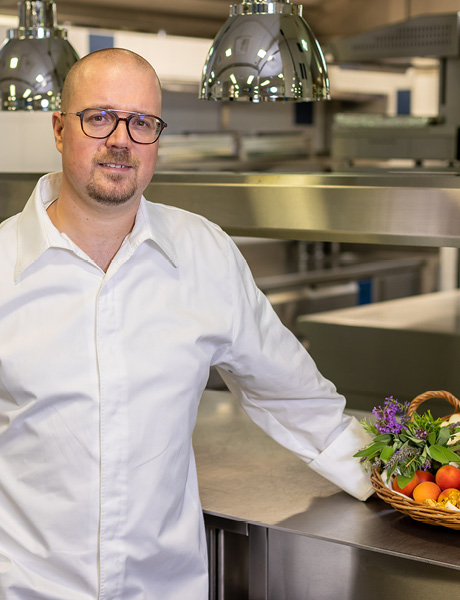 To kick off a new year of The Insider, we've teamed up with Stéphane Décotterd to bring you a series of delicious recipes to prepare at home.
Stéphane is the Michelin-starred chef whose signature restaurant, bistro and lounge bar on Glion campus is now serving up exquisite dishes to our community and the wider public.
What's more, Chef Décotterd and his team have added a new dimension to our teaching of hospitality's practical arts. Working hand-in-hand with the Maison Décotterd team provides an incredible opportunity for our students to learn the art of hospitality in a world-class environment.
Now you too can get a taste of Maison Décotterd, as Stéphane has kindly agreed to give us a recipe each issue from his personal collection. We start with a delicious and very colorful dish, Trout carpaccio with green apple, tarragon and sunflower (pictured below). Put on your chef's apron and let's get started!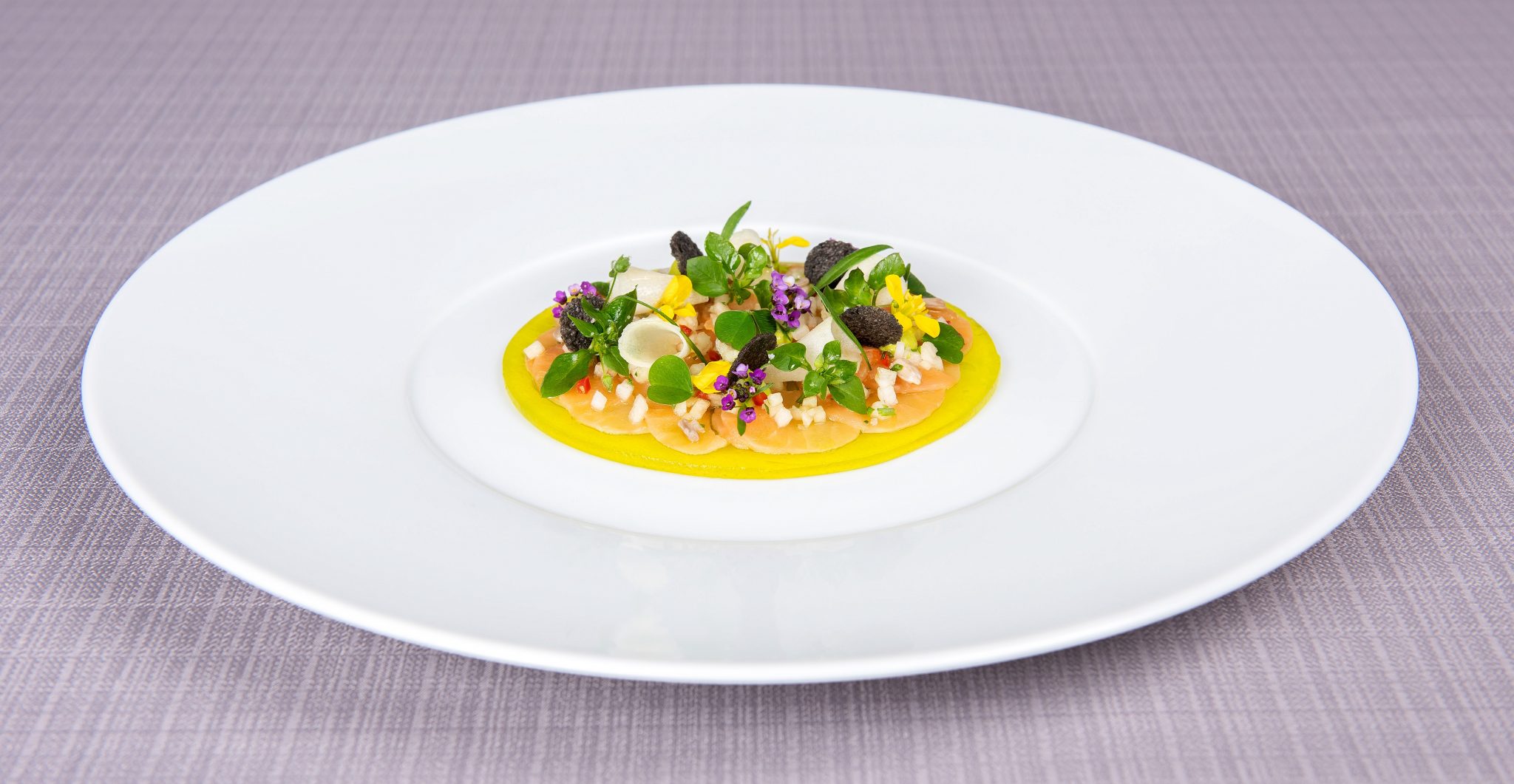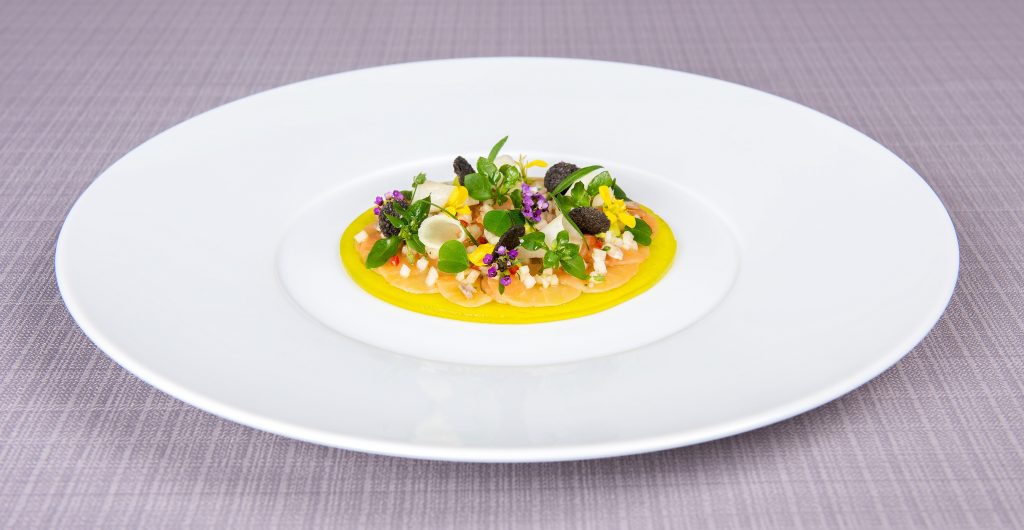 Ingredients (4 people)
– 2 trout fillets (about 200g each)
– 1 green apple
– 1 long red chili pepper
– Sunflower seeds (shelled)
– 1 small bunch of tarragon
– Baby greens and herbs (dill, chervil (French parsley), hairy bittercress)
Seasoning:
– Apple vinegar
– Extra virgin sunflower oil
– Fleur de sel (sea salt)
Apple jelly:
– 180g freshly squeezed Granny Smith apple juice or store-bought apple juice
– 20g apple vinegar
– 4g gelatine sheet
– Salt
– Tabasco sauce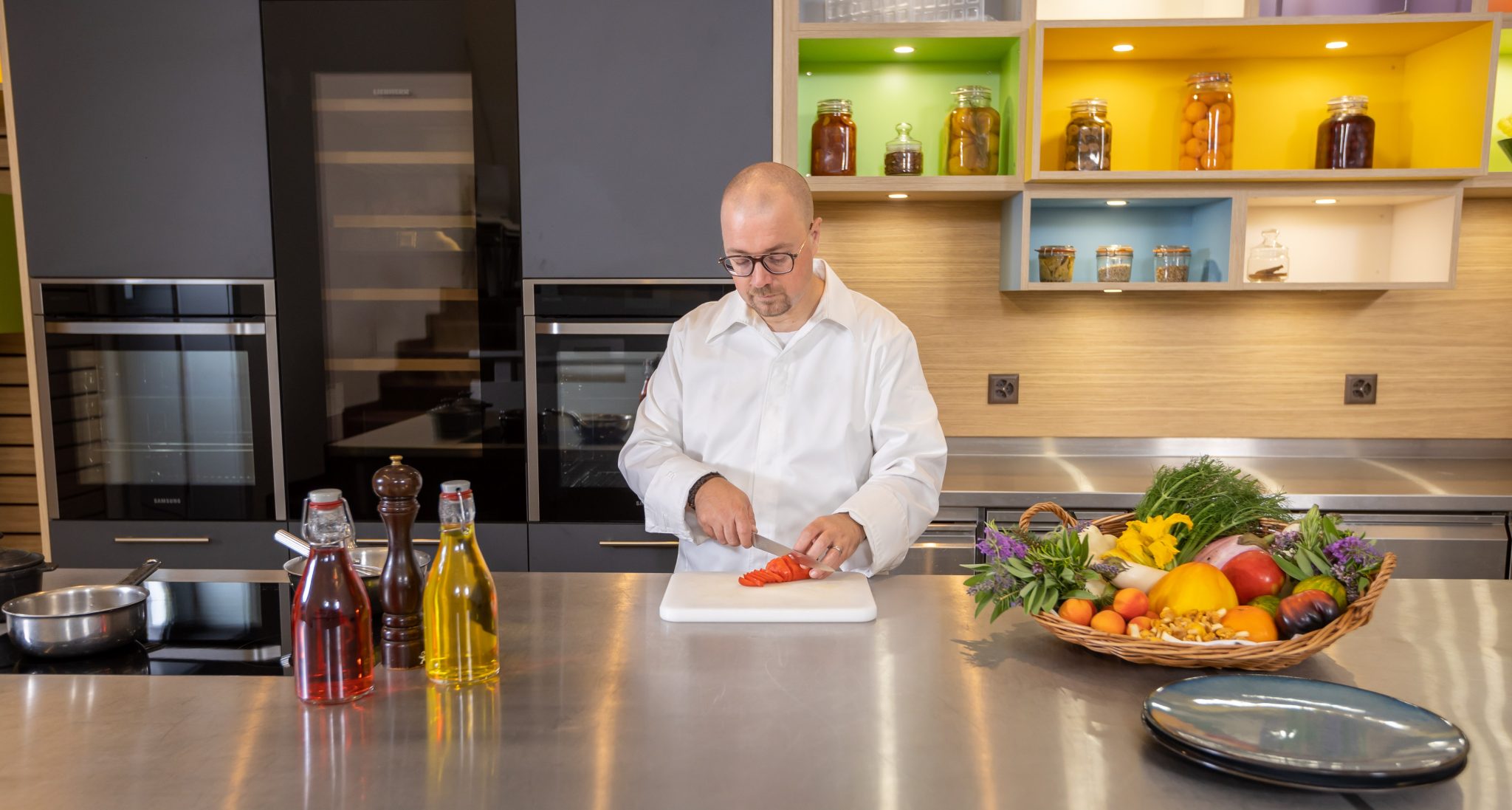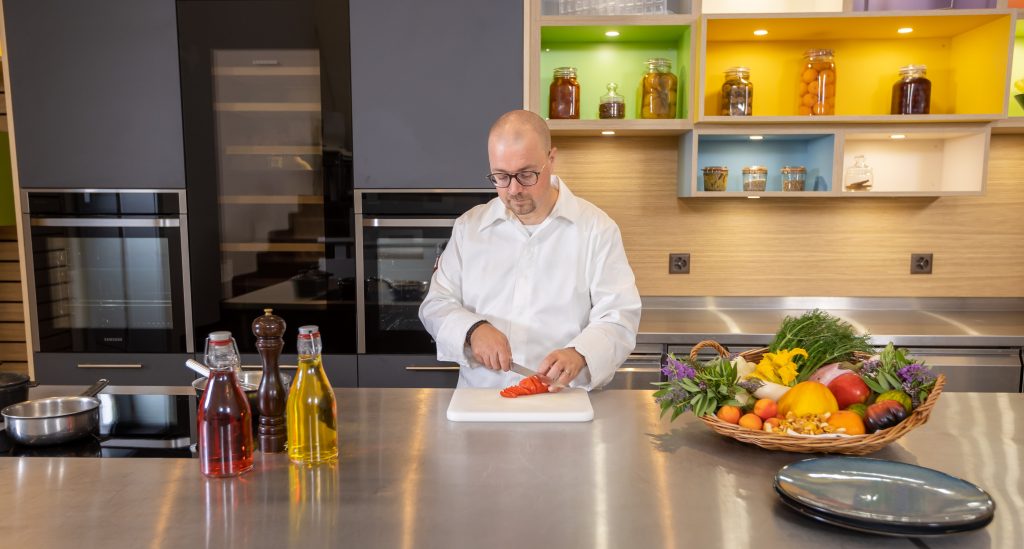 Preparation
Green apple jelly:
Soak the gelatine sheets in cold water. Bring the apple juice to the boil. If necessary, strain it through a cheesecloth.
Add vinegar and drained gelatine, season and stir. Pour the mixture into a dish to a thickness of 2 or 3mm. Let it set in a cool place, then cut it into a perfect circle using a 10cm diameter cookie cutter. Place in the middle of the plates, cover with cling film and store in the fridge.
Trout carpaccio:
Remove the bones from the trout fillets and then remove the skin. Cut the trout into thin, even slices (see photo) and place them on the apple jelly discs. Put them back in the fridge.
Peel the apple and dice it into small cubes (Brunoise). Cut the chili pepper in half lengthwise, remove all the seeds and white parts, then dice it finely. Chop the tarragon leaves. Note: all this can be prepared in advance.
At the last moment, sprinkle the carpaccios with the apple and chili pepper Brunoise (to taste). Add the sunflower seeds and the chopped tarragon. Garnish with the baby greens and herbs. Season with Fleur de sel, a generous drizzle of extra virgin sunflower oil and a few drops of apple vinegar. Then serve!
Practice the art of world-class hospitality
Find out more about our Bachelor's in International Hospitality Business, including the Practical Arts semester that offers a chance to work with Stéphane Décotterd.