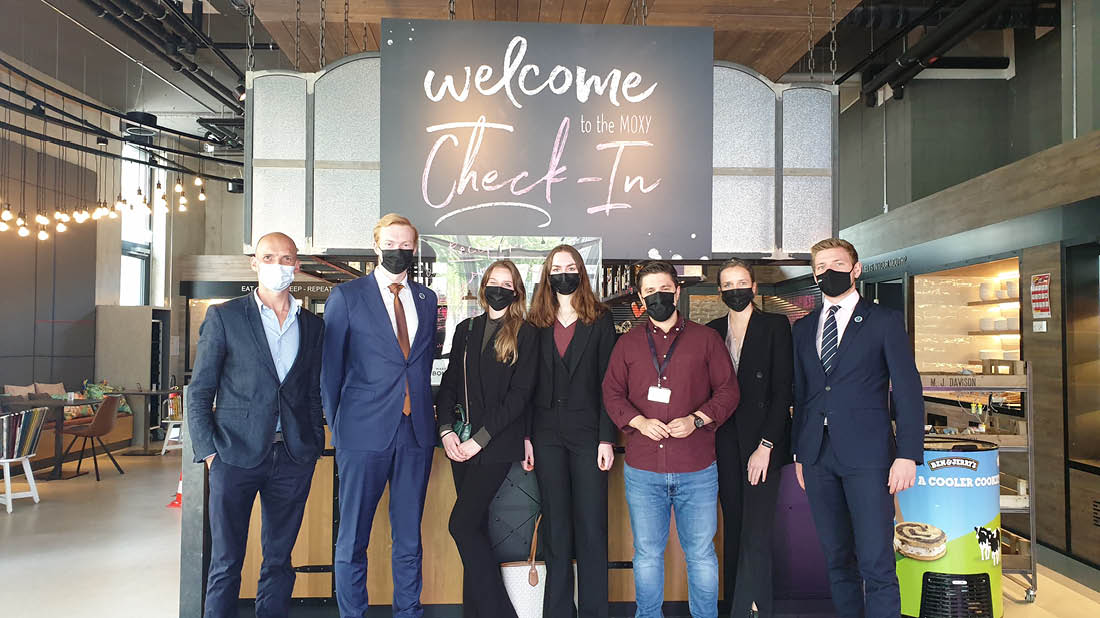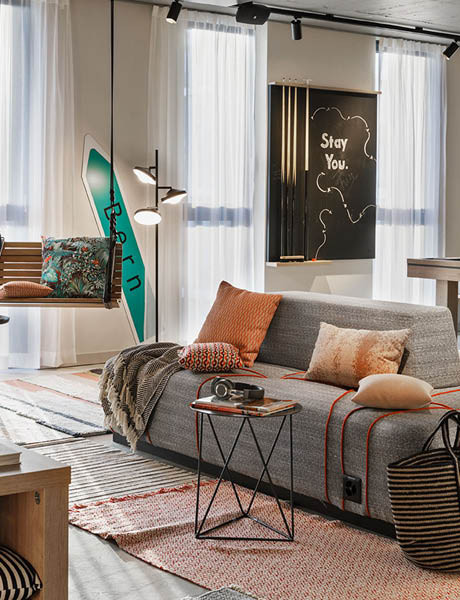 As part of their International Hotel Development and Finance specialization, a group of our Bachelor students recently got to see behind the scenes of two innovative hospitality concepts: Moxy and Stay KooooK. We wanted to find out more, so we spoke with their host for the trip, Philipp Kanthack, who is Project Coordinator for Stay KooooK at SV Hotel…
If you've been watching the industry closely you will know that hospitality is presently witnessing a period of extraordinary creativity, with new brands and fresh concepts seeming to arrive on an almost daily basis.
For Glion Bachelor students who want a piece of this action, a great place to start is the International Hotel Development and Finance specialization. Taught in semester 7, the specialization is led by Jonathan Humphries, who splits his time between teaching and running his own hospitality innovation consultancy, HoCoSo.
It means Jonathan is exceptionally well-connected within the hospitality innovation sphere; and that in turn means his students get to experience the cutting edge brands and concepts which are on his radar. Among them is Stay KooooK, which cleverly combines elements of the extended stay and 'lifestyle affordable' segments, and for which Jonathan has acted in a consulting capacity.
Stay KooooK is the brainchild of SV Hotel, a Swiss company which is also the largest franchisee for Marriott in the country. Its first property is already open in Bern's Wankdorf City district, with six more developments in the pipeline opening within the next four years. In its role as a Marriott franchisee for Switzerland and Germany, SV Hotel has also opened seven Moxy hotels to date, all in keeping with the brand's "Stylish & Playful" ethos.
To find out more about these concepts, Jonathan (a long-time consultant to SV Hotel) took his students to Bern. There they were able to visit the company and check out the hotels for themselves, in the company of Philipp Kanthack, who is Project Coordinator for the rollout of Stay KooooK.
We also sat down with Philipp; with our focus being primarily on Stay KooooK, and why he was happy to bring this concept to life for Glion students.
The Insider (TI): Tell us a little more about Stay KooooK and what it offers.
Philipp Kanthack (PK): The idea was to combine the best elements of the four overnight stay concepts preferred by young, modern extended stay travelers. So, from hotels we've taken the slick processes and professionalism; from hostels we've taken the community aspect, bringing people together; from Airbnb we've taken the notion of the local host, who is there to provide a personal welcome and facilitate your stay in an urban neighborhood. We've also incorporated our own, specially for the Stay KooooK requirements designed digital customer journey, where you can do everything via your smartphone, including checking in and unlocking your room. Lastly, we've borrowed from micro living, making clever use of space, including installing customizable furniture so we can offer more with less.
TI: what are some of the key elements that make Stay KooooK different?
PK: With the goal of offering guests the greatest possible freedom and individualizing their stays, Stay KooooK provides accommodation that is consistently aligned with guests' needs. Smaller footprints mean more studios fit within a building, as well as a more affordable price for guests. The studios offer all the comforts of home for long-stay guests. A movable wall lets studios adapt to different situations with a kitchen that disappears after cooking to make space for the living and sleeping areas.
The community areas in our Bern property are different, in that they are up on the eighth floor, instead of the ground floor as you would usually find in a lifestyle concept. Our community space is styled as a big loft area, where guests can come together. There's an open kitchen, a coworking space, a pool table, and a 'customization wall' where guests can borrow items to use in their rooms for free. And all this is only for registered guests – if you don't have a valid booking with us, you don't have access to the property.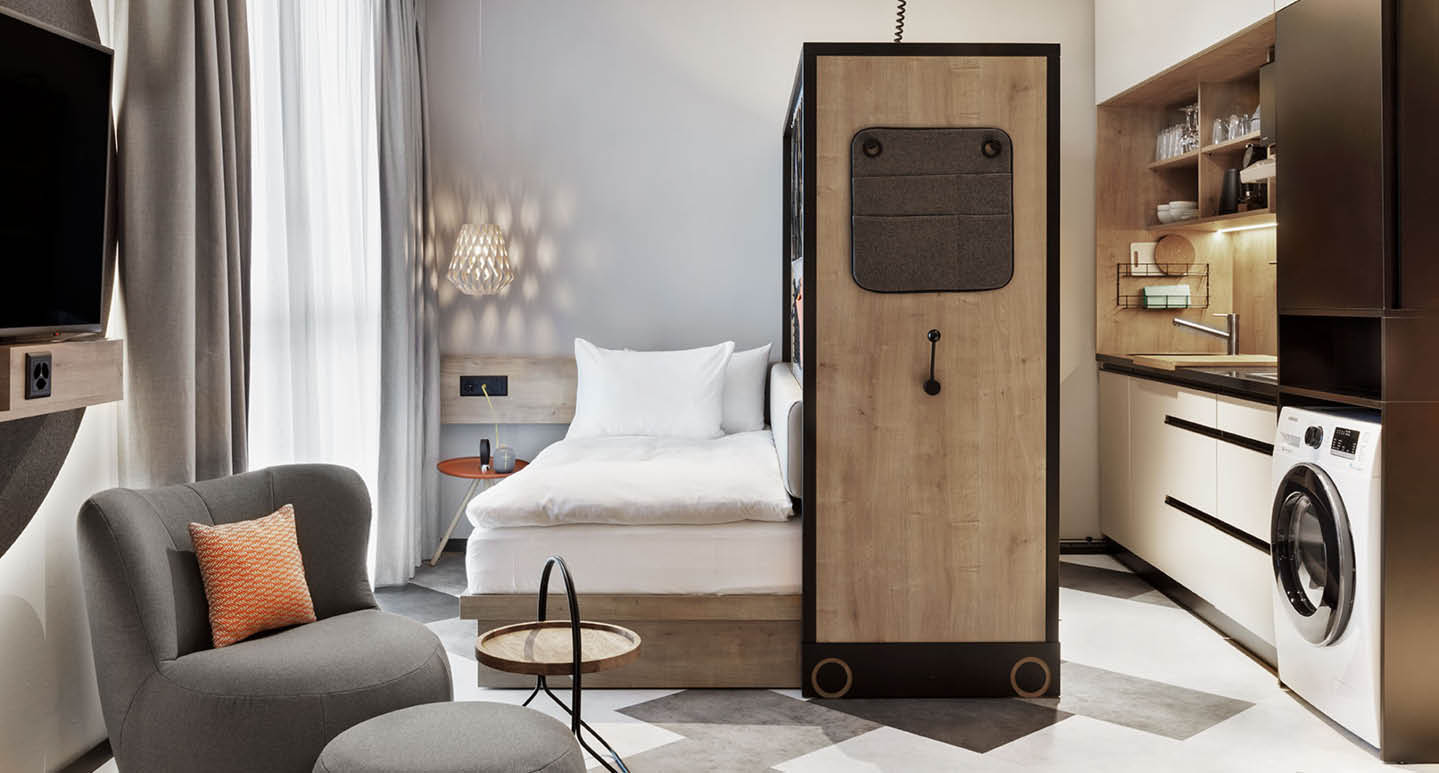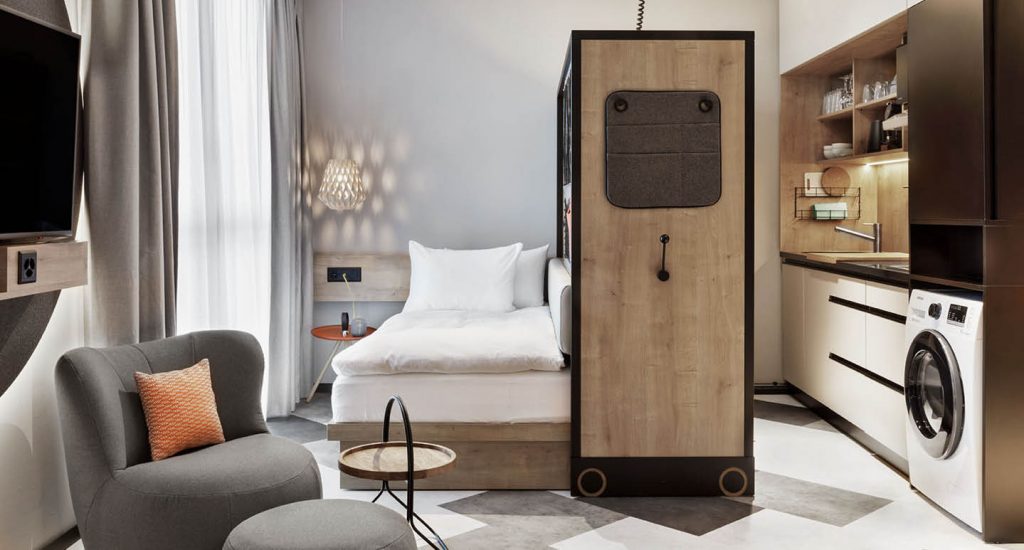 TI: Do you think this kind of concept points the way towards where the hospitality industry is going in future?
PK: I think it's a tough time to make solid predictions – much will depend on the market. According to our research, the way people live, work and travel has changed, even before the pandemic started. Work, live and travel are merging more and more. On the other hand, the work-life balance, even for younger people, becomes increasingly important. Based on the requirements of today's modern travelers, we created Stay KooooK, which allows the travelers to get the most out of their travel.
There has been a multitude of brands coming to market, in all segments, but at the same time a lot of regions have previously been underdeveloped, so there has been room for professional brands to appear in the German-speaking markets, as they already have in places like the UK and US. We will also have to see what implications Covid-19 has on traveling behavior in future.
TI: So for operators, it's a case of adapt as you go along, maybe?
PK: Definitely, and that is our approach here as well. For example, we are currently developing a short-stay room offer for Stay KooooK, which will help us with clients who may wish to mix business with leisure. To illustrate: we have a guest who is staying with us for a month while he or she works on a project, and they do not necessarily want to fly home every weekend. So they call their partner or family and say look, Bern is a super-nice city, why not come and visit for the weekend? And then they can book a room or a family room with us, which is double the size and also has a little bit more infrastructure for the kids. It's about having the right room, the right product, to fit the needs of the guest at that exact time.
TI: You've shown this concept to the students doing the International Hotel Development and Finance specialization. Do you think having this sort of specialization will be useful to their prospects?
PK: 100% yes. I think it's super valuable to see how the hotel development process works, and I saw this in the feedback we got from the students as well as in the conversations I had with them, and the questions they asked. This idea of thinking outside the box about the entire 'value chain' of an asset and what it means – that's something I personally had to learn not at university but since I joined SV Hotel.
That said, there are only a handful of people who actually get to decide what's happening on a development, so it's also very important to get your operational years and time in, so that you can truly understand how hotels work from the inside. But I would say that the asset management and development side is an interesting and exciting goal to pursue, no question!
TI: Our semester 7 students have already completed a full year of internship by the time they reach this point in their studies. From your perspective, do internships help to understand the business better?
PK: Yes, I think that's true. I'm not saying that every internship is amazing – hospitality work is often quite hard labor, with long hours. But it offers the opportunity of rising through the ranks quite quickly – it gives you an understanding and an empathy for the job that's done by the people who work in the industry.
I believe this can also be key to thinking innovatively; to say OK, how can we streamline those processes? Where can we make a difference? Hospitality has perhaps been slow to adapt in the past, but the new generation can bring their viewpoint and further develop our industry. However, true creativity only comes after you've mastered your field. And that's why I'm a big fan of people getting their hands dirty. You figure out what it is, see what is necessary, and then bring in your own innovative thoughts.
TI: You started as a trainee, did some operations, and now you have risen all the way up to project management. What would be your advice to Glion students preparing for their careers ahead?
PK: First of all, if they are getting their education at Glion, there's a certain reputation that they'll get within the industry – that comes from studying at one of the most respected hotel schools in the world. But this will only go so far. You also have to roll up your sleeves and deliver. People may think 'oh you are privileged; you have no idea how to work'. Well, outperform them. Show them that you want to be a manager.
Also, take every opportunity you get. If someone offers you something, look at it and say 'yes'. Just try it, and if it doesn't fit, you can still quit and go. Another thing it's important to remember is that a career is a marathon, not a sprint. It takes time. If you join an organization, you have to build a network. You have to get around; to understand people. You are not going to get a management position in six weeks. If you want to be taken seriously, you have to deliver. And if you want to lead, first you have to learn how to follow.
·To find out more about SV Hotel, visit the website (in German)
Practice the art of world-class hospitality
Find out more about our Bachelor's in International Hospitality Business, including the Practical Arts semester for which Paolo Basso is a Visiting Lecturer.