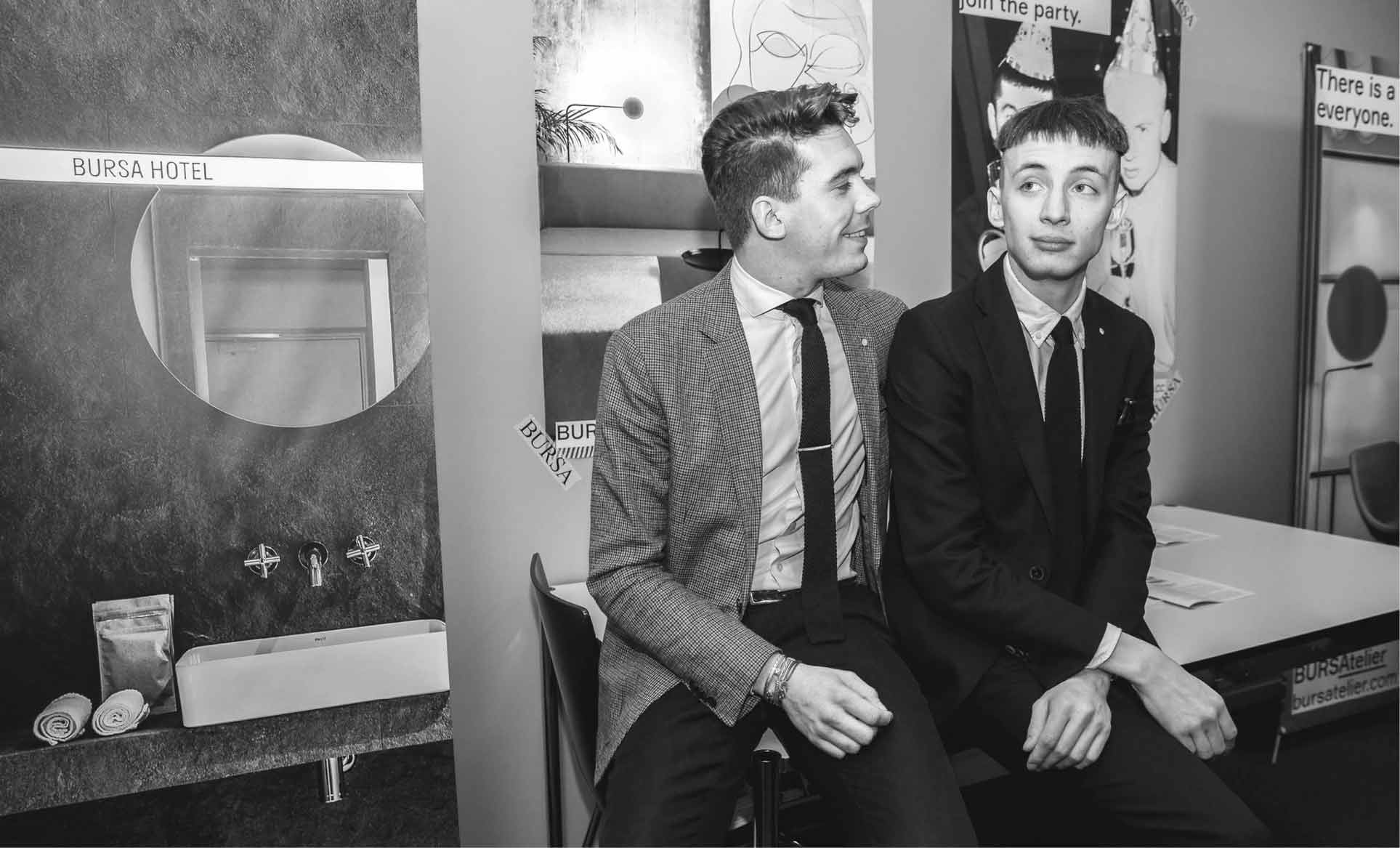 After graduating from Glion in 2016, Moscow-born Vasily Grogol headed to New York to start his professional hospitality career. But a call from his father took him to Kiev, Ukraine to open and run boutique hotel, BURSA. Back in 2019, Vasily spoke about BURSA in our Time of Their Lives podcast series. A year on, we caught up with him and his business partner Eliott Chirin, also a Glion alumnus, to talk progress, evolution and resilience in the midst of COVID-19.
Back in 2018, Vasily's vision was to create more than a hotel. BURSA was a universe, inspired by art and home to a range of creative spaces. In a city where hospitality concepts were unheard of, this avantgarde approach was well-received.
"It's been really good, we've been running at pretty high occupancies, averaging at 75 percent. Up until the crisis it was going well, we have developed new products within BURSA, now we have two bars, restaurants, a little cinema and the hotel."
Expanding into consultancy
Taking the essence of BURSA that Vasily spoke so passionately about in the podcast, he and Elliot have launched a hospitality consultancy, Bursatelier.
"Eli, my friend, joined me about a year ago at Bursatelier, our management and developing company. Although we are now restructuring our operations within Bursatelier due to the crisis, the philosophy behind BURSA has helped us to carve out a little niche which was not taken before."
"It's sort of like a creative studio for hospitality businesses, we're working with spaces in order to give them a spirit within hospitality. We've signed our first project, which is redeveloping a big Soviet building in Kiev into a 133-bedroom hotel. It's pretty massive, roughly eight thousand square meters with a restaurant."
Adapting through COVID
Not long into their professional lives, the young entrepreneurs have had to endure one of the biggest crises faced by hospitality in the last 75 years. True to the Glion Spirit, they have adapted, grown and can see opportunities.
"COVID did hit us very hard in terms of BURSA, everything was great and the economy was going up, then suddenly, in two days, we had nothing. We have been at five percent monthly occupancy, our restaurants and bars are closed, the cinema's closed and it hit us right after the low season. I had to say goodbye to one hundred staff."
"It was tough because we are close to our people. We are not like an international chain, we know their names, where they live, what they do, they're family. It's hard to do, to think about business before people," Eliott says.
Like a true start-up founder, Vasily is doing whatever necessary to keep the business operating. "I'm doing dishwashing, check-ins and checkouts at the front desk. We are on the verge of survival, but we're going to make it."
"The opportunity for us is to develop our flexibility, our adaptability, and make ourselves as efficient as possible. I'm optimistic, whenever you have a period of tough times, the market renews, flourishing with plenty of new concepts and innovations which bring longer-term benefits to us," Eliott added.
"It's not a time for chilling" – quarantine advice from entrepreneurs
Having founded a boutique hotel in a tricky market, expanded it through innovation and made it this far through a global pandemic, Eliott and Vasily had some invaluable advice for hospitality students and professionals at this unprecedented time.
"My advice is composed of three elements," Eliott says,
"In your personal life, use this time to learn and to do things you wouldn't do before. This will help you to find this period of time a bit more exciting."
"From a professional perspective, be flexible and do what it takes, be a waiter, a front desk agent, whatever. Believe you can do it better and you will find it more challenging and more fulfilling and satisfying."
"And last but not least, it's going to be fine. OK, it's tough. It's different. It's a complicated period, but we are part of the most peaceful generation of all time. Take time to reflect on this and focus on staying positive."
"It's not a time for chilling," Vasily says, "It's time to look into our own eyes, to do what you never had time to do. To look at changing your work to actually do what you want, not just stay for another year in a job. It's a good thing when you lose everything, you feel lightweight. You can do whatever you always wanted to do."
Thank you to Vasily and Eliott for taking the time to catch up with us, share their progress and offer priceless entrepreneurial and professional advice.
You can listen to the original podcast with Vasily on Spotify and come back soon for more in our series of 'Where are they now' alumni interviews.