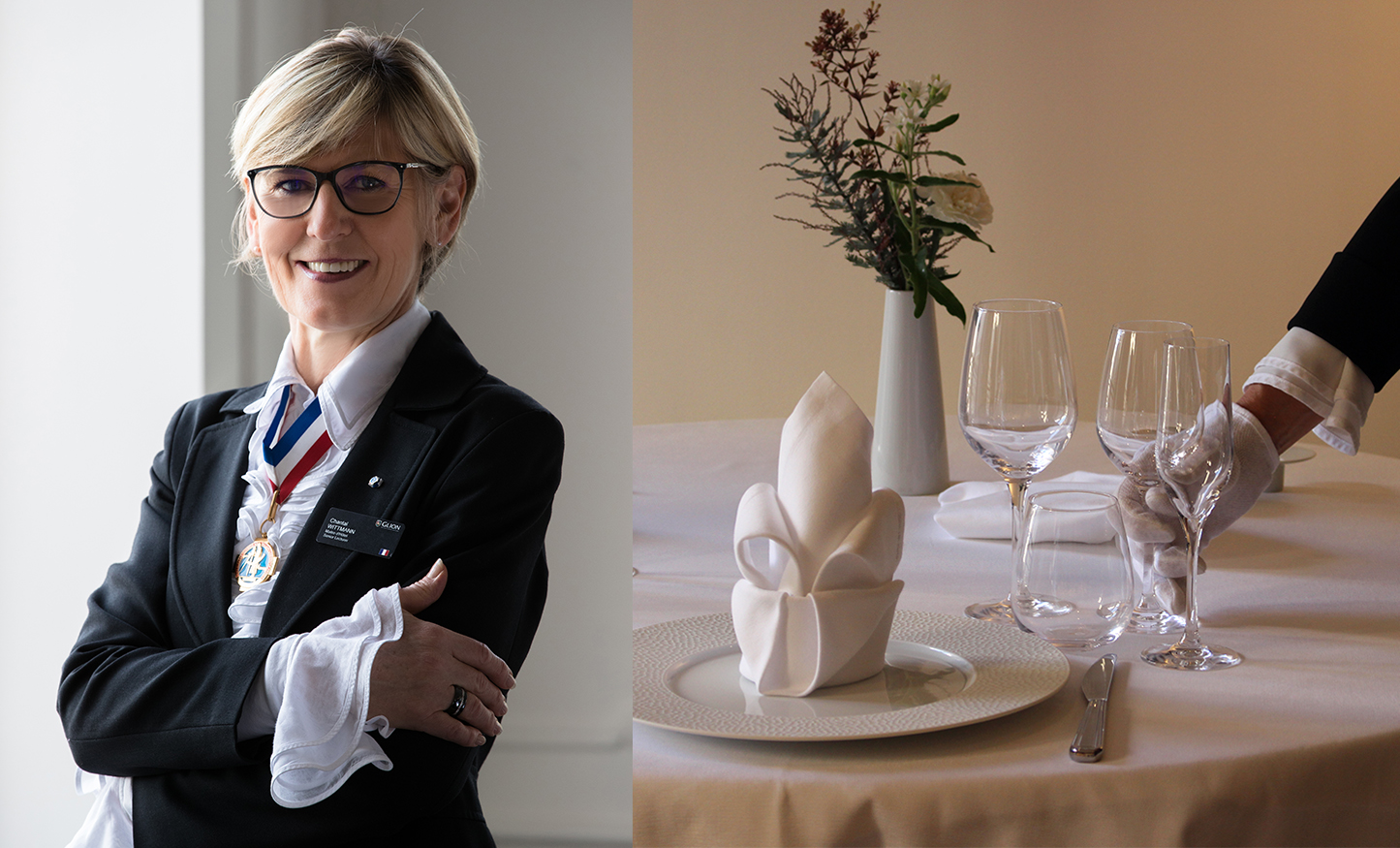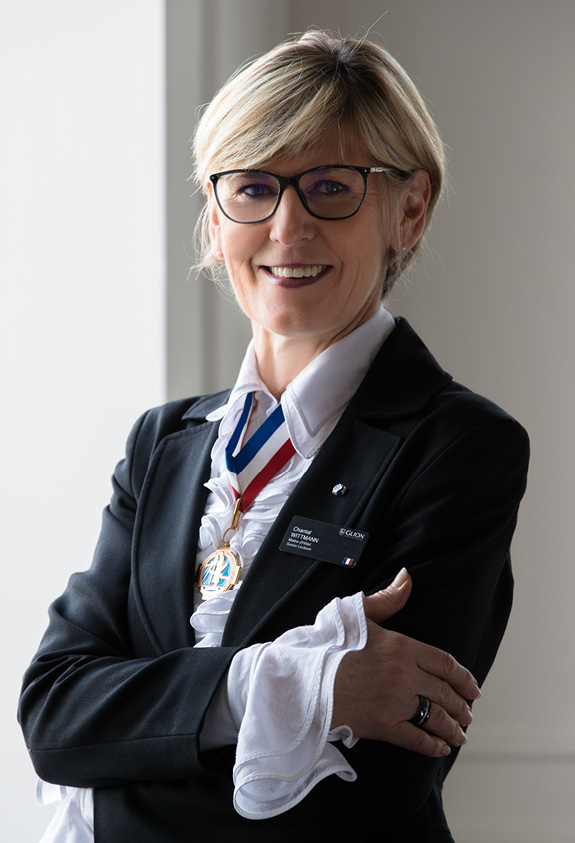 It was launched in the early 1920s, has grown to embrace 230 categories and, for many skilled artisans, it is the pinnacle of a professional career. We delve into the world of the Meilleurs Ouvriers de France, with the help of one of Glion's resident MOFs, Chantal Wittmann…
Think back to the last time you had great service in a restaurant. Truly great service that is; the kind that, when combined with exquisite cuisine, leaves a long-lasting impression.
There's a reasonable chance this happy memory involves a French restaurant – by location, by cuisine, or the magical combination of both. In France, gastronomy is a national passion. The most decorated chefs are revered figures, while the codes and customs of exceptional table service – from making the menu come alive to creating a spectacular flambé – are practiced with a rare fervor.
The best of these craftsmen and women are recognized every four years by a unique national awards system that is now almost a century old. The four-yearly cycle of Un des Meilleurs Ouvriers de France, or MOF, seems entirely appropriate, since it is the 'Olympic Games' of the artisan professions.
Chantal Wittmann is a Senior Lecturer at Glion and also manager of the school's gastronomic restaurant, Le Bellevue. She earned the accolade of MOF in 2011; and is today one of less than 50 people, including just two women, who are MOFs for Maître d'Hôtel Service and Table Art.
Our three MOFs
Chantal is also one of three MOFs teaching at Glion, the other two being Benoît Carcenat, Director Culinary Arts and Gastronomy, and Fabien Foare, Director of Food Production.
"The whole ethos of the MOF competition is to reward the 'intelligence of the hand'; the artisan skills which are especially revered in France," Chantal explains. "Today there are 230 categories, but the most historic, and most celebrated, are for those working with food – the chefs, pastry chefs, butchers."
Chantal's category was introduced in 1992 and she first attempted the competition in 1996. "I wanted to become the first woman to be a MOF in this category, but although I made the final I didn't win the award. The experience was not wasted, though, as I was now aware of the level I needed to reach, and how much work I'd have to put in to get there."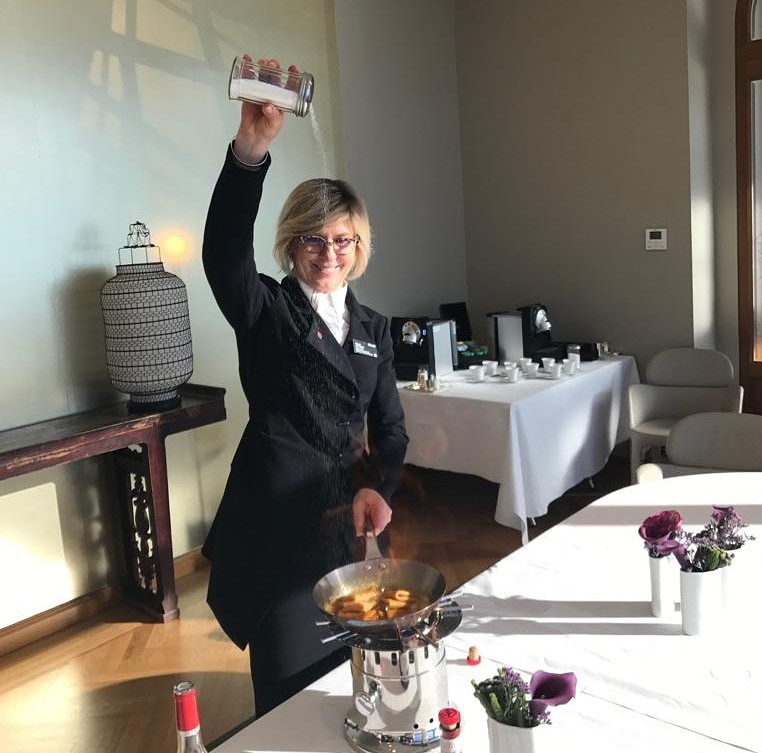 "If music be the food of love…"
For Chantal Wittmann, the arts of cuisine and table service have a parallel in the world of classical music.
"I say to my table arts students that we are like musicians in an orchestra; we each play one instrument, but when we come together in perfect harmony the effect is beautiful. The maître d'hôtel is the conductor; he or she makes sure that everyone plays the right music. And who is composing the music? The chefs!
"So, to me the kitchen writes the music, and the restaurant plays the music."
With the twin demands of her career and bringing up two young boys taking center stage, it would be another four MOF cycles before Chantal took her second – this time successful – tilt at the competition.
"Once I decided to try again for the competition, it became like preparing for an Olympics. I was in a bubble for about 18 months, spending every spare moment learning, learning, learning. I had to eat, sleep and live MOF, which naturally made it a hard time for my family," she says.
"When I finally found out I'd achieved the award I was so happy you cannot imagine! I wanted to prove I could do this as a woman, a teacher and a professional. But it was also for my family, my students and everybody who had been behind me and shared in my preparation.
"And now I am a MOF, I have it forever. For me, it is the accomplishment of a life's work."
What makes a MOF?
As an accolade carried for life, MOF is not given out lightly; it has to be earned the hard way.
Chantal thinks back to her experience in 2011. Having successfully negotiated the semi-finals against 77 other candidates, she and her 13 fellow finalists had seven specific tasks to perform – each reflecting a different aspect of the maître d'hôtel role.
Perhaps the most intense of these examinations was to serve a table of five at the celebrated Parisian brasserie Fouquet's – all under the watchful eye of the MOF judges.
"We only received the menu an hour-and-a-half before service, so it was very stressful," Chantal remembers. "They made sure we went through all the technical skills – serving Champagne, carving, serving foie gras – it was classic service, but they threw in a few surprises as well!"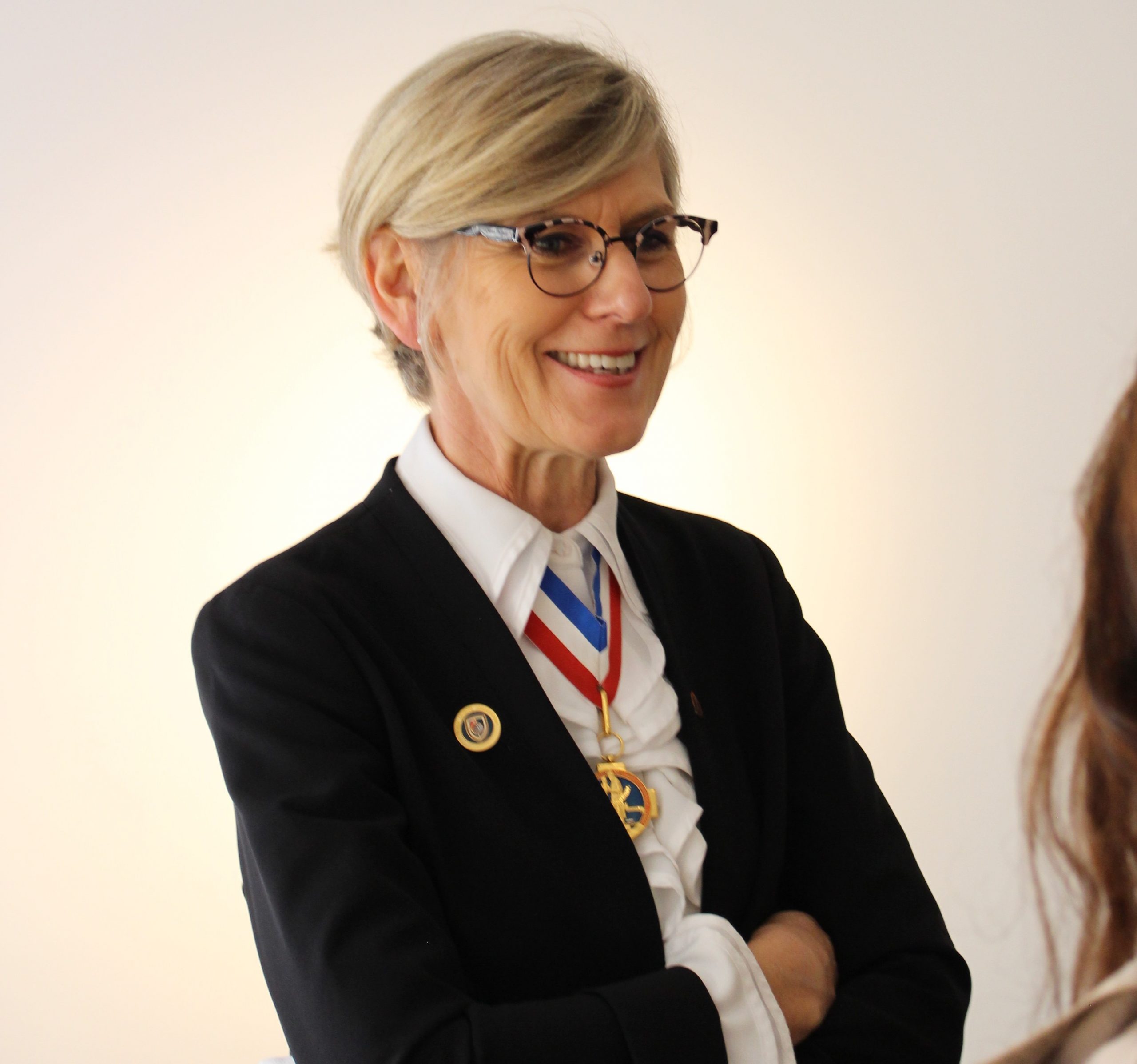 "And now I am a MOF, I have it forever. For me, it is the accomplishment of a life's work"
Chantal Wittmann
Other tasks in the final included arranging a banquet and interviewing a potential employee. One in particular that created a lasting impression on Chantal was to create a complete table setting and then explain her rationale and methods to the jury. She has since borrowed this exercise to use with her own students at Glion.
"I give my students 30 minutes to set a table and then tell me the story about it. I'm very passionate about table art – it can turn a meal from ordinary to special. The precision and excellence needed to set a table… these are lessons for life: once the students understand how details make the difference, it will serve them well as they develop their future careers or make their way in business."
Like many MOFs, Chantal finds ways to give something back to the institution. She sits on the jury for the MOF Sommelier award, as well as for the Meilleur Apprenti de France, or MAF, which is a separate competition aimed at students and apprentices.
"I think it's really important to value and motivate our younger artisans," she explains. "These skills need to be cherished and preserved; and it's up to our generation to give the next generations the motivation to reach a level of excellence."
To discover more about the Meilleurs Ouvriers de France and the competition's history, visit the society's website
True excellence is learned at Glion
Find out more about our Bachelor's in International Hospitality Business, including the Practical Arts semester.