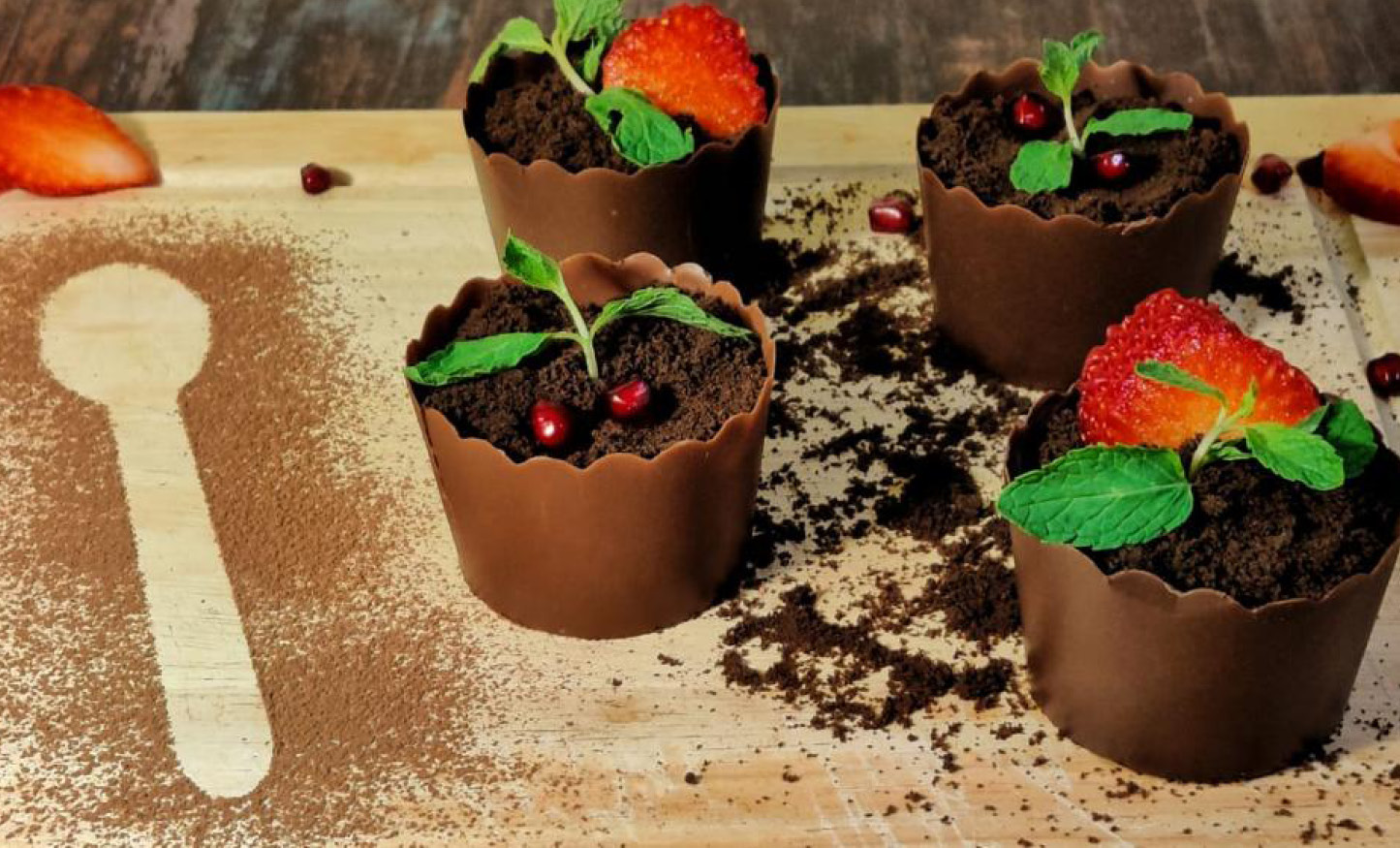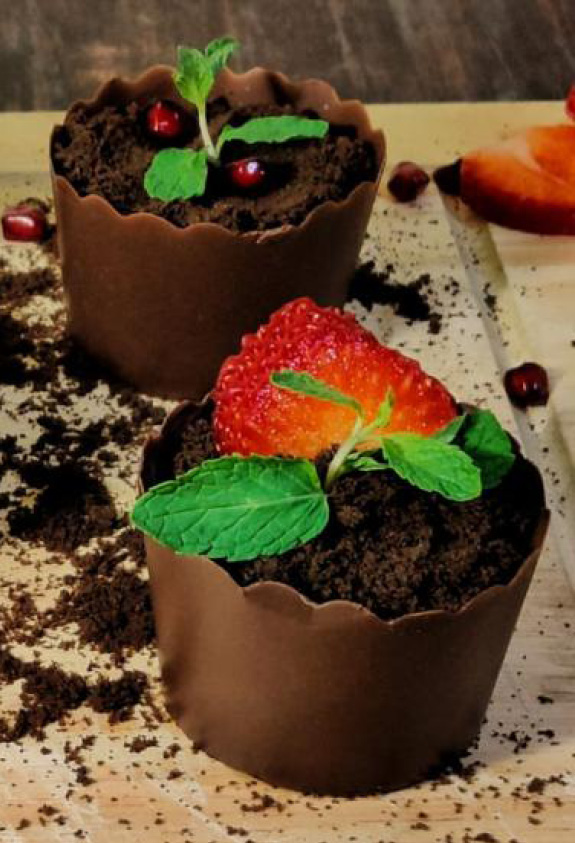 An Instagram food blog named 'The Ingredients Saga' is giving Glion Master's in International Hospitality Business student Charanpreet Sabharwal the drive to pursue her culinary passions. Here she tells us more about the origins of the blog, and shares three delicious recipes for you to try…
"Never stop dreaming and always be passionately curious."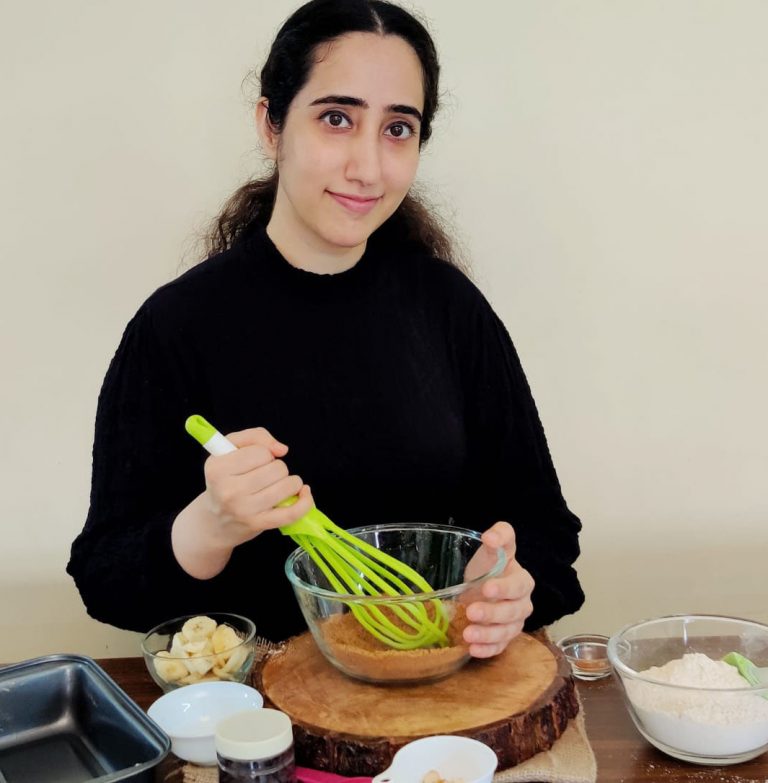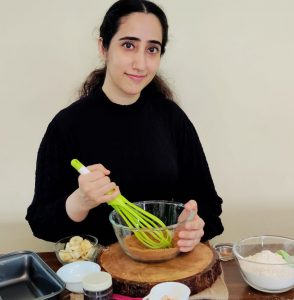 It's a motto that doesn't just provide daily motivation to Charanpreet Sabharwal – it also drives her to try the new and different. Like becoming part of the inaugural intake for our Master's in Luxury Management and Guest Experience in 2019. And then launching her own food blog, with the aim of inspiring others to create vegetarian and vegan delicacies from India and elsewhere.
"Food has fascinated me since childhood, when I used to watch my mother cooking. I was 15 when I cooked my first dish, which is an Indian recipe called 'Poha'. This is flattened rice , with some spices, herbs, onion and potato added to it. It is still one of my favorites!"
Her Instagram blog, The Ingredients Saga, is a natural evolution of this passion. Launched in November last year, it was the product of a lengthy preparation.
"I did a lot of research," she explains. "As I knew nothing about food blogging, nor how an Instagram blog functions, I went online to find out what I needed to know in order to get started with content planning, as well as to reach out to people.
"Being an introvert, initially it was difficult for me to become more outspoken and get the word out there; I just had to forget about what people would think or say about my idea and just go ahead with it!"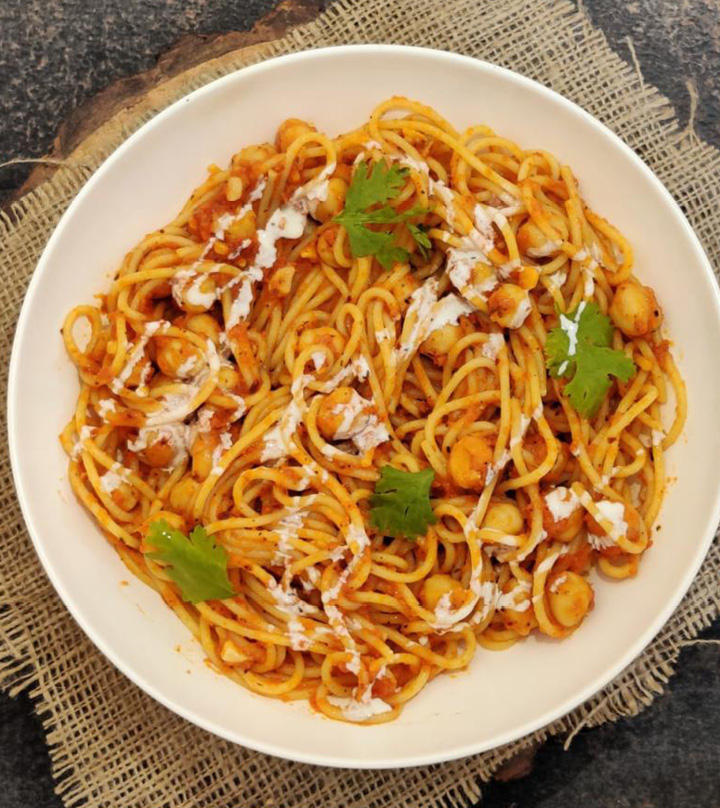 Charanpreet's recipes #1: Spaghetti with chickpea & a twist of tandoori masala
If you are looking for a quick, easy-peasy spaghetti recipe, this one is for you. Tangy, mildly spiced with a twist of tandoori masala and chickpeas, it's truly a delicious meal on your plate!
🔸Ingredients:
Boiled spaghetti – 150gms (approximately 1 serving bowl size qty)
Tomatoes – 5 medium sized
Chickpeas boiled – 1/2 cup
Red chili powder – 1/2 tsp (Kashmiri)
Olive oil – 4-5 tbsp
Tandoori masala – 1/4 tsp
Salt & pepper (as per taste)
A dollop of unsalted butter
Garlic – 4-5 cloves
Dried mixed herbs – 1-2 tsp
Red chili flakes (as per taste)
Fresh cream for garnish
Coriander for garnish
🔸Method:
Take all tomatoes and purée them in a blender. In a pan, heat the olive oil, add the garlic sauté them until golden. Then add the tomato purée, cook until it leaves the side & oil separates. Now add red chili powder, mix, then add chickpeas. Now add tandoori masala and butter. Add salt & pepper, toss in the prepared spaghetti. Sprinkle the mixed herbs and chili flakes, toss and plate on the serving dish. Garnish with fresh cream and coriander and enjoy it hot.
Tips:
You could also add fresh basil leaves to it while tossing. If you are looking for a vegan option, you could garnish with cashew cream instead of fresh cream.
For the tomato part, you can reduce the amount of tomatoes for the purée and add a little tomato paste as well.
Charanpreet admits that the need for a rapid turnover of content made things challenging initially. But, after making a list of her recipes she put a content calendar in place; and she hasn't looked back since!
She was also able to draw on some of the benefits that derive from being a Student Ambassador at Glion. "During my Ambassadorship, I had the opportunity to handle the social media posts and story relating to our Paris field trip. That gave me a glimpse into how to handle a page on Instagram. In addition to that, I was also asked to contribute a blog sharing the entire experience about our Paris trip."
Her academic studies now complete, Charanpreet is currently in the process of securing an internship to conclude her Master's program. At the same time she's working hard to build up her blog, which already features more than 100 mouth-watering posts.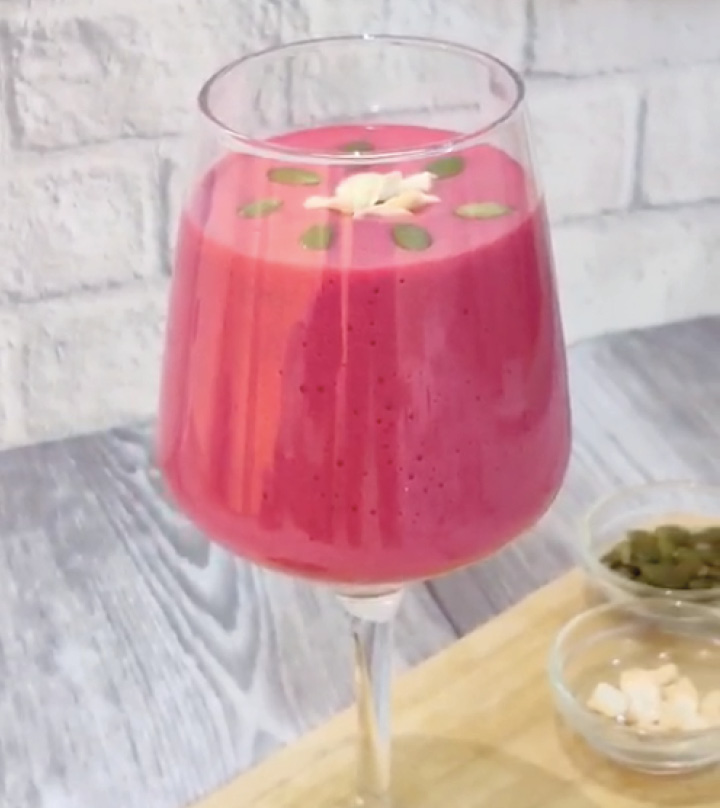 Charanpreet's recipes #2: Beetroot banana smoothie
Here's the recipe for this quick and simple, healthy smoothie.
🔸Ingredients:
Beetroot purée – 2 heaped tbsp (here I have parboiled the beetroot & then made a purée)
Banana – 2 small, chopped
Low fat milk – 1 glass
Honey – 1 tbsp
Pumpkin seed & cashew – for garnish
🔸Method:
Put all the ingredients in a blender and blend until smooth. Pour in a glass, garnish with nuts and seeds of your choice and serve cold. Enjoy!
"It's rare that a day goes by without me creating anything. And when that happens, I feel empty, because it feels like an incomplete day. My favorite thing about this blog is the fact that it's about creating and getting your creativity out there to people. It's a platform for me to express myself through my work; and that's something I really like.
"These past months have been difficult times for all of us and, honestly, the blog has come like a gift to me. It gives me the motivation to keep going and to learn something new, which I never thought of."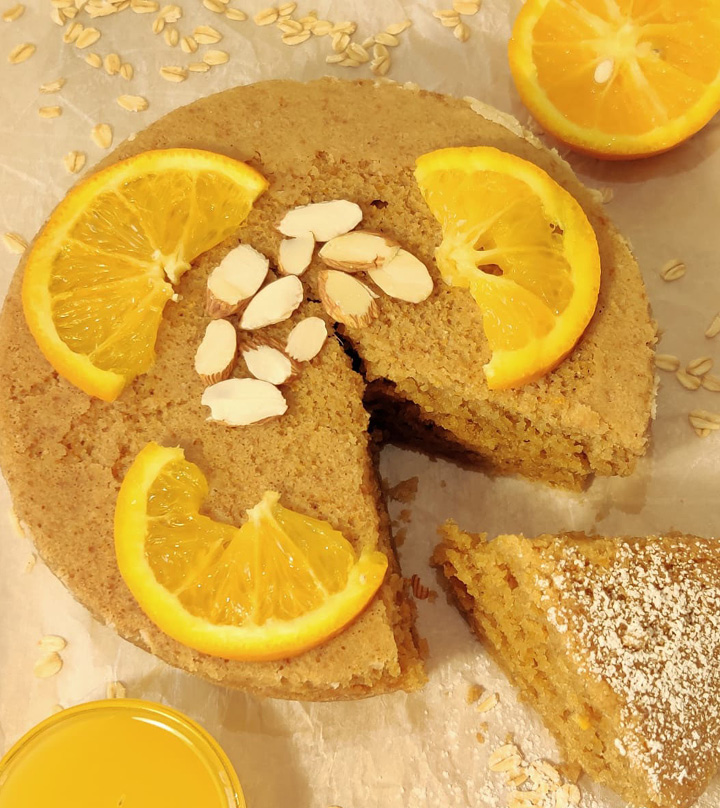 Charanpreet's recipes #3: Orange oats cake
Satisfy your cake cravings with a healthy twist! This recipe is absolutely a must try in your kitchen if you're craving for a healthy fruity cake. Delicious, eggless, super soft is how one could describe this cake.
🔸Ingredients:
Freshly squeezed orange juice – ½ cup
Rolled oats flour – 1 cup
All-purpose/whole wheat flour – ½ cup
Baking powder – 1½ tsp
Baking soda – ½ tsp
Orange zest – 1 tbsp
Soft brown sugar – 3/4 cup (you could use normal white sugar or even jaggery powder)
Thick yogurt – half cup
Olive oil – half cup
Pinch of salt
Pinch of cardamom powder (optional)
Almond flakes – 2 tbsp for garnish (optional)
🔸Method:
Firstly, sift both the flour, baking powder, salt, baking soda & set aside. In a bowl, with a whisk mix yogurt & brown sugar. Then add the orange juice & zest, whisk. Then add olive oil, whisk until well combined. Now add the sifted dry ingredients in 3 batches and fold with a spatula gently.
Then pour the batter into a greased 6 inch (15cm) circular cake tin. Place into an oven that is preheated to 180 degrees C for 10 mins. Bake for about 40-45 mins or until an inserted toothpick comes out clean. Then remove from the oven, let it cool in the tin for about 10-15 mins. Then remove from the tin, garnish with some almond flakes and enjoy.
You could also drizzle some chocolate ganache or plain chocolate or an orange glaze over it.