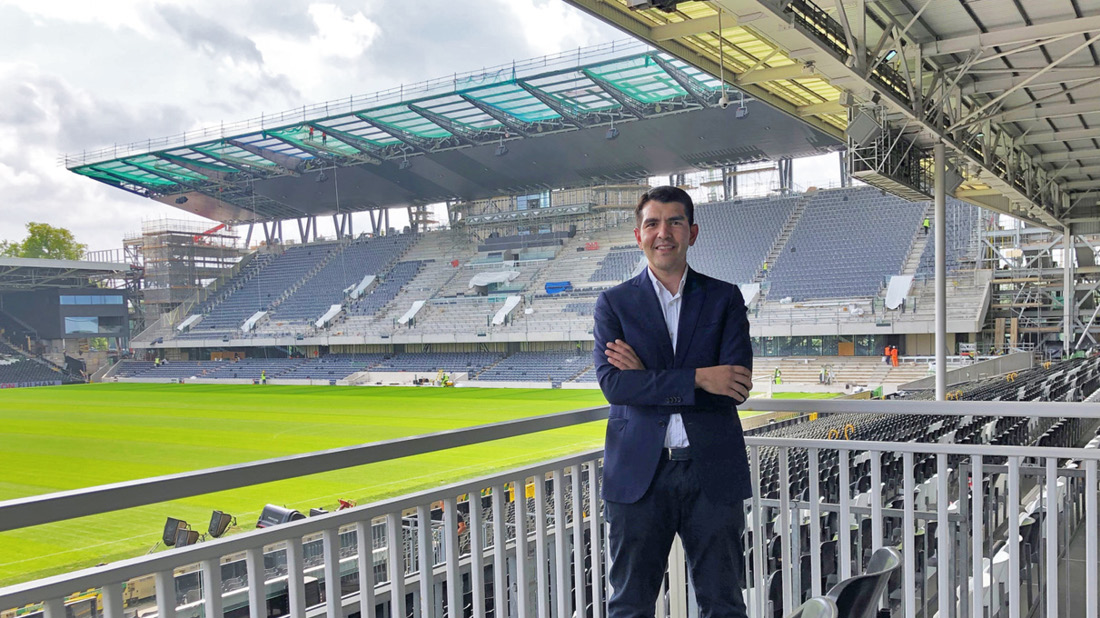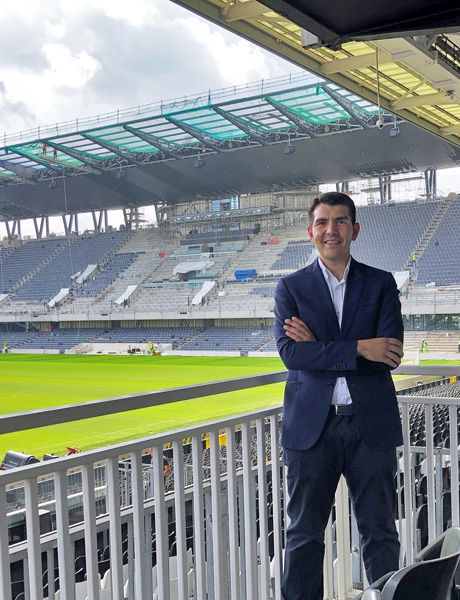 After an extraordinary 'sliding doors' moment, Glion alumnus Angelo Giannuzzi finds himself at the heart of one of London's most intriguing hospitality and leisure developments. The Insider visited him onsite to get the full story of how a chance meeting changed the course of his career…
Sitting to the west of the city, and with the river Thames as its southern border, Fulham is among London's most desirable residential communities. Average house prices are over £1 million and, in the smart streets that branch off the main Fulham Palace Road, there's a steady hum from the building improvement works adding even more value to numerous properties.
These are not the only works going on in the neighborhood. By the banks of the Thames, the cranes are moving on an ambitious new development at Craven Cottage, home to the local soccer club, Fulham FC.
It is called Fulham Pier, and it actually is a pier, which will provide the new western-most stop for London's river bus service, while also welcoming chartered craft. But it's what is happening on the riverbank which provides the biggest excitement. Here the club is building a new main stand, which will double as a multi-function, 365 days-a-year leisure and hospitality destination.
Importantly, when it is completed the project will also open up a stretch of London's popular Thames Path directly adjacent to the river for the very first time (walkers previously had to skirt around the soccer stadium).
The Project Development Officer for Fulham Pier is class of 2011 Glion alumnus, Angelo Giannuzzi. It's a role that places him among the core team responsible for bringing Fulham Pier to life, alongside the club's Chief Executive, Alistair Mackintosh, and Marketing Director, Matt Lowery.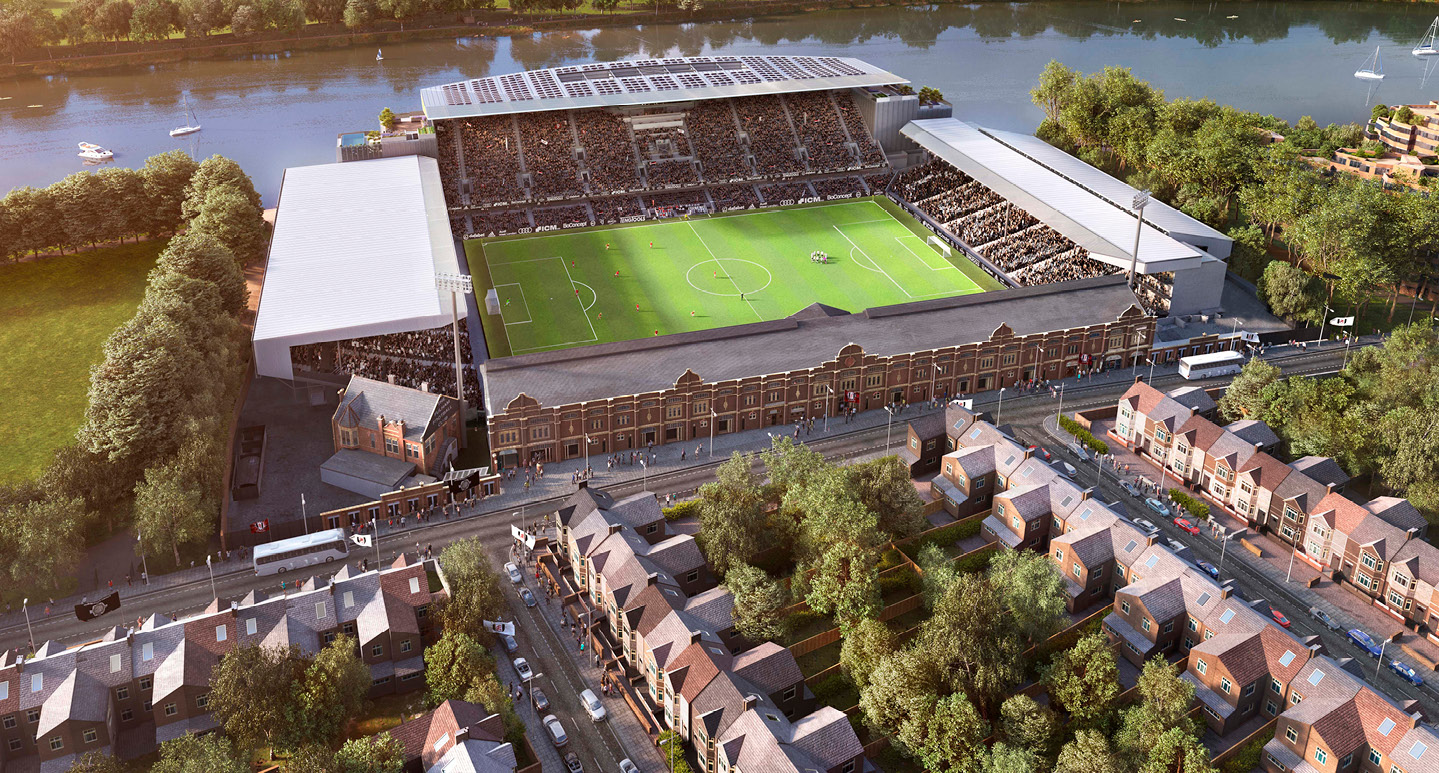 Seizing the moment
How did an Italian hospitality graduate from Glion find himself intimately involved with a multi-million pound development project in London? The answer is one of those 'sliding doors' moments when – through sheer chance – life unexpectedly takes a major detour. Angelo picks up the story.
"I went into the hotel business after graduation, and eventually I found myself at the Forte Village resort in Sardinia. One day a colleague at the resort came up to me and said, 'there's this guy staying with us who you should meet, because he's the CEO of Fulham FC'. It was nothing unusual in my job to meet and greet guests; and I am a big soccer fan, so I thought 'why not?'.
"We met up, and he was super-kind to me, complimenting me on the resort, while I congratulated him on the club having been promoted to the Premier League that season. When we parted, he said I should come and visit him in London and take in a game at Craven Cottage. I thought nothing of it – that's usually just a polite way to leave a conversation."
Not this time. Several months later an email arrived inviting Angelo to a match. While he was a guest of the club, the offer to join the Fulham Pier project was made. And he did not hesitate to sign up – even if it meant a difficult family conversation would necessarily follow.
"I had to give my resignation to the company CEO… who happens to be my father! But he agreed it was a once-in-a-lifetime opportunity, and I should grab it with both hands."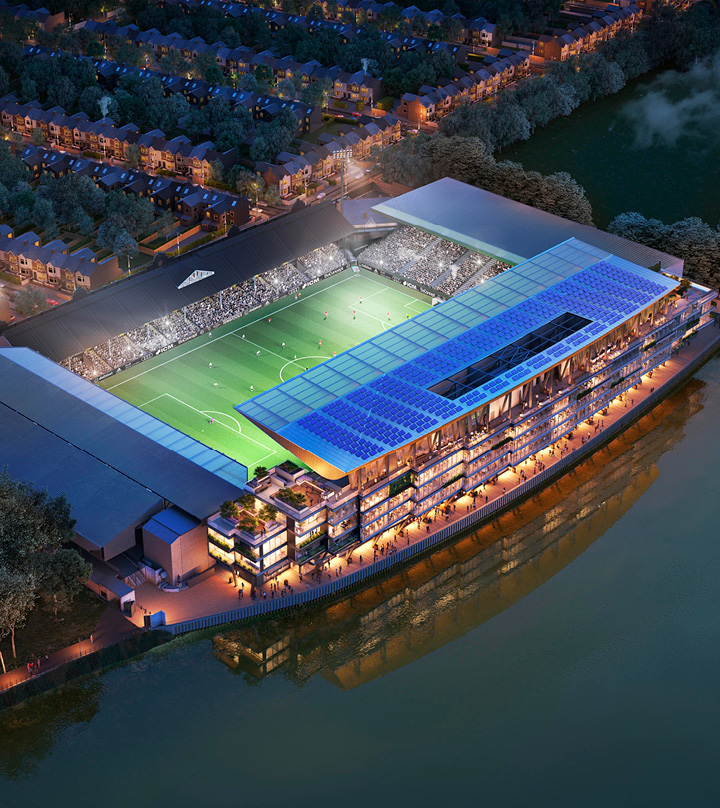 "We are creating a landmark for hospitality. I am super-grateful to be part of this and to have this opportunity. Now I want to repay that trust by delivering a hospitality destination we are all proud of."
Angelo Giannuzzi
New directions, new opportunities
Once on board, Angelo immediately began to bring his hospitality expertise to bear, helping to steer the project in fresh directions. For example, it was his suggestion to abandon the planned serviced apartments in favor of creating a boutique hotel.
Angelo explains, "A hotel just made more sense to me. One of the amazing things about Fulham Pier is the variety of F&B outlets, including fine dining, that we offer. So, it didn't seem right to have guests in apartments with their own kitchens. Also, as a hotelier I realized the potential there would be to create special packages to cover matchday weekends."
Among the boldest, and most creative, decisions has been to bring in a Russian-style banya to the project. For those who don't know them, the banya is a uniquely Russian take on the bath house, complete with steam rooms, sauna, plunge pools and treatments.
"From the start, every decision we've taken has been based on the notion of making this a special place that offers a break from the ordinary," says Angelo. "We're not in central London and we don't have a Tube (metro) station on our doorstep; so we need an offering that will encourage people to make the journey here.
"There's no point in just having a small gym and treatment room like you can find anywhere. As we see it, if you can create something which has some character and a purpose, it might not appeal to everyone, but you are more likely to spark people's curiosity, and build up a loyal market."
Gap in the market
One of the toughest management calls involved the members' club which will occupy one of the main spaces within the stand.
"This is where we've really needed to be sure what we are doing," Angelo adds. "This project only works if we can generate revenue all year round, not just on match days. We want to say to people that the stadium is open and welcomes you – but we're well aware of the risk that a members' club could create a sense of exclusion."
In the end, the attractions of such a concept outweighed the risks, not least because there's a distinct gap in the market within the local area. "We have a great consultant on board, who showed us how our local area is currently lacking this type of club."
Add to this a riverside walkway featuring a choice of bars and restaurants, a rooftop swimming pool, a 5th floor roof terrace with amazing views over the Thames and surrounding area, a meetings/events space, plus a music auditorium in the basement, and you can see this is no ordinary football stand.
After a delay due to Covid-19, the main project is set for completion in 2022, with the river pier opening the following year. By the time the stand opens for business, Angelo hopes that Fulham FC will have reclaimed their place in the Premier League – not just for professional reasons, but also because he has become a big fan during his time working with the club!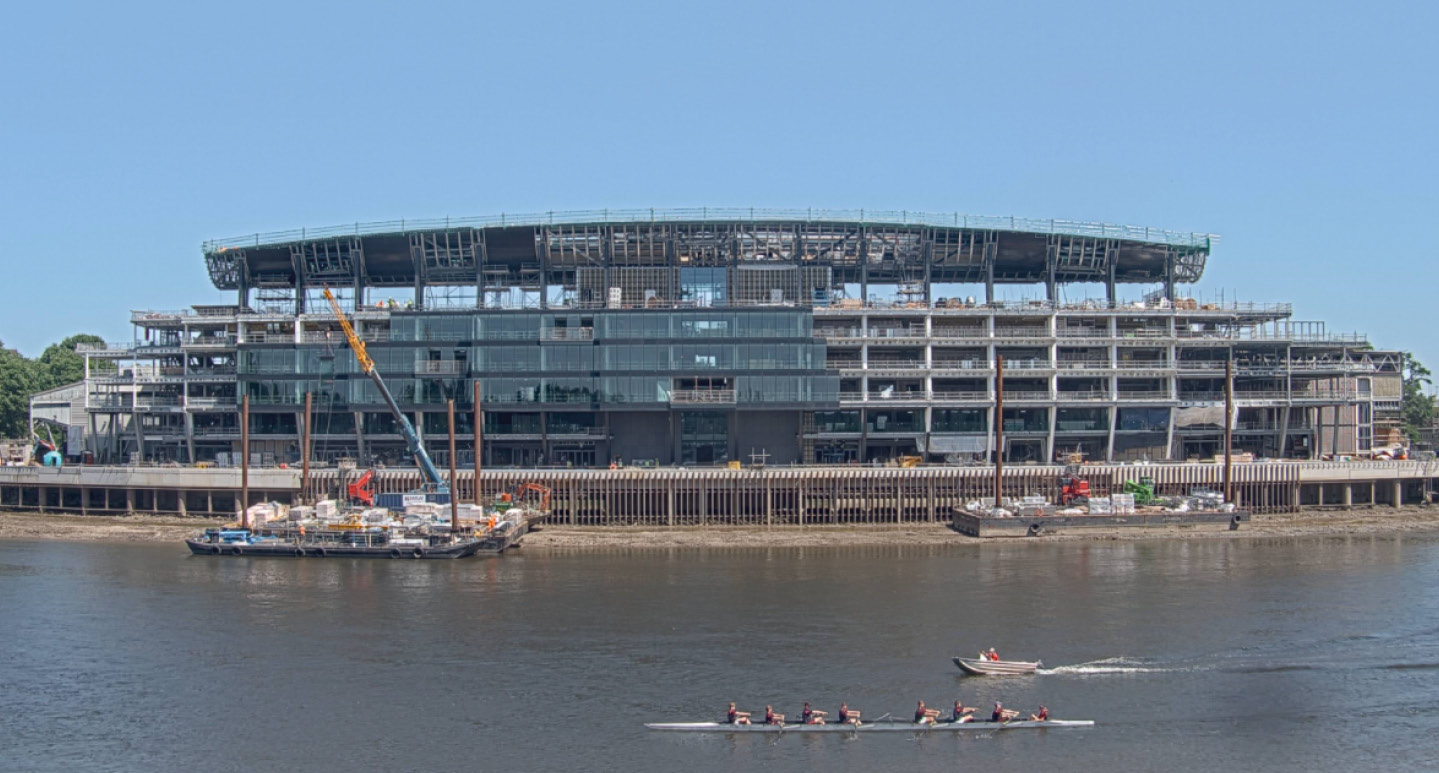 Bold vision
Most promising of all, Fulham Pier is part of a larger masterplan for the club, which benefits from the enthusiastic ownership of Shahid Khan, a self-made billionaire businessman and sports tycoon who also owns the American Football team the Jacksonville Jaguars. It means there's investment available to deliver the bold vision which Angelo finds himself part of.
"Having worked with Alistair the CEO for two years now, I can say that he is unbelievably bold in his decision-making. You can see this in the way we've focused so much on non-match day income," says Angelo. "What's been so interesting is how usually with projects like these you have everything down on paper before the first brick is laid. In a way we've worked in reverse, so it's been a very creative journey to get to where we are today.
"We've spoken to a lot of interesting and competent people… everyone has had their own opinions and ideas, but at the end of the day we always came back to the need to do things with purpose; and to look at the hospitality experience we can deliver in the space we have at our disposal.
"We are creating a landmark for hospitality. I am super-grateful to be part of this and to have this opportunity. Now I want to repay that trust by delivering a hospitality destination we are all proud of."
Master your future
Hospitality, luxury, finance, real estate, innovation, entrepreneurship… whatever your career ambitions, we have a Master's that will help you achieve them.