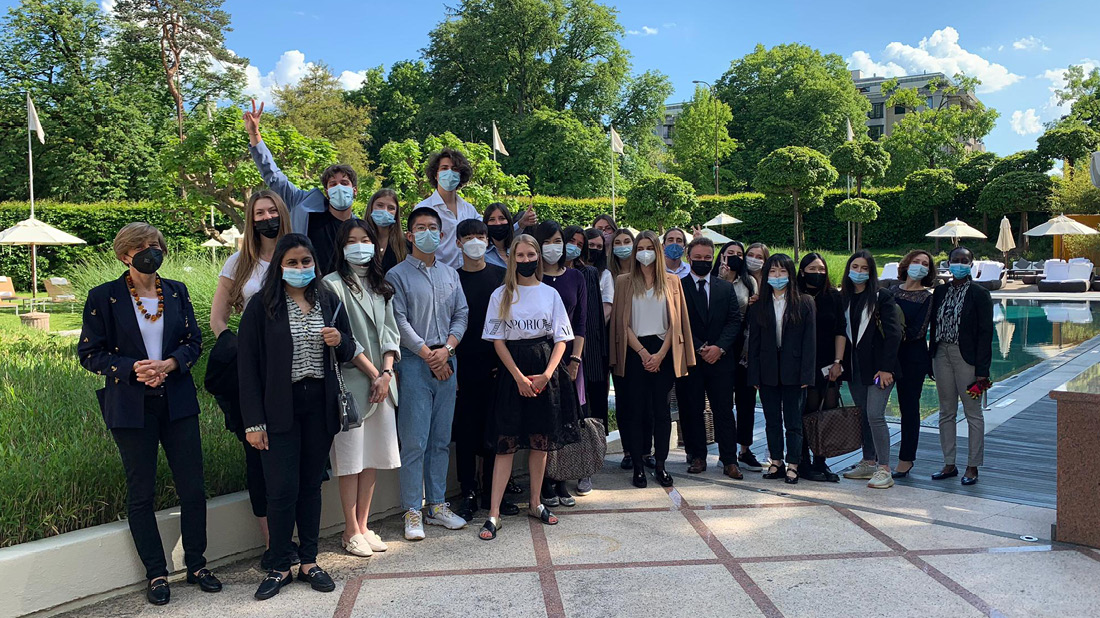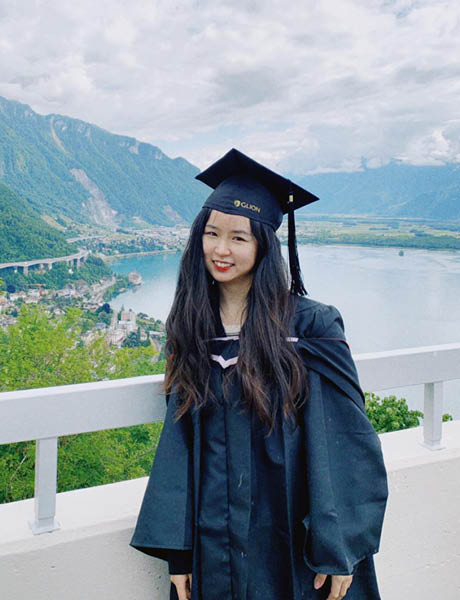 Flora Chen, from Wenzhou, is a semester 2 student of the MSc in Luxury Management and Guest Experience. She shares her experience of the program so far, with a special focus on the recently-completed business field trip to Geneva…
Why did you choose Glion and Switzerland as your study destinations?
I chose to study in Switzerland for three reasons. First, Switzerland is famous for its top-class hotel management schools, which are also recognized throughout the industry. The second reason is the natural environment in Switzerland. When I first saw the school profile, I seem to see a paradise! 
Lastly, there is a professional setting at Glion. Luxury management is a specialty of Glion, which is exactly what I am interested in. Moreover, Glion also has a unique field trip, which is the opportunity to travel to the European headquarters of various luxury goods brands.
What is also worth mentioning is that Switzerland can provide me with a new platform for learning and communicating with Europe – such as various opportunities to encounter brand headquarters – which I cannot get in Asia. Finally, despite the pandemic, Switzerland is very safe and clean, relatively stable, and has achieved comprehensive physical education, so this is the best choice.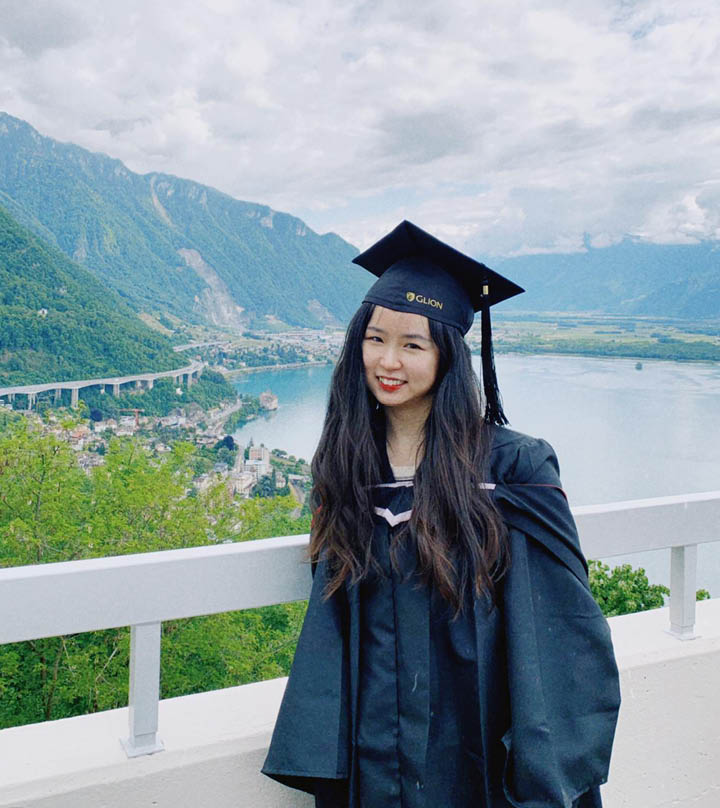 "In this diverse education environment, I learn many things, such as the different ways of thinking and problem-solving demonstrated by my classmates and teachers from other countries."
Flora Chen
How do you feel about your studies at Glion compared to your previous studies in China?
Glion is staffed by highly specialized teachers along with industry expert guest lecturers who have extensive, top-notch work experience. For example, the HR of a leading brand of LVMH Group, CEO of a leading luxury jewelry brand of Richemont, Marketing Director of a leading Italian supercar manufacturer, and so on. They give me a more international perspective, which should allow me to have more development opportunities in the future.
Before coming to Glion, I studied International Tourism Management in Macau. In contrast to my studies in China, the students and faculty at Glion are from many different countries. In this diverse education environment, I learn many things, such as the different ways of thinking and problem-solving demonstrated by my classmates and teachers from other countries. This, I believe, will be a very helpful asset to me in the future.
We also had many group discussions and presentations, which allow me to improve my soft skills and develop myself professionally. For students who want to work abroad, the Glion experience is a foundation for a future career.
What has been your most memorable experience at Glion?
In fact, every day at Glion has been very happy and memorable; but for me the most memorable was watching the sunset and having dinner at Le Bellevue restaurant with friends. It does not sound ambitious, but it's a very real moment that I want to cherish.
Tell us more about your business field trip to Geneva organized by the school?
On Day 1 we took the bus from the school to Geneva, then checked in before an afternoon tour of the historic Intercontinental Geneva Hotel, with dinner in the hotel ballroom.
On Day 2 we visited Caviar House & Prunier in the morning and had lunch in the restaurant. In the afternoon, I returned to the hotel to participate in an online meeting with Quentin Desurmont, CEO of Traveller Made. We then had dinner at the hotel in the evening.
On the morning of Day 3 we had a visit to Louis Vuitton Geneva global store; In the afternoon, we visited Vacheron Constantin's Geneva flagship store, before returning to our hotel for dinner in the evening.
For Day 4 we had a Live Meeting with InterContinental and IHG HR in the morning; and with Fabio Mancone, Brand Partner of Lombard Odier Group, Luxury Investment Group, in the afternoon, where he shared his brand philosophy. After the meeting, we attended the AAG (Alumni Association of Glion) cocktail party and shared the alumni experience.
The final day featured an online meeting with the head of Lombard Odier Group in Hong Kong in the morning, before we headed back to Glion.
Did you meet any other interesting people during your trip?
We also met Philippe Kumara Cart, who worked in LVMH for nearly ten years as a perfumier, and is now the director of the fragrance brand Philippe K.
What was your most memorable experience on the trip?
One of the most memorable experiences of the trip was visiting Louis Vuitton and Vacheron Constantin's flagship store in Geneva. Although we are familiar with these two brands, it was the first time that we could visit the stores from a professional operational perspective.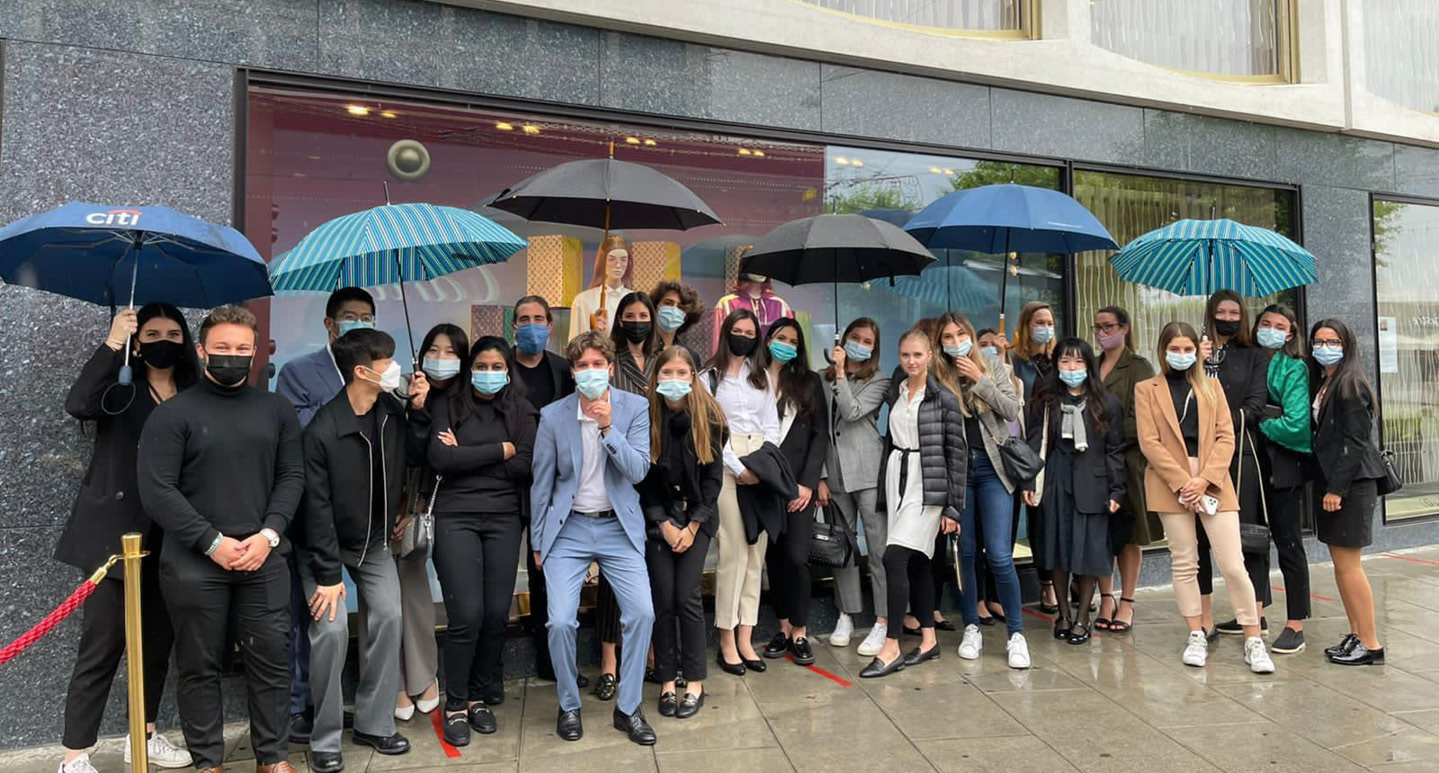 We arrived two hours before the store opened that day. The store manager of LV and the person in charge of the human resources department of LV led us to understand the development history of the brand, visit the store display design, store operation, customer portraits, operational anecdotes, and so on. In addition, we had the opportunity to participate in the morning meeting of the LV store and see how the store manager motivates and trains the staff, ahead of the busy day. What a rare opportunity to be able to see all this from a professional perspective!
What was your favorite part of the trip?
My favorite part was the 'Glion Spirit' shown by the school. Glion is a community with a strong sense of belonging, and as Glion people we are always united. The Glion Alumni cocktail party on the field trip was a kind of embodiment of this.
Many alumni came that day; some had graduated many years ago, and some have just graduated. They were very willing to share their experience, and I was touched by their friendliness and warmth when I communicated with them. It made me proud to be a Glion member.
Communicating with them allowed me to have a better perspective of where I want to see myself in the future. I received a lot of industry information, a lot of inspiration, and more importantly, I had a more clear goal and direction. The hour-long cocktail party went on for two extra hours because no one wanted to leave! This is one of the most surprising, joyous, and inspiring moments I've seen recently; and one that I will always treasure.