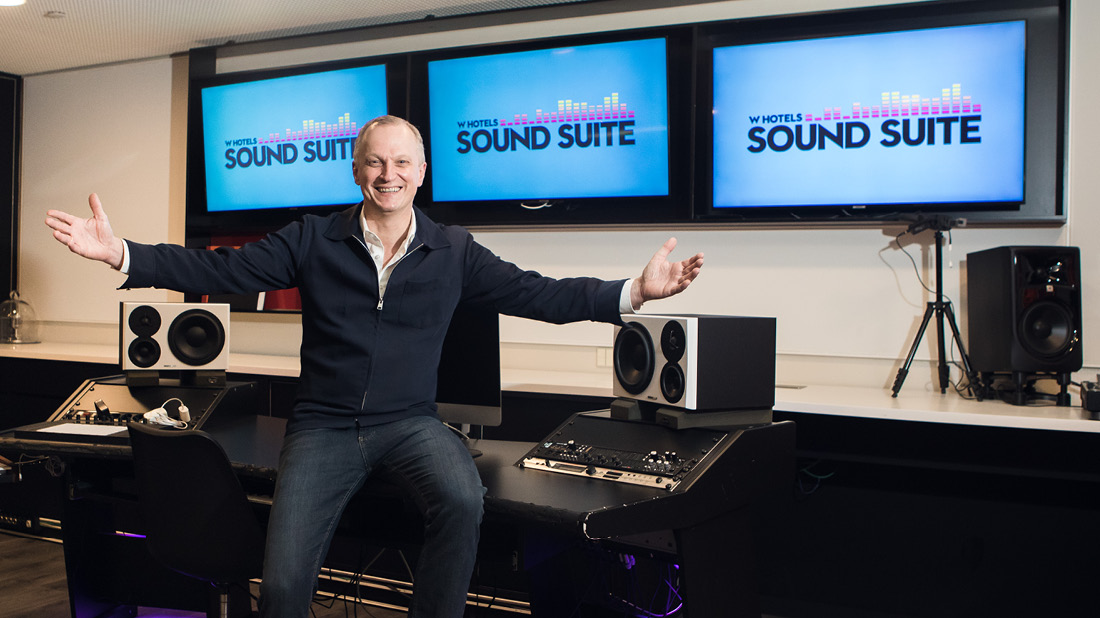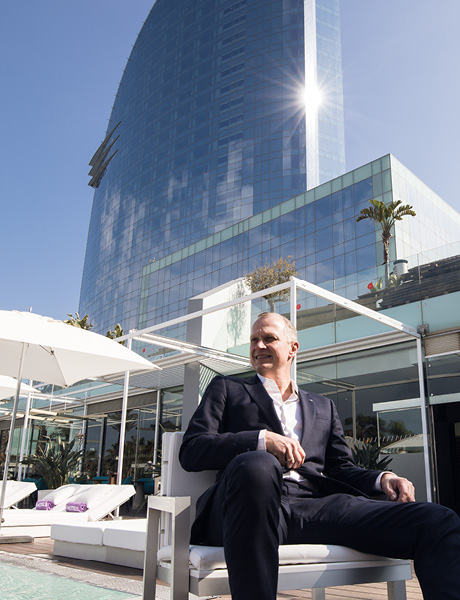 As a German who studied in French at Glion, then lived and worked in France, Switzerland, The Netherlands and now Spain, Peter Schickling is the most 'European' of Europeans! He is also a highly accomplished hotel GM, now running the ultra-stylish W in Barcelona. The Insider caught up with him to discover more…
Barcelona clearly suits Peter Schickling. And why wouldn't it? Spain's second city has so many elements that have made it one of Europe's premier travel destinations, as well as a thriving metropolis in its own right.
"I really love the energy here," he says. "The city has its luxury side, but also an underground scene. It's independent in its thinking, its architecture, its nightlife. You can literally ski in the morning and then by late afternoon be back in the city sipping a cold drink in the spring sunshine. There's a great vibe, and of course being on the shores of the Mediterranean helps that enormously. When I'm coming to the hotel in the early morning, with the sun rising as I pass the palm trees, it always lifts my spirits."
The city provided a similar experience for a group of Glion Master's in International Hospitality Business students, whom Peter hosted at the W when they came to Barcelona recently for their field trip. During their visit, he told them more about his career journey in hospitality – one which began at his family's classic Bavarian hotel and beer garden.
"This was a typical family business, but to be honest with you I never really had an ambition to work there. My dream was always to work in the international hospitality business and to become a Hotel GM. (I originally wanted to become a chef). So, after finishing high school, I got an apprenticeship with a 1-star Michelin restaurant in Germany – one of the very few in the country at that time.
"After this great experience and two-and-a-half years of hard work, I was on my way to Glion!"
French exchange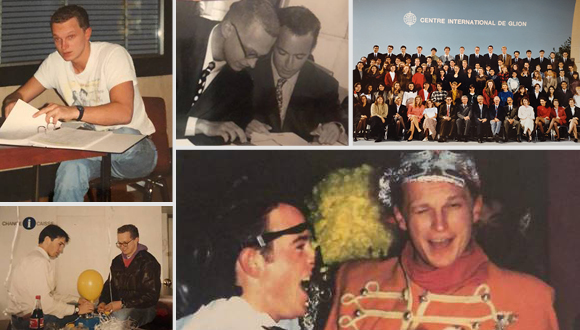 At this point in history (Peter enrolled in 1990), Glion was still a French language school; however, he worked through his hospitality classes while also learning French as part of his academic curriculum. It was linguistic knowledge that stood him in good stead once he began his hospitality career, which hit an initial peak in May 2005 when he secured the GM role at the Renaissance Paris Vendome Hotel. The property is part of the Marriott group, with which Peter has been closely connected throughout his career.
"I can remember that time vividly. I had to travel to Belgium to have my interview at the Brussels Marriott. When I discovered I'd got the job I was absolutely flying. I was proud, excited, full of energy and wanting to change the world. It was a real blast," he says.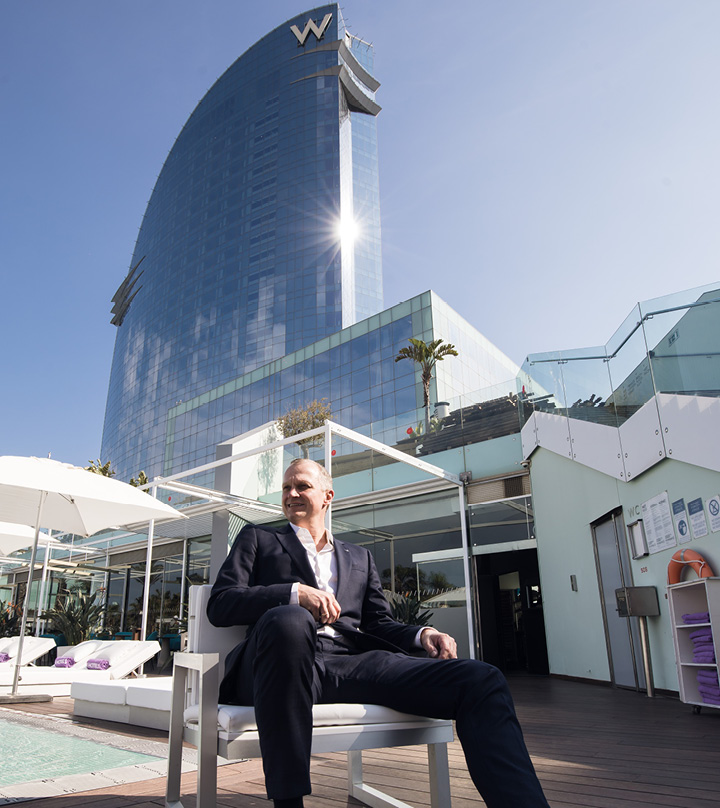 Thinking about the 17 years between then and now, how does Peter feel the GM's role has changed? "In the old days we were maybe more operationally driven – F&B, rooms, costs, etc. Now you have to be more agile and know a lot about sales and marketing, revenue management, social media, also relationship-building with your owners. It's a faster-paced job with more complexity than perhaps it had 20 years ago. That's not to say it was easier then; just different, more operational."
So much choice in luxury
What has also changed hugely within the international hotel business is the explosion of new brands, particularly within the luxury and lifestyle segments. It means there's more choice for the discerning traveler than ever before; and the same, of course, is true for a GM. When Peter entered the GM's office at W Barcelona it was his first experience of the brand. But he already feels very much at home.
"My hotel has a personality which I love. When you come in you feel this positive energy all around you. It's this building, which is placed directly in the sea (as you can see from our photo, the hotel sits right on the water's edge) which means there are stunning views but also a different vibe around us. On the harbor side it's a little more 'Zen' and you find people doing yoga; whereas on the beach side you'll find a livelier scene, with DJs and everyone enjoying the party life.
"We are a luxury property, but we're different from, say, a Ritz-Carlton. People who come to a W are looking for fun, creativity, some wow moments. We like to think of it as offering resort life in a big city."
Playing host to future talent
The hotel certainly impressed the recently visiting Glion Master's students; by the same token, Peter also valued the opportunity to host them.
"It's important to have this relationship with hotel schools like Glion, because these are the places where we will find our future talent," he notes. "I can remember when I was at Glion and we had our Semaine de Carrière (Career Week) it was this wonderful opportunity to find out more about the business from people working directly within it. From my perspective, I've had a great career experience at Marriott. By talking to students about that, perhaps I can influence one or two of them to look at us as an organization where they could make an interesting career."
As for his own ambitions, Peter remains focused on being the best GM he can be, with little thought of moving to a more corporate role. The hotel environment is clearly where he feels most at home, and with W Barcelona he has also been able to revisit some of the passions of his youth.
"Working for W has given me a taste of the things I was part of when I was younger – electronic music, fashion, design… I'm not about to go out and get a tattoo, but it's really nice to be surrounded with all this youthful energy!
"I love being a GM, and for me the ambition is always to have the perfect hotel; one where people who stay tell us they really enjoyed the experience. In my little world, that's exactly what I want."
A first-class ticket to a global career
Our Bachelor's in International Hospitality Business provides a perfect springboard to an exciting career that could take you to any country you desire.