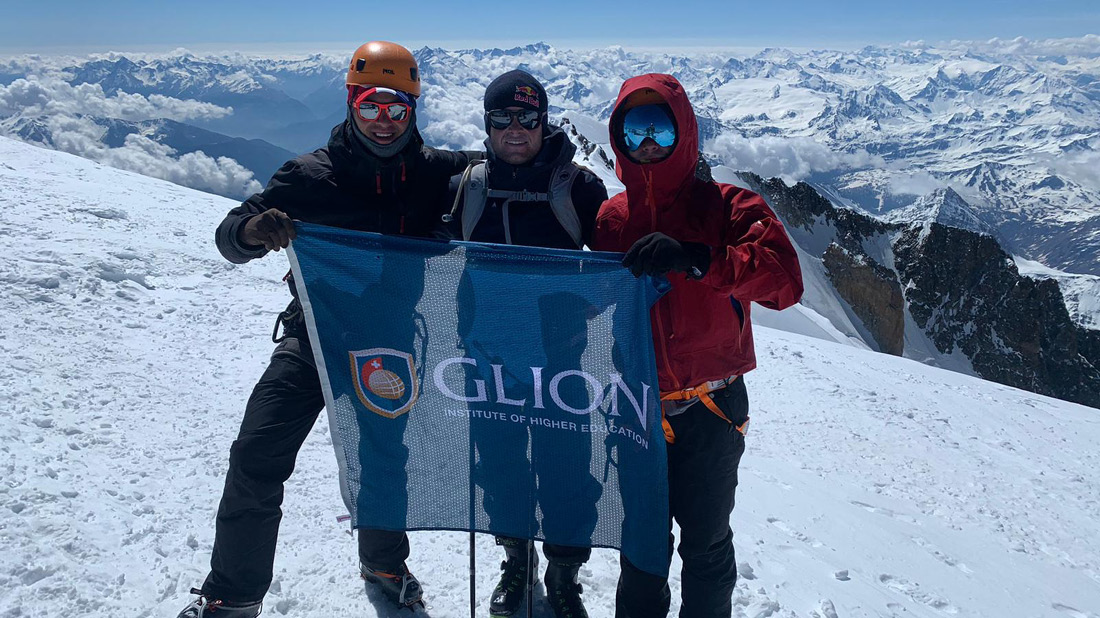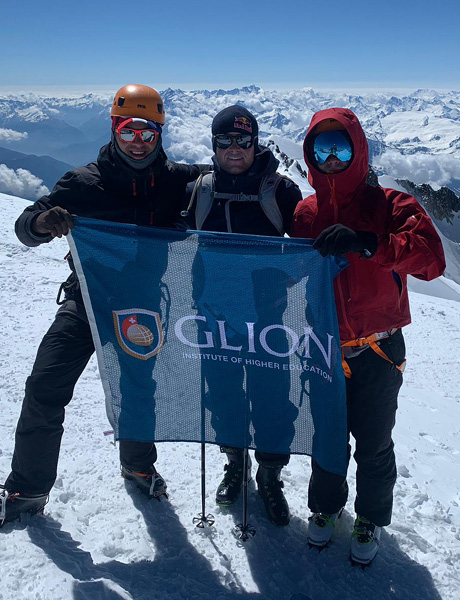 Graduation is a big day, up there with the biggest of your life. So how would you celebrate it? A party? A road trip? How about climbing the highest mountain in Western Europe with your closest friends, making memories and learning lessons that will last a lifetime. For Bachelor's graduates Maximilien Viotte, Pierre Sadran and Hugo Martinet, heading up Mont Blanc was the obvious choice.
"We all wanted to do something different"
How do you get from thinking about graduation, to 4,800m of elevation? Max explains. "At the beginning, it was a common interest. We all wanted to do something different and not just party like everyone else. We can have a party in Cancun whenever we want, so we really wanted to do something a bit special and a bit more challenging.
"Both Pierre's father and mine have already climbed Mont Blanc, so that's what we agreed on. Then we also decided to add a skiing part, because then it was even more challenging and even more fun for us. And the idea then grew from there."
Rising to the challenge
Climbing a mountain is not a simple day out, and while the boys all brought some experience to the table, there was still a very steep learning curve.  
"We all do a lot of skiing", says Pierre, "but it is generally skiing in the resorts, and not like this. It was the first experience of skiing out of slopes for all of us, and also our first experience with only a small pool of oxygen on the top, and that was really something new.
"During the climbing it was very challenging, because it's a very long climb, around 9 hours. So mentally, it was the first time that I had to face something like that. You have to be very strong mentally and you have to overcome the idea of giving up. It was the first time I was dealing with these kinds of feelings and sensations, thinking that I cannot go anymore, but I managed to motivate myself and say to myself: "ok, a little bit more, a little bit more, a little bit more…", and then get to the end."
"…the second day, that's when it started being really hard"
When the hike inevitably pushed them to their limits, each of these resilient alumni had their own motivations to keep going. "For me it was the social pressure, as it was a shared experience", Pierre says. "I was not able to accept that my friends are going to go up without me, as it was something we did together and we said we will do it together. I wanted to say we finished Glion together at the top of Europe." 
My motivation and my mantra was 'step after step'", adds Hugo, "but also the team, as we helped each other all the time."
"At the beginning it was really just a fun activity", comments Max, "but the second day, that's when it started being really hard. So we were pushing each other. After we passed four thousand meters, it was really tough. I remember that after eight hours of climbing, nobody was talking anymore, it was silent, and everyone was focusing on making the next step."
Using your network at 15,000 feet
As you'd expect, the boys didn't head up Mont Blanc without a guide, and true to Glion form they used their network to find the right person for the job. "Our guide was a friend of mine from the Pyrenees", says Pierre. "During a discussion with him last winter, I was talking about this project and he told me: 'I will take you to the top'. The three of us also speak Spanish so it was quite easy to communicate."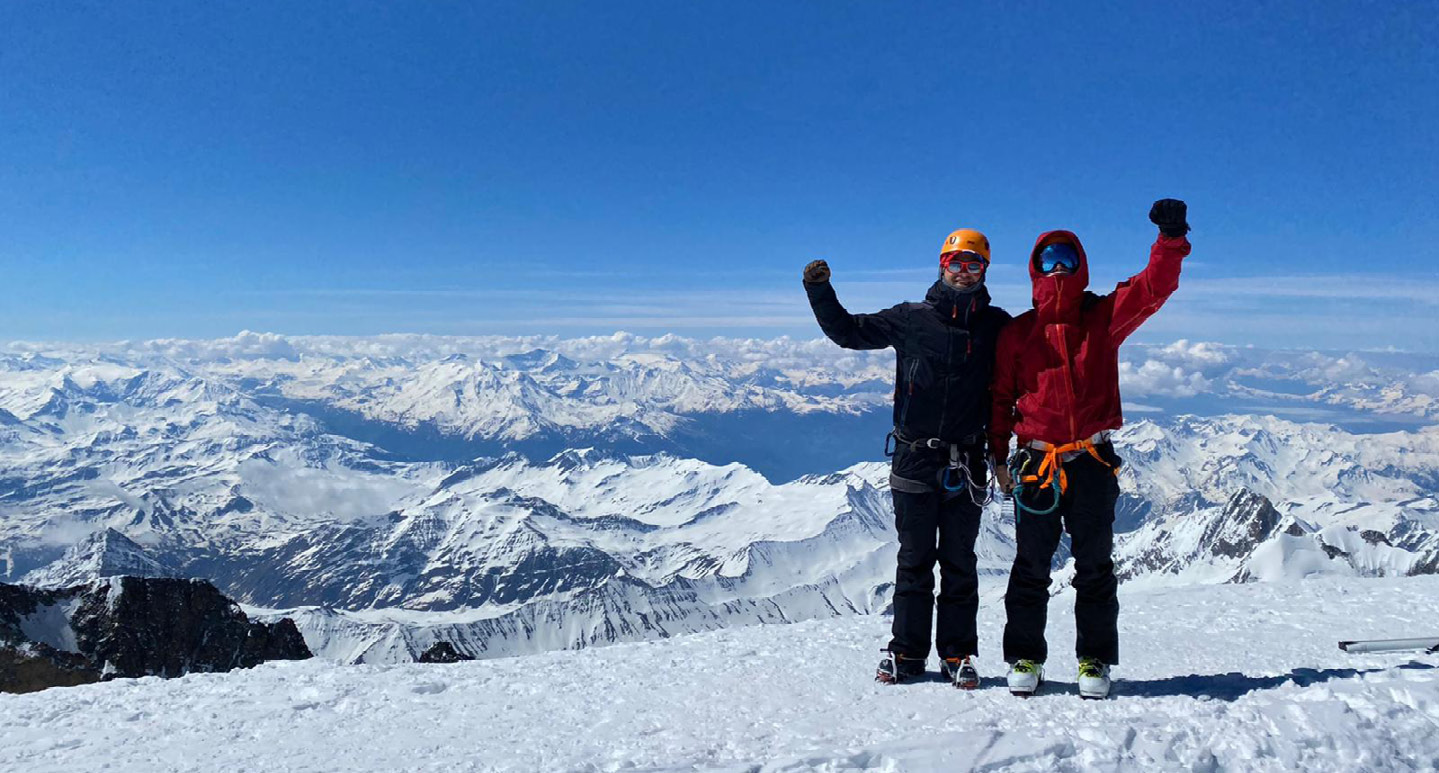 Lessons learned
Already displaying the leadership trait of lifelong learning, Max, Hugo and Pierre have taken lessons from their ascent. "Mentally it teaches you that you can continue for a long, long time after the moment you thought that you can't anymore", says Pierre.
"I think the idea of really going beyond what you thought you could do is important", adds Max. "Honestly, at one point, each of us thought: 'I don't think I'm going to make it', and then you take another step, and another, and you go through this negative idea until you think: 'I think I'm going to make it'. It got me out of my comfort zone and I've never felt this before."
"We planted a Glion flag… the view was incredible"
"The fact that you can always go over your limits and push more than you expected you could is useful in anything", comments Hugo. "I was struggling for two hours before the summit, but when I arrived at the top, I felt none of that. We planted a Glion flag and stayed more than forty five minutes and enjoyed the moment, the view of Switzerland was incredible."
Advice for future graduates
Off the back of their successful summit, Pierre and Max had some clear advice for students graduating next semester. "Do something that you will remember forever, something you can base your future on", says Pierre.
"Graduation is something special", adds Max. "You have the opportunity to make something amazing around it and that's what you should aim for. Partying is something that you can do any time, I think it's really important to focus instead on something that your group of friends like and have in common, and that really bonds you."
Next stop: Kilimanjaro
With their hike complete, the three Glion alumni are now off around the world to begin their hospitality careers, with Pierre heading to the Middle East and Hugo to France, but the adventures aren't over. "We're going to do Kilimanjaro in September", says Max, "then maybe Aconcagua, as I'll be working in South America."
We don't doubt Max, Pierre and Hugo will make it to the top, both in their mountain climbing exploits, and their careers. All the best gentlemen.
Launch your career in international hospitality
Our Bachelor's in International Hospitality Business is your first-class ticket to a global career.