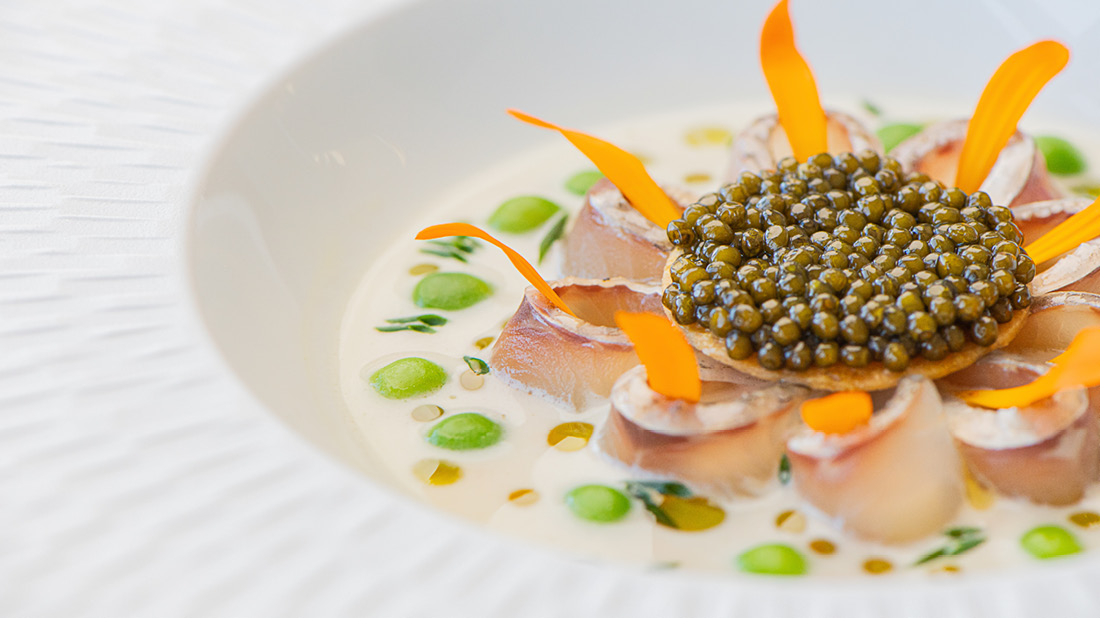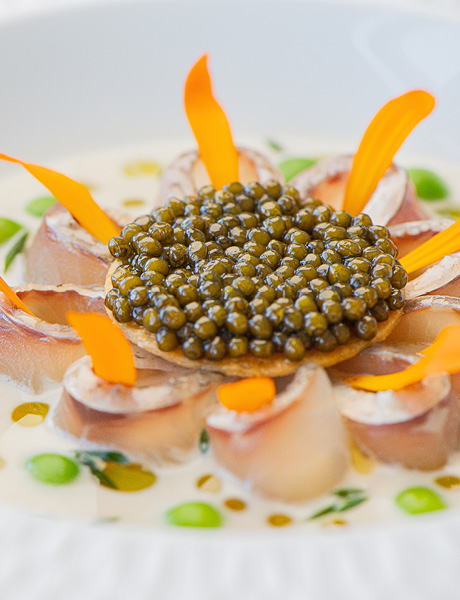 Here's another of the delicious recipes which have earned Stéphane Décotterd a Michelin star for his signature restaurant on our Glion campus.
When Stéphane Décotterd and his team arrived at our Glion campus last year, we knew immediately that something special was brewing. Sure enough, his exceptional talents in the kitchen and eye for locally sourced ingredients have recently earned his signature restaurant a Michelin star. With this, we become the first higher education institution in the world to boast an on-campus establishment offering this level of gastronomy.
To help celebrate his achievement, we're pleased to offer another chance for you to try one of the delicious recipes from Stéphane's personal collection. This time around, Stéphane stays on the nautical theme by offering a recipe that has as its centerpiece the fera, a species of freshwater fish which is found in nearby Lake Geneva. If you cannot source fera, Stéphane recommends trout as a worthy substitute.
Put on your chef's apron and have a try at creating Michelin-starred cuisine!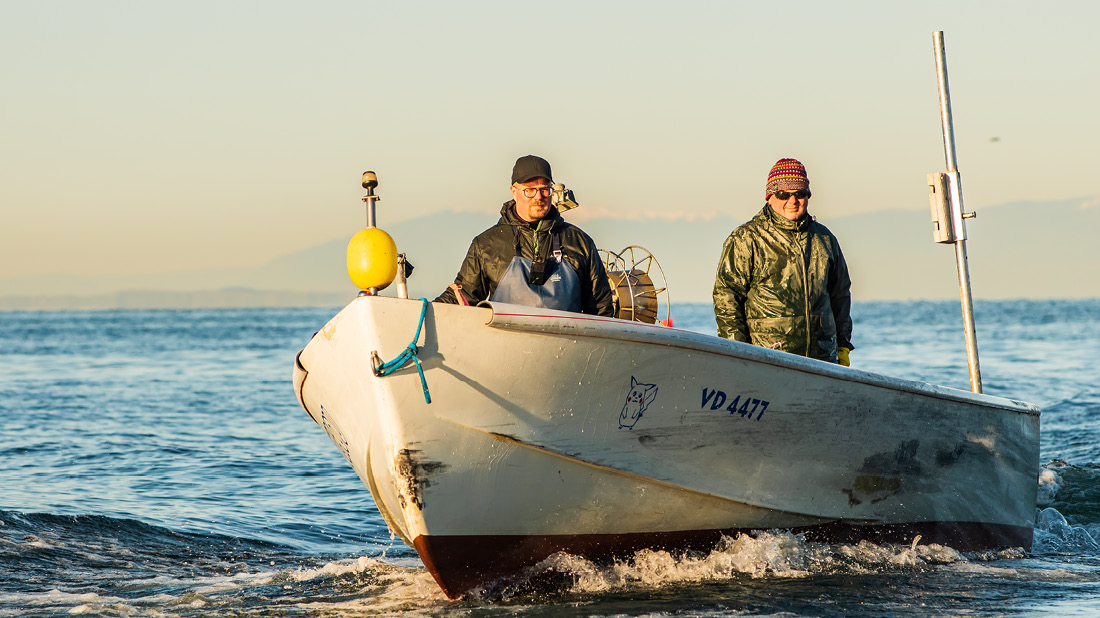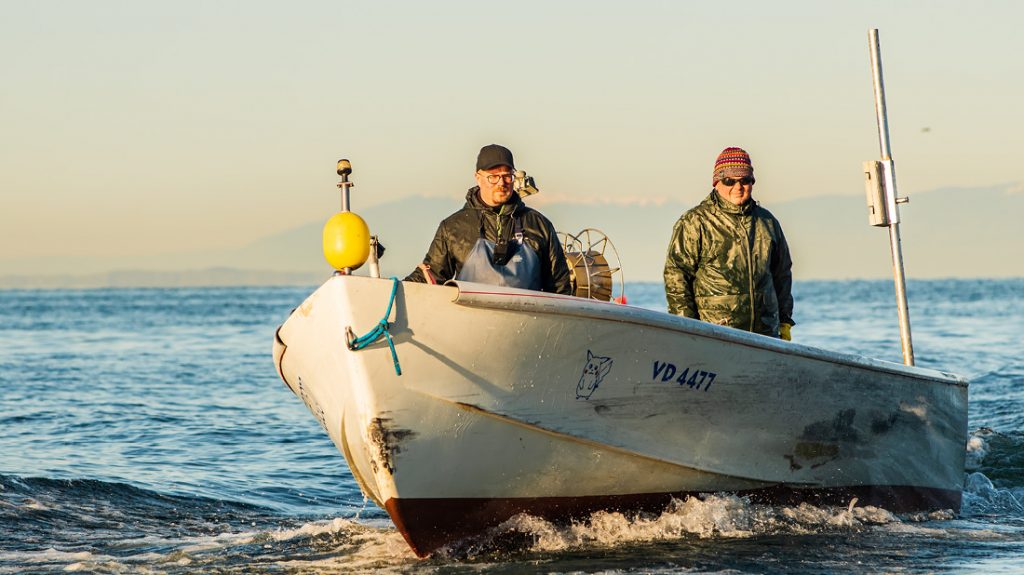 Ingredients and directions
Pea chawanmushi:
– 300g filtered pea juice
– 3g dried verbena
– 20g cream
– 2 eggs
– Salt
Bring the pea juice to the boil, infuse the verbena and filter. Add the eggs and cream and season. Put 25g on each plate. Cover the plate with plastic wrap and cook in a steam oven at 85°C (10 to 12 minutes).
Fera petals:
– 500g fera fillets (or use trout if not available)
– 200g salt
– 200g sugar
– 1 star anise
– 1 teaspoon of wild carrot seed powder
– 8 white peppercorns
– 3 juniper berries
Mix all the ingredients together and let the fillets marinate for 30 minutes. Rinse and dry. Cut them into petal shapes and make a flower shape on the chawanmushi.
Cover with plastic wrap and put aside.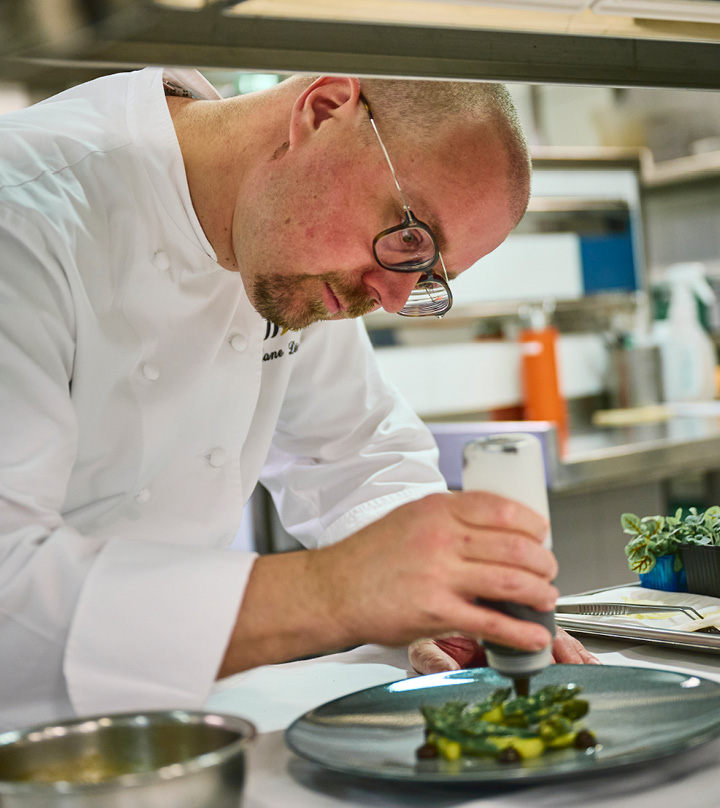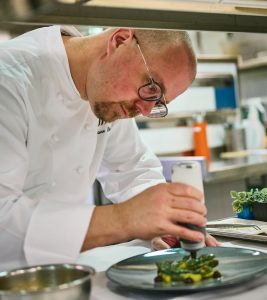 Verbena broth:
– 1kg of fera (or equivalent) bones
– 1 small chopped fennel
– 4 chopped shallots
– 1 chopped white leek
– 1 star anise
– 10g dry wild fennel branches
– 200ml white wine
– 2l water
– 1 lemon zest
– Salt
– 50g cream
– Dried verbena
Sweat the chopped vegetables and herbs. Deglaze with the white wine and add the fish bones. Add water and let it simmer slowly for 1 hour. Filter, reduce, add the cream and dried verbena. Let it infuse, then filter and adjust the seasoning.
Finishing and plating:
– Cooked and shelled peas
– Chives
– Verbena oil
– Marigold flowers
– Caviar
– Verbena broth
Heat the fera fillets on the plates for 3 minutes in a steam oven at 70° C.
Put the peas on the plates and pour the sauce. Add the caviar and a few drops of verbena oil. To finish, decorate with the marigold petals.
Practice the art of world-class hospitality
Find out more about our Bachelor's in International Hospitality Business, including the Practical Arts semester that offers a chance to work with Stéphane Décotterd.