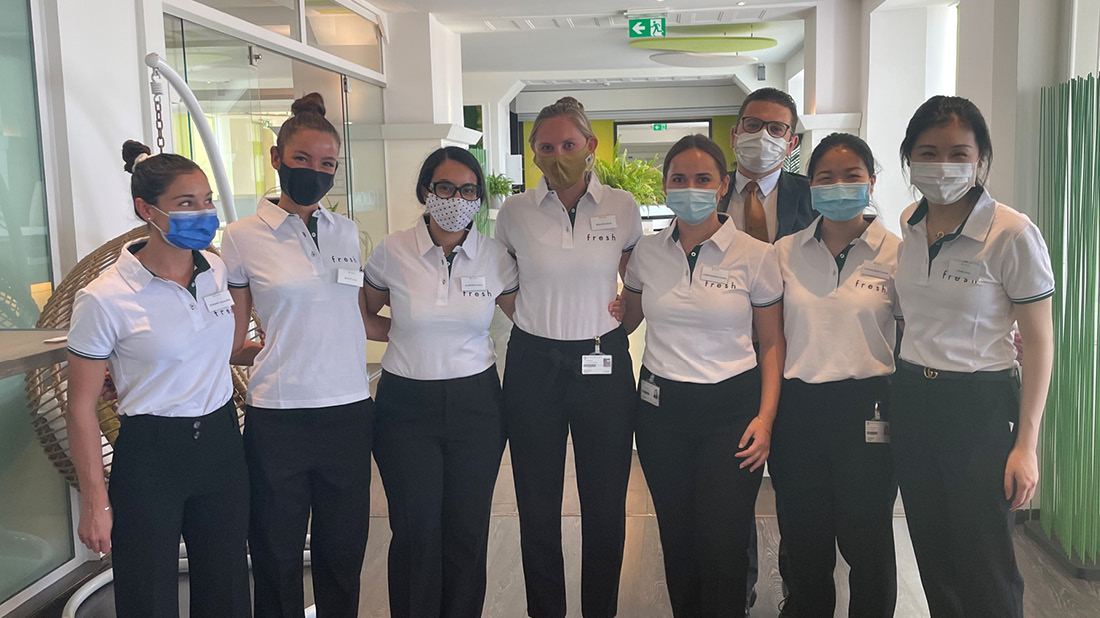 New to hospitality? Before studying one of the industry-focused Master's programs at Glion, you can bolster your practical knowledge with our four-week Hospitality Immersion Program, or HIP. To get the 'user experience' of HIP, we asked Master's student Siddhi Nagda to tell us more…
Like Siddhi Nagda, many of our Master's students have not accumulated direct experience in the world of hospitality before coming to Glion. And like Siddhi, a good number of them opt to take our Hospitality Immersion Program, or HIP, to build a solid foundation of hotel operational experience ahead of starting their formal Master's studies.
The HIP features practical arts courses in industry standards and management responsibilities. It covers key operational areas such as restaurant, kitchen, front office and housekeeping. Why is this important for a hospitality Master's student? Because many are targeting managerial roles in hotels and other establishments; and in order to succeed in these roles it is vital to understand the daily workings of such businesses. In particular, it is difficult to assess employee performance accurately without a basic understanding of what the employees' jobs entail.
Siddhi Nagda is now preparing to study her Master's in Luxury Management and Guest Experience, but while undertaking her HIP she took some time out to talk to us about her experience.
Q: What did you study for your Bachelor's?
Siddhi Nagda (SN): I did my Bachelor's, with honors, in marketing and management. And I will be doing my Master's in Luxury Management and Guest Experience here at Glion.
Q: How familiar were you with the world of hospitality before you came to the school?
SN: Coming from India, a country which believes in 'Guest is God', I have been around the hospitality industry, but never been a part of it.
Q: What is it about the hospitality industry that interests/excites you the most?
SN: People can sometimes confine hospitality to a narrow view, but I have discovered a new aspect of hospitality via Glion. It is so much more than service. It is about humility, generosity, warmth, patience and much more.
Q: Why did you choose to do the HIP?
SN: I chose to do the HIP to get hands-on experience in the field of hospitality, which is so interconnected with the field of luxury.
Q: How was it organized for your class? What kind of activities did you do?
SN: The best part about the program is that we are able to do it physically. It's been organized to precision: we were given our schedule beforehand and it's been great so far.
Q: How has your experience been so far?
SN: My first week was about rooms division; and my teacher, Mrs. Flavia Salomao, has been nothing but great in the way she has taught us about the front desk, housekeeping and logistics. We learned OPERA, a property management system, and we called up hotels to experience their facilities.
Q: What has been your favorite part of HIP?
SN: My favorite part has been the Guest Experience course at the Fresh Restaurant on campus. It allowed me to connect with my fellow students and helped me get to know them better. It's been a platform to share ideas and exchange energies.
Q: What do you think about your faculty and the lessons they create? How would you describe the teaching style at Glion?
SN: The teaching style at Glion is unique and best in its own possible way. I love the approach of the faculty here. What comes out shining is the range of backgrounds they have. There is so much to learn each day!
Q: Do you think the HIP program will be important for your future career? And if so, why?
SN: I think the program will help me grow as an individual and allow me to develop soft skills; which are very important for the industry I am doing my Master's in.
The journey has just begun… and I am sure, with the help of Glion, I have a long way to go…
·      Click here to discover more about the Master's in Luxury Management and Guest Experience