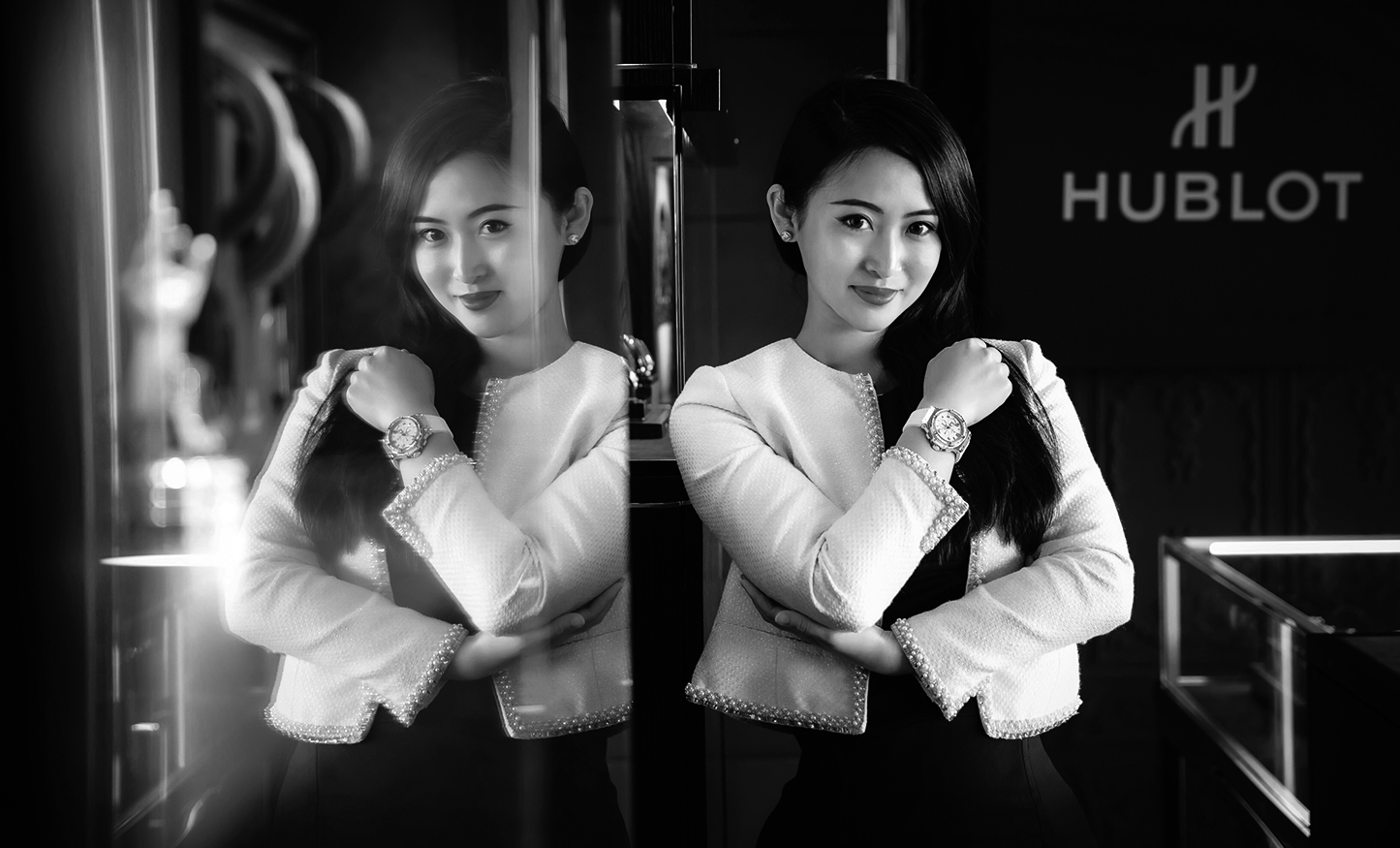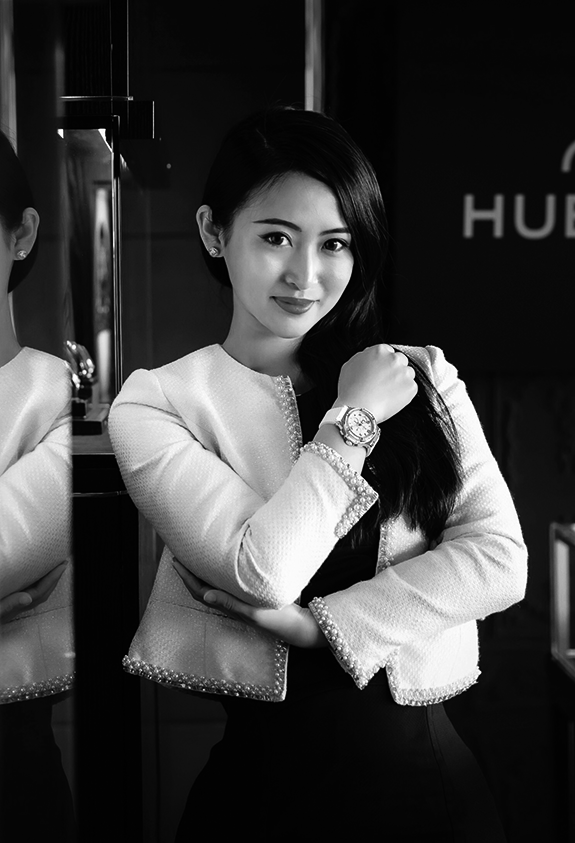 What makes luxury careers so attractive? – A look at Hublot, Swiss Luxury Watch Company
The Swiss luxury watch maker Hublot has an iconic design that looks like a "hublot" the word in French for the windows on a ship. Our visit to Hublot was like looking through one of those tiny windows, to get a glimpse of the magic that makes a luxury careers and a luxury brand truly exceptional.
If we asked you "what makes a luxury brand different from just an expensive brand?" You might start by talking about the product, the materials, the craftsmanship, the legacy and the customer experience.
That's all true, but there's something else. Something hidden. It's something you can't see, or touch, but it is the most important key to success for any luxury brand that wants to survive the coming years of technological disruptions.
The key to being a real luxury brand is the people behind the brand
The true difference between being a really expensive brand, and a luxury brand is not actually something in the product, it's in the people who make and sell the product, and that is why Glion Institute of Higher Education has gotten so deeply involved with luxury brands these last few years.
We visited Hublot's workshop and showroom on a field trip with the students of the Luxury Brand Management specialization to learn about the making of a luxury watch, but we all ended up seeing more than that. Coming from a customer-service oriented background at Glion, we recognized the secret to success at Hublot right away. It's the people skills.
The people at Hublot showed how they bring great interpersonal skill, care, precision, innovation and value to the brand. And likewise, Hublot offers a lot in return.
Here are a few of the insights we gained into the attractive realm of careers in luxury brands like Hublot, that we'd hope to see in other luxury brands.
A lovely work environment makes luxury careers more appealing
When someone says "watch factory", what comes to mind?
Machines, security, metals, noisy workshops… One expects to find an industrial setting, people working on machines, people working like machines.
But what we discovered at Hublot's watch making workshop in Nyon was far from the cold, hard environment we might have imagined. There were machines, but the people and the warm, polished culture totally overshadowed the machinery.
Maybe it's because Hublot is not just a watch making company. Hublot is a Swiss luxury watch brand that combines the legacy of Swiss watchmaking traditions with unequalled avant-garde design and fabrication techniques. Before visiting their website, or seeing any of their materials, I understood their brand right away. It was clear in every part of the tour and in the presentation of their employees.
The work environment throughout the site was incredible. No crowded, over-heated, or unpleasant spaces. The company built a second building when the first one started to fill up.
The tour of the building took us through every department, and every space was aesthetically pleasing, spacious, well-lit rooms and "branded" deco with nice designs, art, cool stuff and images of the company. It was pretty enough to be a museum, but with all the hard-work going on right there in front of us.
The benefits of luxury careers make people loyal…and happy
Our tour guide was Mr. Doan Chinh, Head Watchmaker in the high complication department. He took great pride in showing us around the site, starting with some history and a trip to… the nursery.
Yes, you read right: the nursery… or daycare center. One of our first stops on the tour was outside of the daycare center that Hublot offers to its employees. This was the first sign of a company that really loves its employees.
Switzerland is a country where day care is outrageously expensive, and usually unavailable. And children are the last stakeholders you think of when considering the fancy, polished atmospheres of luxury stores. Yet, Hublot offers its people childcare, right there on site. Serious bonus points for Hublot.
Luxury careers are a way of life and a lifestyle philosophy
Along the way, we also met Fengxiao Ran, a Glion student who was doing her internship as the Chinese Travel Retail Coordinator with LVMH Watch Division, which includes Hublot, TAG Heuer, and ZENITH.
She coordinated the two tour groups and met us afterwards in the showroom where she allowed us to try on some of the watches and shared her views on why she was so happy with her internship.
"Hublot is the top place where tradition and innovation coexist," Fengxiao said. "I am very glad to work in the headquarters, where watchmaking is done perfectly, the "Art of Fusion" way. The concept of Fusion encompasses the combination of something more abstract: past and present, tradition and innovation.
"The Hublot label creates watches that are exciting, different and multifaceted." – Fengxiao Ran, Glion student on internship at Hublot
Apparently, those qualities apply to the work environment and inspire the employees as well.
Our watchmaker guide also spoke of his loyalty to Hublot when we asked about his career. He explained that he was nearing retirement and that he'd been with the brand for many years, nearly half of his career. He identified strongly with the Hublot values, and felt valued as an employee. From the very beginning, he'd known that Hublot was the place he wanted to be, that it was a better company than others he'd experienced and that is why he dedicated his career to Hublot.
In a true luxury brand, talent shines
Our visit to Hublot also showed us that they have a remarkably diverse range of employees, all loving doing what they do best.
Mr. Doan Chinh is a great example. He comes from the highly specialized side of the watch making industry, he does "high complication" pieces that only the highest rank of watchmakers can achieve. And yet, he comes out to give tours and share his passion for the Hublot way of crafting watches and making new materials.
We visited the "fusion" lab where they make their patented gold that is un-scratchable because it is combined with ceramic, one of the hardest materials on earth.
"I am able to understand well that Fusion is represented directly through the watches of Hublot with a combination of old-fashioned craftsmanship and futuristic materials and new interpretation of the traditional." Fengxiao explained.
From the hands-on experience of touching and weighing the materials, our tour gave us all the insight we needed to understand this philosophy. As guests at Hublot, we didn't just get a tour, we got an immersion and a well-planned, educational experience that really brought us into the luxury watch making world.
Luxury careers require hospitality skills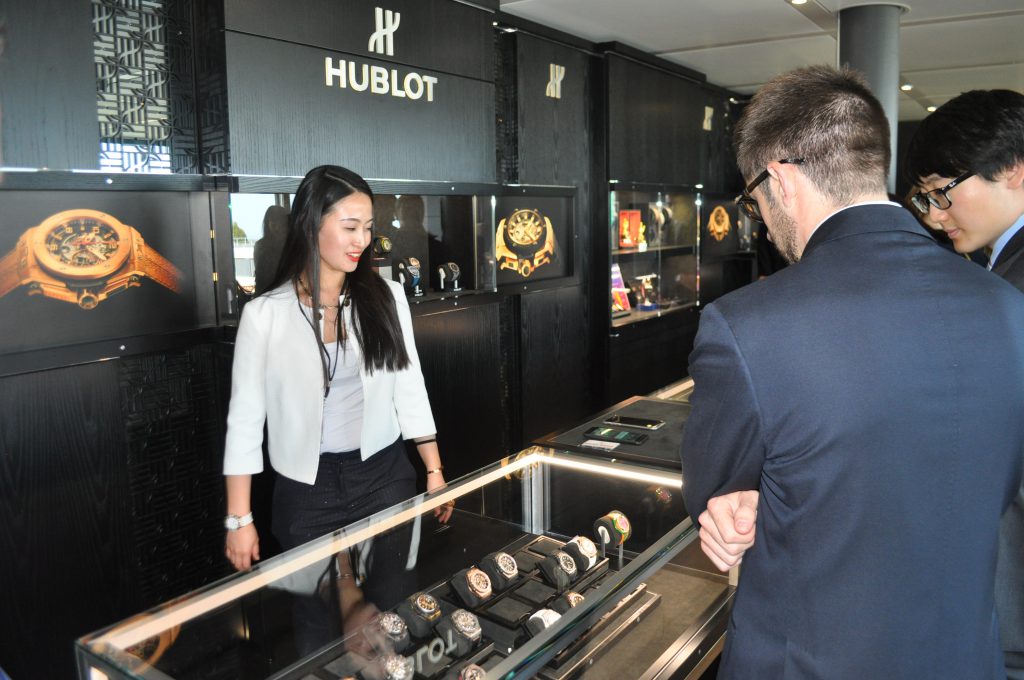 The best program for luxury careers
Glion Institute of Higher Education launched the Luxury Brand Management specialization in 2015, to meet the needs of the ever increasing number of luxury partners who wanted to recruit interns and graduates from the hospitality program. Since the program was launched, more and more students and companies are interested in it because it is a great fit for students and recruiters alike.
Fengxiao is preparing to enter the Luxury Brand Management specialization next semester, and her internship with Hublot prepares her for the theoretical luxury brand management courses.
"My main responsibility is to offer a consistently great customer experience and develop Chinese business," Fengxiao explained. " I have a focus on consumers, which means I learn to keep delivering new ideas, new looks and new reasons for them to keep coming back. Additionally, hospitality experience has enabled me to provide professional and warm service to all of Hublot's customers."
That pretty much sums it up: Hospitality students have a very useful set of skills for the luxury industry, and the luxury industry offers a highly attractive and dynamic work environment for them.
"Working in watchmaking industry, I am dedicated to providing exceptional project and presentation skills, having a passionate, energetic and innovative approach to achieving sales goals. I am able to work in a team with strong communication skills and enthusiasm, improve pro-active and problem solving abilities. Thanks to Glion, I am articulate, highly presentable and well-groomed every day."
Our visit to Hublot is the perfect example of how our students are learning to thrive in the luxury industry, and what great career opportunities await them in the sector. The people at Hublot were amazing hosts to our group, every person on our tour, every employee we crossed, they all showed us the value of people in the luxury industry and the attractiveness of luxury careers.
If you are interested in learning more about this unique career path and our program that prepares students to enter it, visit the Program page of our website.