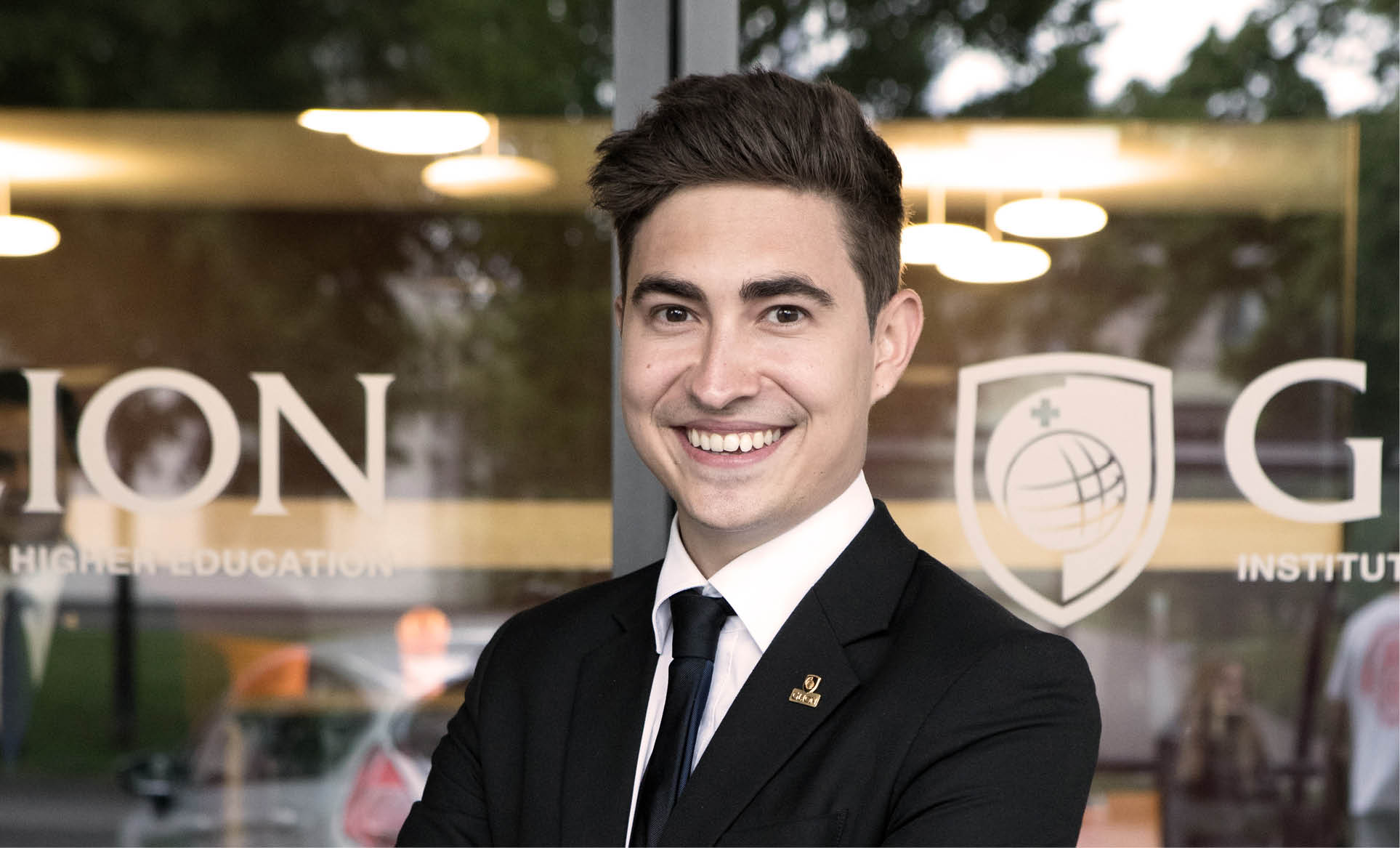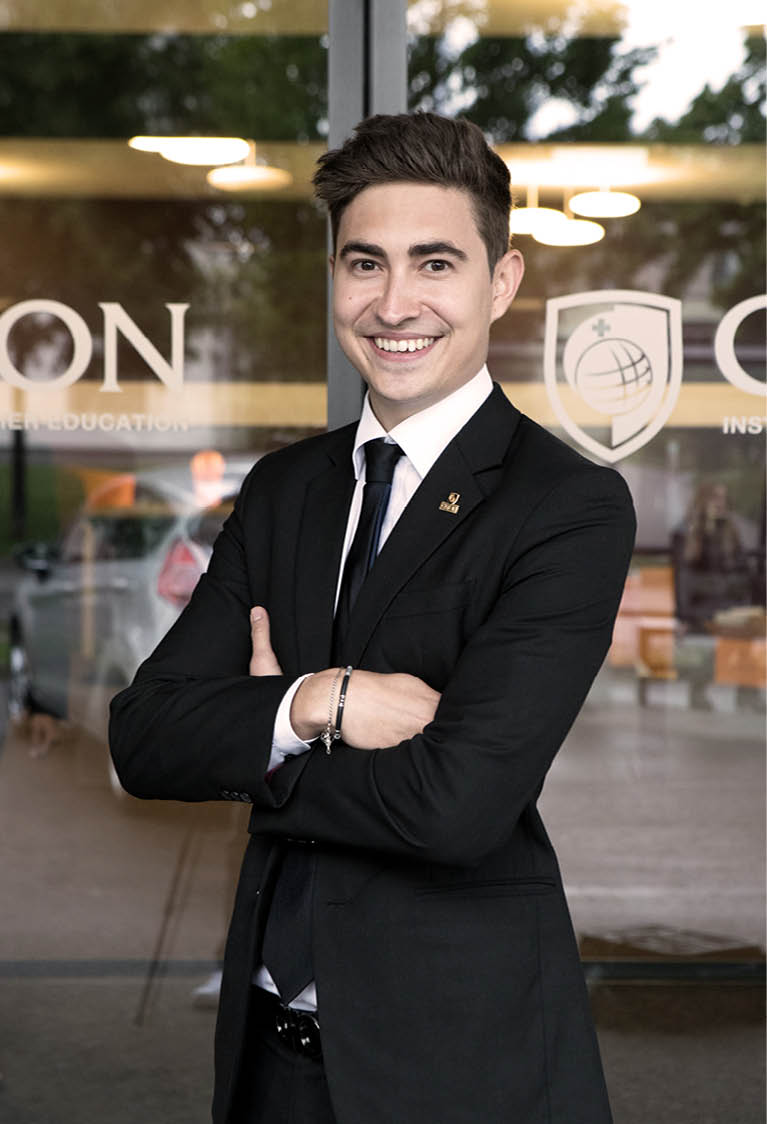 Name: Jeremy Deleze
Program: Event Sport and Entertainment Management degree – ESE Specialization
Position: Refereeing Coordinator
Company: FIFA
When started: 1st April 2019
BBA graduate Jeremy Deleze knew what he wanted to do for a career, but he didn't expect his first role to be quite so 'Premier League'. We caught up with him to discuss his 'transfer' from Glion to FIFA and his key learnings and advice for Semester 7 students.
"Referees are not the first things you think of when it comes to football, but they are a key element of a football competition," Jeremy says.
"My role is to manage and cater to referees' needs at FIFA events, this involves tasks such as training site and hotel choice, materials and marketing. I also work closely with the Adidas Sports Marketing Team as they sponsor all referee equipment."
"I never thought that joining FIFA as my first job would be possible. I am very fortunate to have landed this opportunity so early on."
Gaining the expertise to kick-off a career
Jeremy came to Glion with a clear career direction, but he knew that getting into his ideal role in the Sports events industry would be tough.
"Before joining Glion, I had a strong idea of what career path and industry I wanted to follow and work in, and Glion was the perfect choice to achieve that. My goal was to work in event management, preferably in sporting events. I would have enjoyed working in a marketing or event agency after graduation, as I knew the sports industry is very hard to break through."
'The three most important things I learned'
Every great sporting event over-delivers for its audience, and true to his profession, Jeremy was no different when it came to giving us three key learnings from his studies. He gave us four!
Multicultural exposure
"Being in an international environment for over 3 years gave me the opportunity to learn about new cultures, get to know different people from everywhere and to travel to places I would never have imagined.
Soft skills
"I acquired soft skills such as public speaking and teamwork have proven to be essential in today's corporate world, especially with the day-to-day undertakings."
Attention to detail
"As every little detail counts in the world of hospitality, studying at Glion made me understand the importance of being detail-focused."
Real-world insight
"Many of our teachers were former industry leaders and learning from them and their real-life experiences gave us a greater understanding of the industry, and what to expect when working in it."
"…a very good opportunity to network with industry leaders…"
Jeremy is clear on how the unique environment and the services available on-campus prepared him for the world of work.
"Joining Glion meant joining a school with an impressive reputation and a global alumni presence. The knowledge and skills acquired from classes such as The Project Factory, Principle of Sports Management and Strategic Event Planning have proven to be very helpful in my current job."
"The Campus Career Days gave me the confidence to speak to recruiters from top hospitality firms. It was a very good opportunity to network with industry leaders for future career prospects."
Gaining an advantage over rival applicants
In securing his first role after graduation, Jeremy was able to understand the career benefit of acquiring internship experience.
"I undertook my first internship in a 5 Star boutique hotel in Hong Kong as an event management/F&B trainee. My second internship was at Phillip Morris International as a brand activation/marketing trainee for the Swiss market."
"Not only did it give me a taste of the corporate world, but also added a year of work experience as a new graduate, which is an advantage compared to other fresh graduates when applying for jobs."
"…your network is your most prized asset" – Jeremy's first job advice
"Don't panic if you don't have a job on your graduation day, keep working hard and don't lose hope if you get rejected in your first applications. Your first job is probably the toughest to find but Glion has properly trained us for this."
"Remember your network is your most prized asset as a fresh graduate. If you count all the people you got to know at school, during your internship, and in the global Glion Alumni community, you will realize that you have a vast address book of people willing to help you launch your career."
Sage advice from Jeremy. Get more insight and prep for the world of work through the full series of 'My First Job' features, all unique and available to read now: