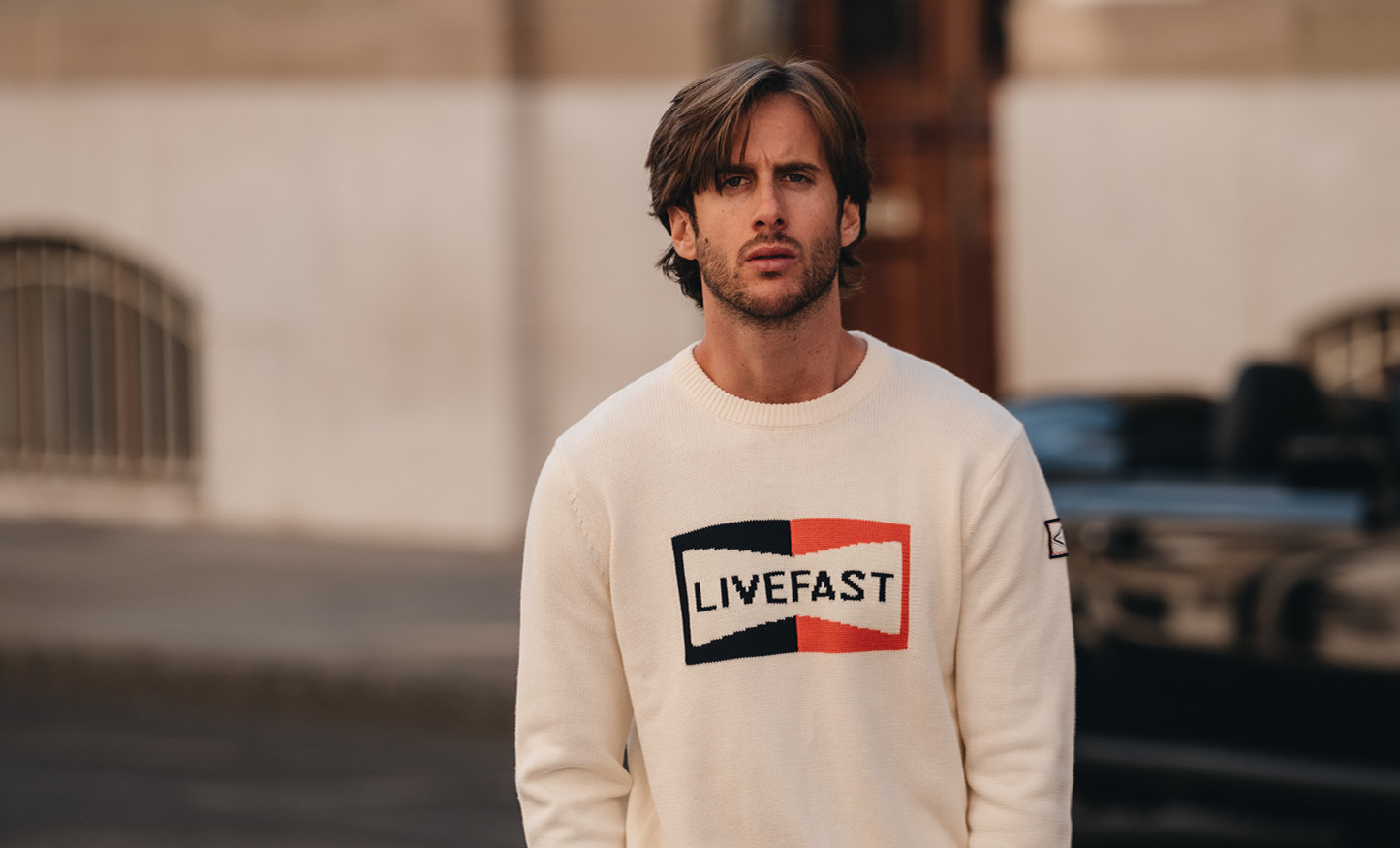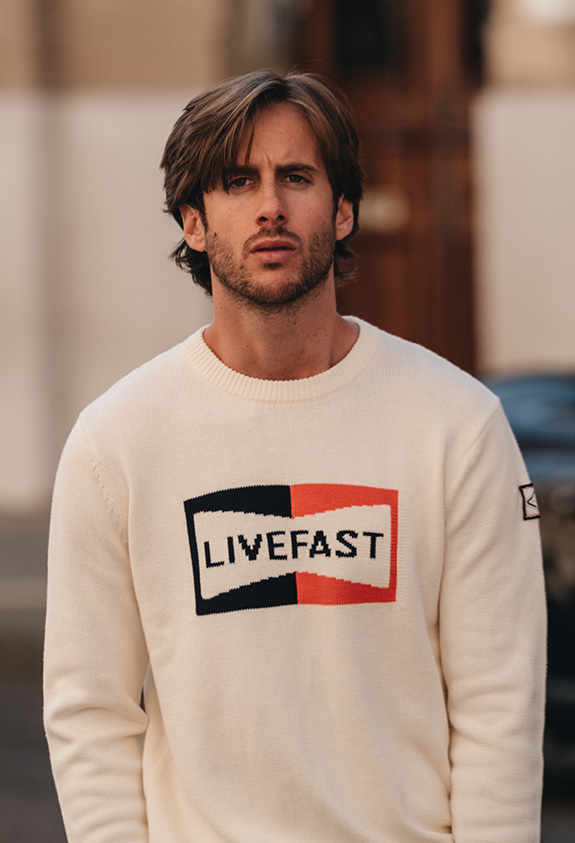 He has a name that will be forever linked with top level motorsport; but for Sacha Prost the fast-growing clothing brand 8JS is a chance to create something as substantial in the business world as his father, Alain Prost, achieved in the world of F1.
The technology – and budget – that goes into modern Formula 1 is truly mind-bending. These are cars for the PlayStation generation, with more computing power than a small country and state-of-the-art aerodynamics so powerful the cars could – literally – run upside down at speed.
It wasn't always like this. In the 1950s, 60s and 70s success in the sport was primarily about the guy behind the wheel. It was more stylish, glamorous, fun… and many times more dangerous – the latter point no doubt explaining the cavalier lives many drivers led off-track.
It's this era, and the personalities who dominated it, which has inspired the Prost brothers – Sacha and Nicolas – to create a fashion brand that pays tribute to some of the greatest F1 drivers. These are men who were active in the years before their father – Alain Prost – became a quadruple World Champion and legendary figure within the sport.
The brand they – together with Nicolas' wife Delphine – have created is called 8JS. The name refers to the eight "Js" who became F1 World Champions during the sport's golden era – Juan Manuel Fangio, Jack Brabham, Jim Clark, John Surtees, Jackie Stewart, Jochen Rindt, James Hunt and Jody Scheckter.
"Eight is the number we chose, but it's not just about those champion drivers, it's about that whole era when racers raced at any time and in any formula. They were men, not boys. They had incredible charisma and they were fully in charge of themselves and their careers," says Sacha Prost.
A brand for today
He's quick to add that, while the brand pays homage to heroes of the past, it is rooted firmly in the present. "We don't consider ourselves to be a heritage brand at all. There's a legacy through our family story and our strong ties to the sport today, but we are not stuck in the past. We are a 21st century brand, appealing to anyone who understands the values of sports and racing, whether it's motorcycles, planes, boats – anything with an engine."
Does he consider 8JS to be a luxury brand? The price points are perhaps more in the affordable luxury bracket, and Sacha says he dislikes generalizing on the label 'luxury' in any case.
He adds, "I consider ours to be a luxury brand from the perspective of quality, comfort and customer service. Those are the three essentials for me. Luxury service is especially important – it was one of the things that anyone who has been to Glion will understand. I always say to my team we need to be the 'Four Seasons of customer service'. That tells you everything."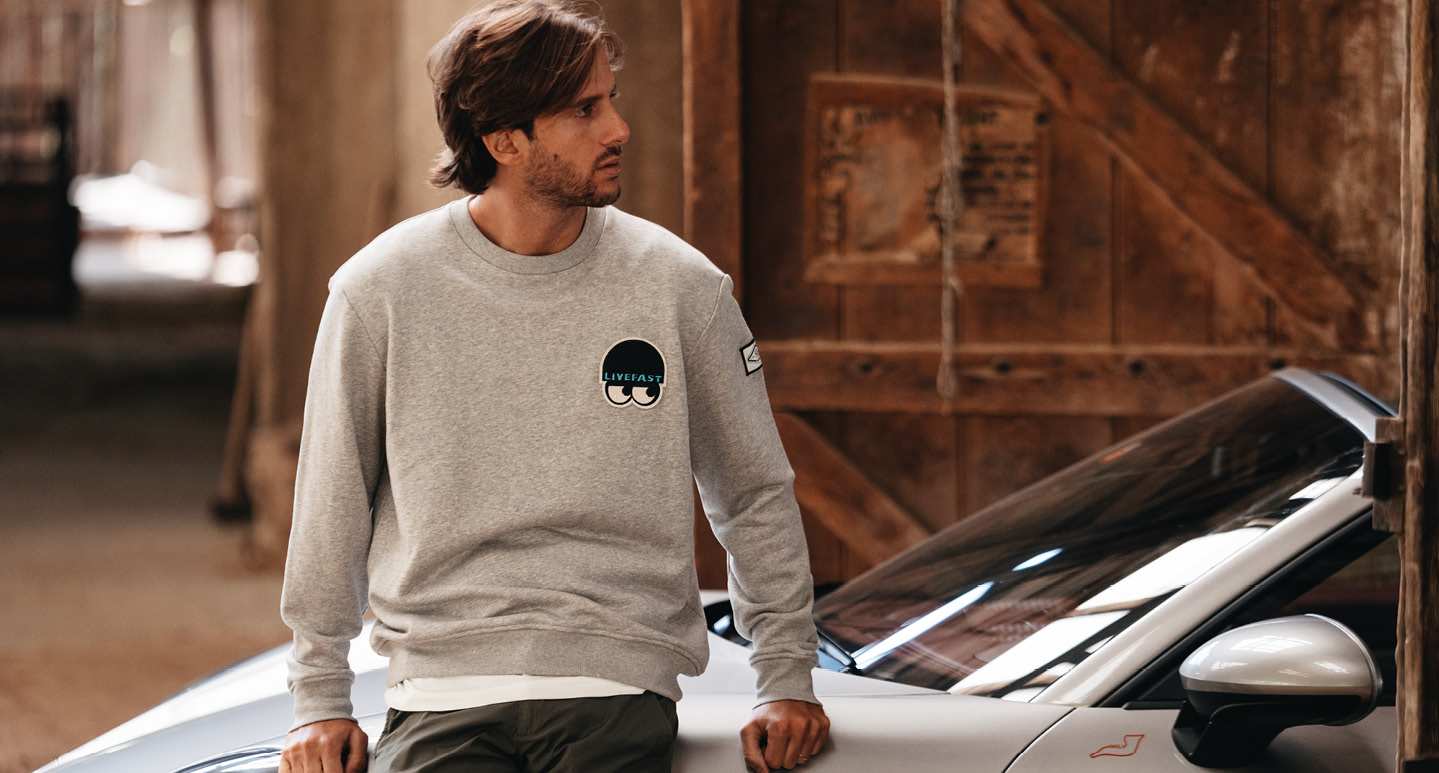 "The business plan was completed while I was still at Glion"
As a Glion alumnus, Sacha can trace the origins of the business to when he was still at the school. "There was always this entrepreneurial, business school vibe at Glion. I think that really woke something up in me: a passion for enterprise and for seeing a project through.
"In my last year of studies I started meeting up with Nico at weekends to see if there was something to the idea of building a clothing company; and really we never stopped from that moment. The business plan was completed while I was still at Glion, then two days after my graduation we were in Italy for sourcing."
As the interview continues it becomes crystal clear that 8JS is no vanity project, with Sacha merely sitting on the side lines basking in reflected glory. He remarks that he spent a year and a half packing boxes in the warehouse – and would happily do so again if required – but more impressive is the methodical way he, as CEO, has built a big company infrastructure to support this upstart brand.
"There are so many young and cool brands that are made and unmade in the space of a year, often because they can't cope with rapid growth. We've organized ourselves like an S&P 500 company right from the start, and that's been my focus as CEO. It can sometimes feel frustrating, but we're putting the effort in the right places, to build a solid foundation. It's just like when I was at Glion, we did our CBL (Practical Arts) training first, then we could teach others how to do it. We have this same vibe at 8JS."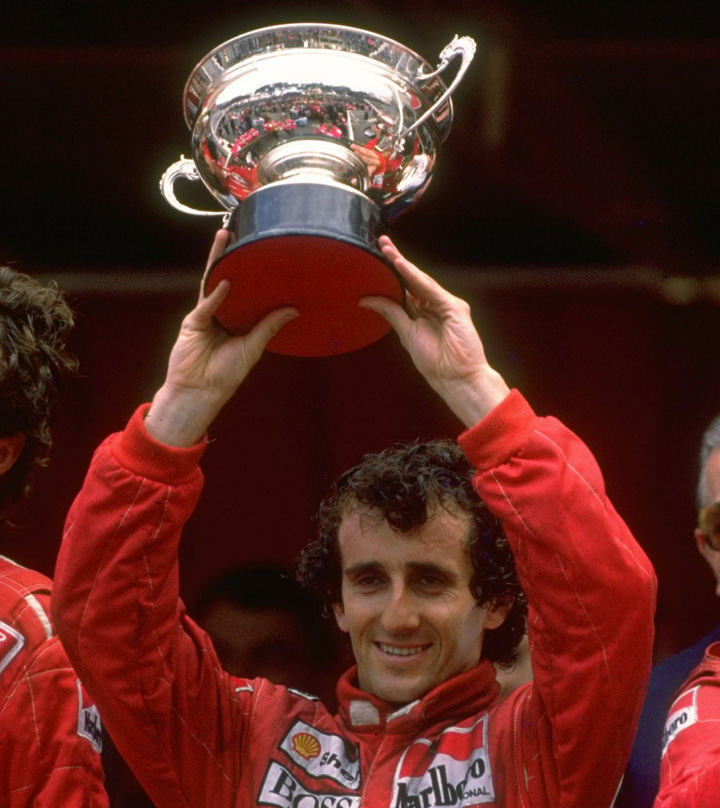 Alain Prost – from football to F1
Did you know that Alain Prost might never have made it to the pinnacle of motorsport had it not been for a freak injury? An excellent sportsman, his boyhood dream was to become a footballer. As a youth he was on the books of French league side AS Saint Etienne.
After a wrist injury had stopped him from playing, a combination of Alain's brother, a keen motorsport fan, and mother persuaded him – against his will – to try a race at the Paul Ricard circuit in southern France.
"He won, one-handed, and suddenly decided he really liked racing! That started the passion, and so he saved money, bought a car and began preparing it for racing. From there he grew into the champion driver we all know," Sacha Prost reveals.
Photo credit: Allsport UK/Getty
During his F1 career Alain Prost was nicknamed "The Professor" for his studious approach to the sport. Seeing Sacha's eyes light up at the company's ability to fulfil customer orders anywhere in the world within 72 hours, and could it be possible that this is a trait passed from father to son?
"That wasn't always the case," he laughs. "I was the crazy one in the family, into extreme sports and a bit of a rebel, although a polite one! I wasn't really a great student either, certainly not as much as my brother.
"But when it comes to 8JS you could say the passion has brought out the professor in me, for the simple reason that when you take that approach you find it easier to reach your goal. That's the way my father viewed racing; instead of fighting yourself and the car, or in my case yourself and the company, if you put things together exactly the way you want them, it becomes so much smoother."
"I was the crazy one in the family, into extreme sports and a bit of a rebel"
To date, the pinnacle of this methodical approach for 8JS has been securing a collaboration with Formula 1 to mark the sport's 70th anniversary. A remarkable achievement for a relatively young brand; and all the more impressive given that this is the first official collaboration of its type ever signed by F1's promoters.
And it was earned, not given, as Sacha is quick to point out. "What makes me proudest is that this was completely engaged by myself and 8JS, with no involvement whatsoever from my father. As you'd expect, it was a very competitive process, very political, which took almost two years to navigate through. Now we have the ranges out there and they are selling well. We are delivering to our customers – that's what makes me sleep well at night!"
What next for 8JS? Sacha hints at an important new development on the technology side, though he's understandably tight-lipped ahead of its launch.
"I can't give out too much, but anyone who knows me knows that I'm passionate about technology. So, we're going to be doing more in the area of apps and social media, but targeted to our niche.
"It's a big step and, in time, I hope we'll grow into a company that is clothing brand, design house and tech player rolled into one. That's where I really want us to be and what I'm excited about."
To discover more about 8JS, visit the website
Enhance your entrepreneurial expertise
Our Master's in Hospitality, Entrepreneurship and Innovation teaches you the A-to-Z of entrepreneurship.