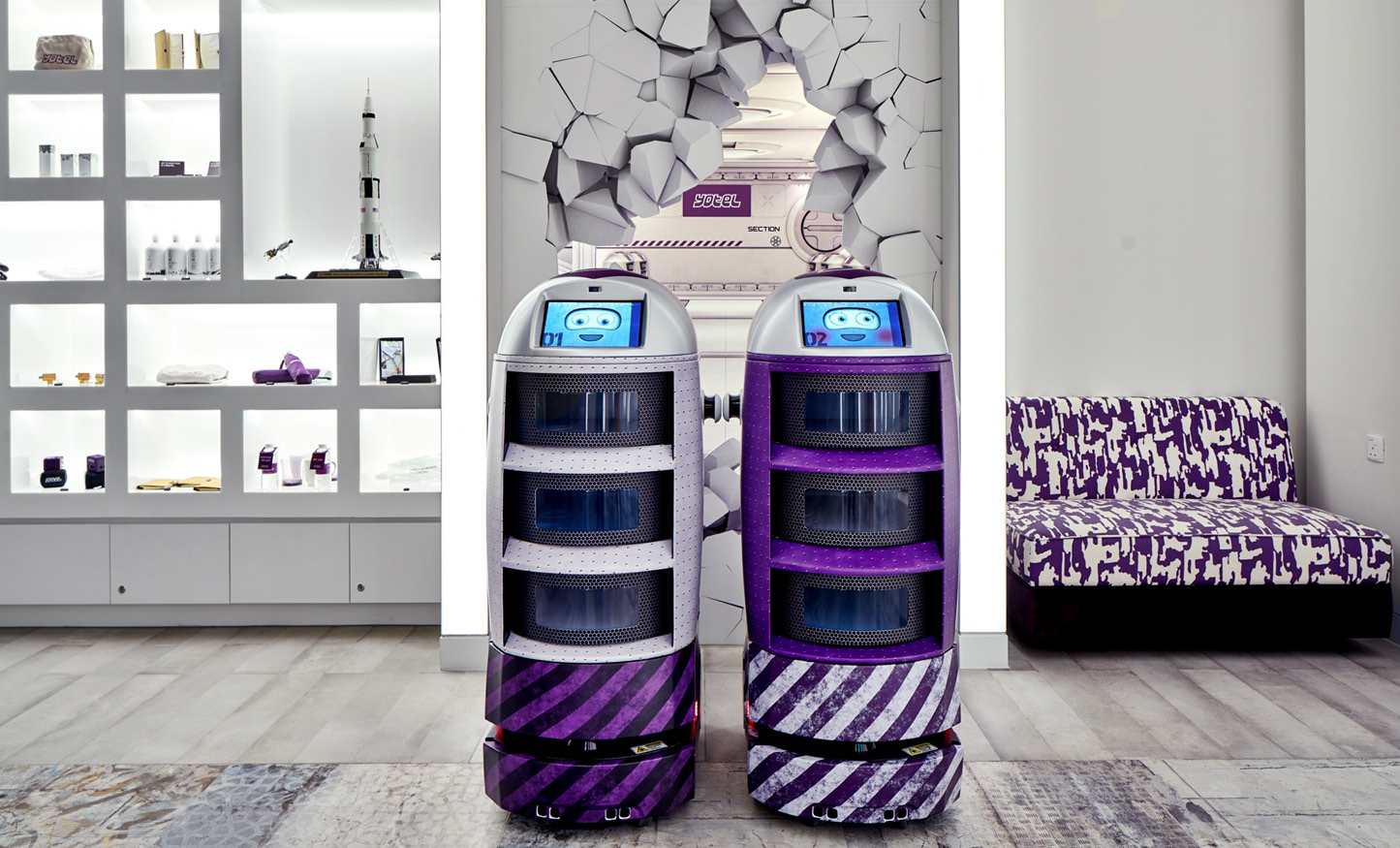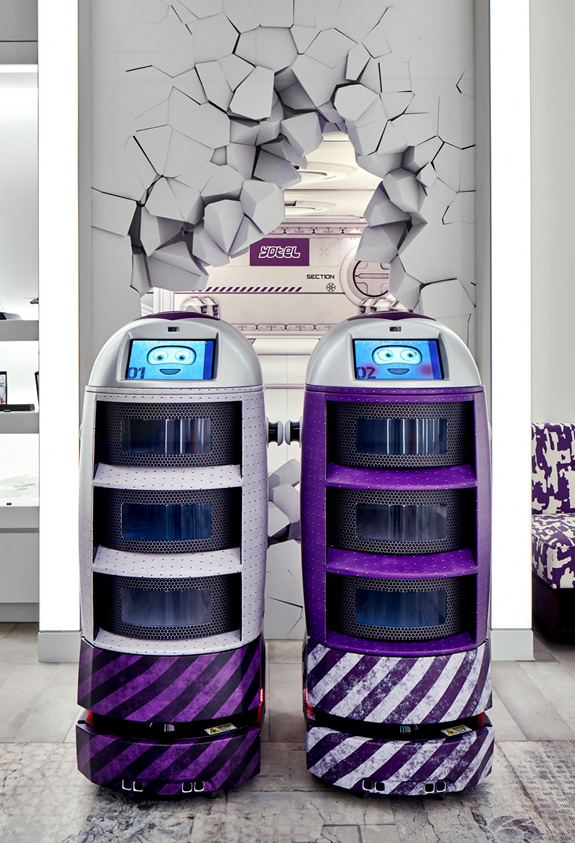 In his six years as Chief Executive of YOTEL, Hubert Viriot has taken an inspired hospitality concept and grown both it, and the team behind it, exponentially. We found out why he's shrugging off the industry's present challenges to maintain a positive outlook, ensuring the business stays firmly in growth mode.
Successful businesses give the customer what they want. Very successful businesses understand what this is before the customer does. And the really successful ones manage to figure it out before their competitors.
Having worked out that British consumers might like sushi before most of them even knew it existed, serial entrepreneur Simon Woodroffe has made a habit of landing businesses in that hallowed third category.
His YO! Sushi restaurant chain caused a sensation when its first branch opened in London in 1997. And then, 10 years later, he brought the same leftfield thinking to the world of hospitality with the launch of YOTEL, a funky, space-smart, tech-savvy concept that represented a truly innovative customer proposition within a traditionally conservative industry.
Although many of the secrets of YOTEL's success seem obvious in 2020, and indeed they've since been imitated by numerous rivals, think back to 2007 and it's a different story. In fact, YOTEL was launched into an industry which had fundamentally different priorities and was thus highly skeptical of its offering, as Chief Executive (and Glion alumnus), Hubert Viriot, explains.
"From a real estate perspective that's very inefficient"
"I spent a sizeable part of my career before YOTEL in real estate, not hospitality," he notes. "I watched as hotels became these giant monsters trying to be anything and everything to their guests. Big rooms, lots of F&B, spas, recreation facilities, and so on. Throughout the 80s and 90s hoteliers thought that this was what customers wanted. But from a real estate perspective that's very inefficient."
Added to this was a rigid hotel hierarchy, from budget to luxury, which followed the maxim 'the more you pay, the more you get'. From the customers' perspective, this often meant that to enjoy the elements of luxury they most desired – a comfortable bed, a great bathroom – it meant opting for the most expensive category, paying a high price for big rooms in properties with lots of facilities they had no intention of using.
YOTEL set out to turn this idea on its head. Its compact rooms (known as 'pods' – see image below) are cleverly designed to make the most of the space available. The beds and bathrooms would not be out of place several steps up the luxury ladder; and right from the outset guests were offered free fast internet – part of an emphasis on technology that has always been a YOTEL trademark.
The original hotels also pioneered fast kiosk check-in; an idea borrowed from the airports in which two of the first three properties were located. This was new thinking for the hotel industry at the time, but has since been widely adopted. "On my first visit to YOTEL New York I was flabbergasted at how quickly guests could check-in by kiosk even though it's a busy, 600-plus room hotel," says Hubert.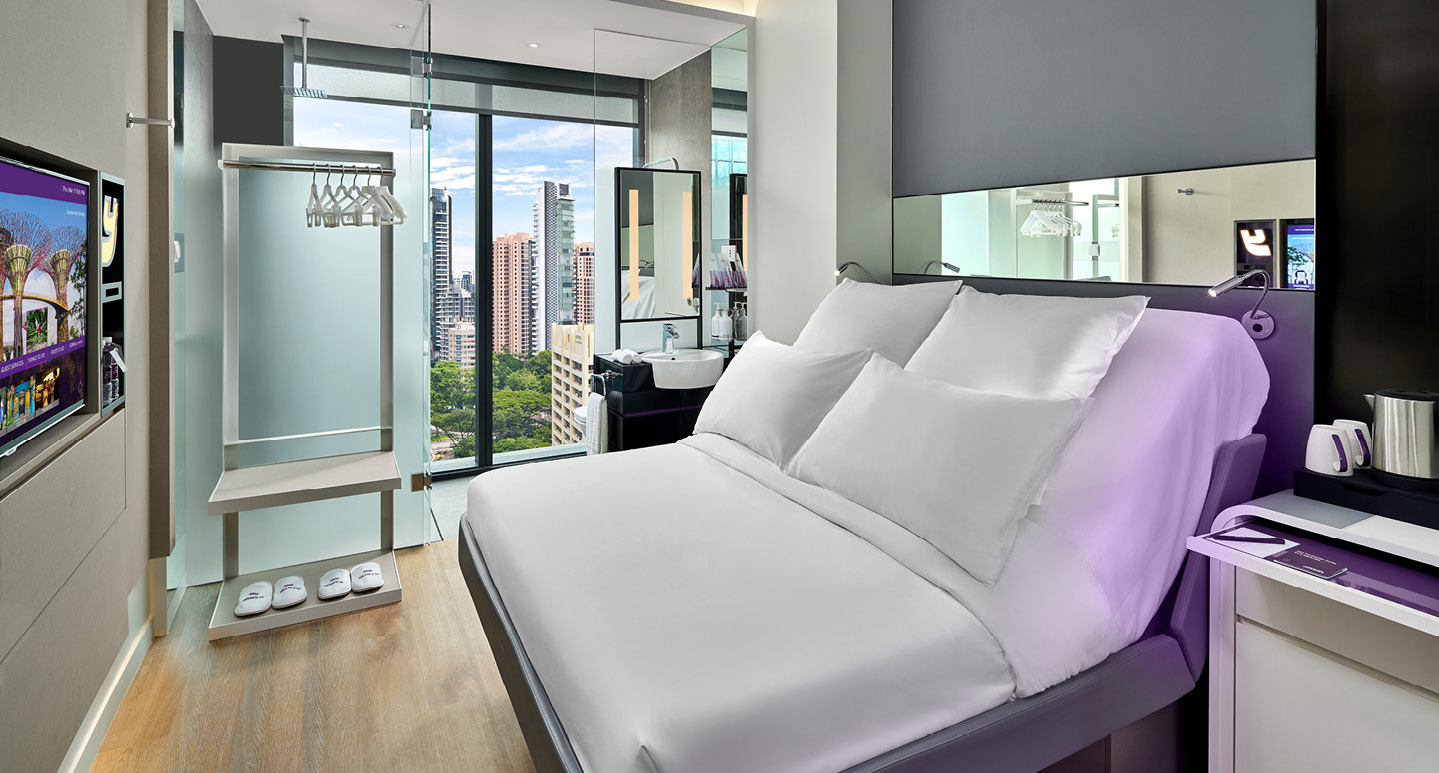 The incredible shrinking stay
Going against the grain on room dimensions was less of a gamble than it may have appeared. In fact, what YOTEL spotted was an inexorable shrinking in the length of hotel stays, particularly in city center properties. And as stays shrank, so did the need for spacious rooms where guests could spread their things out and live in a 'home from home' for a week or more.
At the same time, the explosion of internet usage, and particularly the growth in social media and peer-to-peer review sites like TripAdvisor, shifted the balance of power firmly in favor of the consumer. "Suddenly we as consumers had all this access to information and other people's photos and comments. We could see funky and interesting places to stay and think 'I want that as well, but I'm not going to pay 400 bucks for it'," says Hubert.
Jumping early onto this trend has been a masterstroke for YOTEL. From its very first hotel in London's Gatwick Airport, the company adopted its own brand language, terminology and codes, which take more influence from brands like Apple than from the 'traditional' hospitality business.
"We understood the fact that we are not selling space; we're selling experience."
Today, YOTEL sells a large and ever-growing number of "experiences". The company has 30 properties either open or in its immediate development pipeline, including a number that are temporarily closed due to Covid-19 but are expected to be back in business in the coming months.
Just as importantly, at a time when many operators are drastically scaling back their ambitions, YOTEL remains fixed on a course of international expansion. In August this year the brand opened its first central London hotel, while a first opening in Washington D.C. coincides with the publication of this article. Later this year the Scottish city of Glasgow and the Portuguese city of Porto will also get their first YOTELs.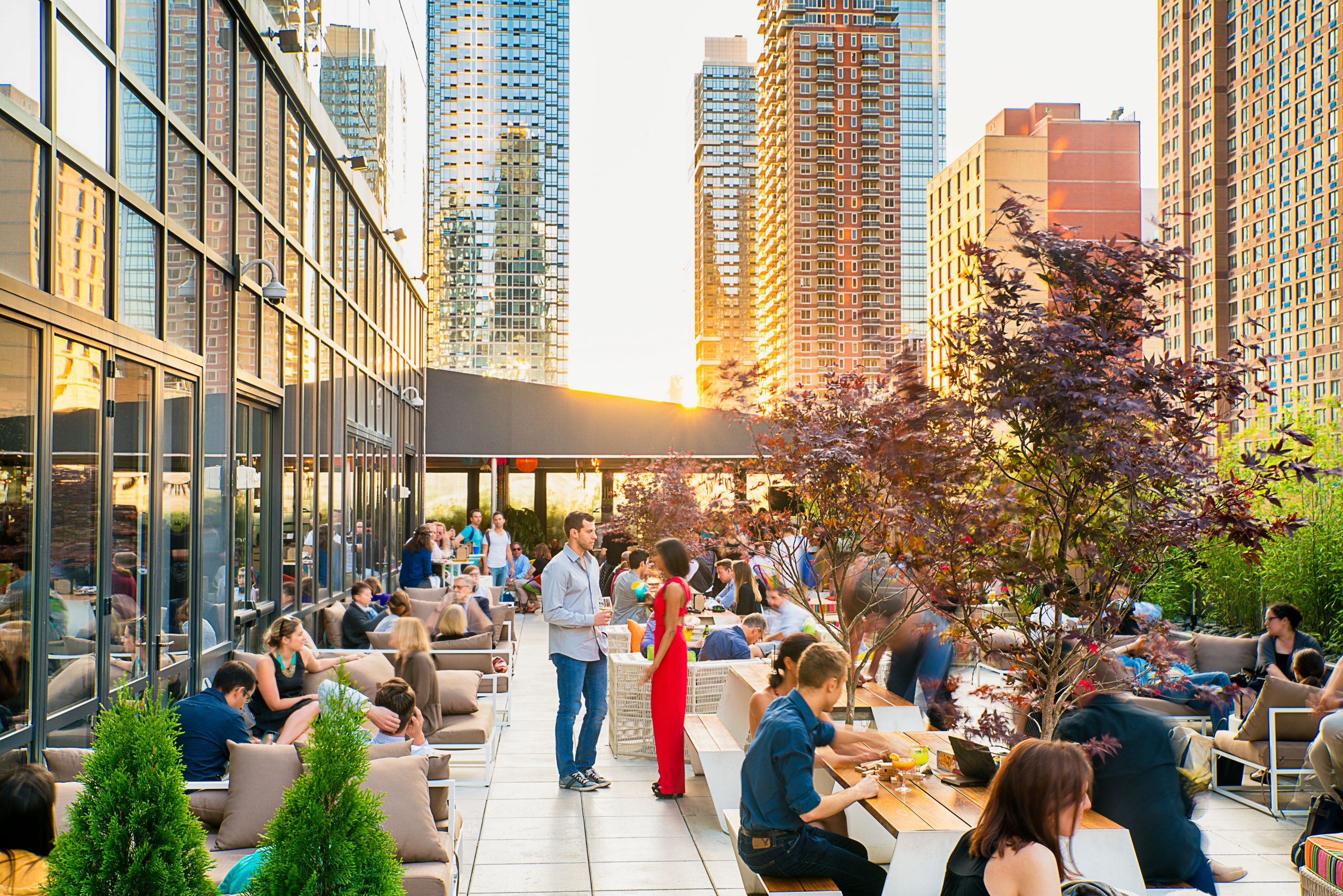 One brand, three stories
As it has grown, so YOTEL has segmented its offer. Today there are three core products: YOTEL, YOTELAIR and YOTELPAD.
YOTEL – for the city center properties across the world, including the original midtown New York hotel and the new opening in London.
YOTELAIR – for airport terminal hotels in major travel hubs such as London, Amsterdam, Paris and Singapore.
YOTELPAD – the newest iteration of the brand, which sees YOTEL enter the extended stay/apartment market. The first YOTELPAD opens in the US ski resort of Park City, Utah, later this year.
How has the company retained its expansionary swagger when many rivals are retrenching?
"Firstly, for myself, my team and my shareholders, we believe in the global appeal of this brand both from a consumer and investor point of view," Hubert states. "From an investor point of view, our model makes so much sense in terms of ROI (return on investment) for their real estate. The numbers add up, whether you are in the UK, Asia or the US.
"From a consumer point of view, even though the current environment is horrendous for the hospitality industry, anybody who knows the fundamentals of travel, tourism and hospitality knows that this is not the end for this industry. There will be structural changes in tourism, for sure, and perhaps business travel will never get back to where it was before in this new age of Zoom. However, we remain fundamentally social animals, who like to meet and discover stuff.
"So travel is an essential liberty that we want and will continue doing. And then you have to factor in this vast reservoir of people who haven't had the chance to travel yet, but who are now reaching a level of personal wealth and/or freedom where they can. We've already seen this phenomenon with China, and there are more countries and regions that are ready to follow this example."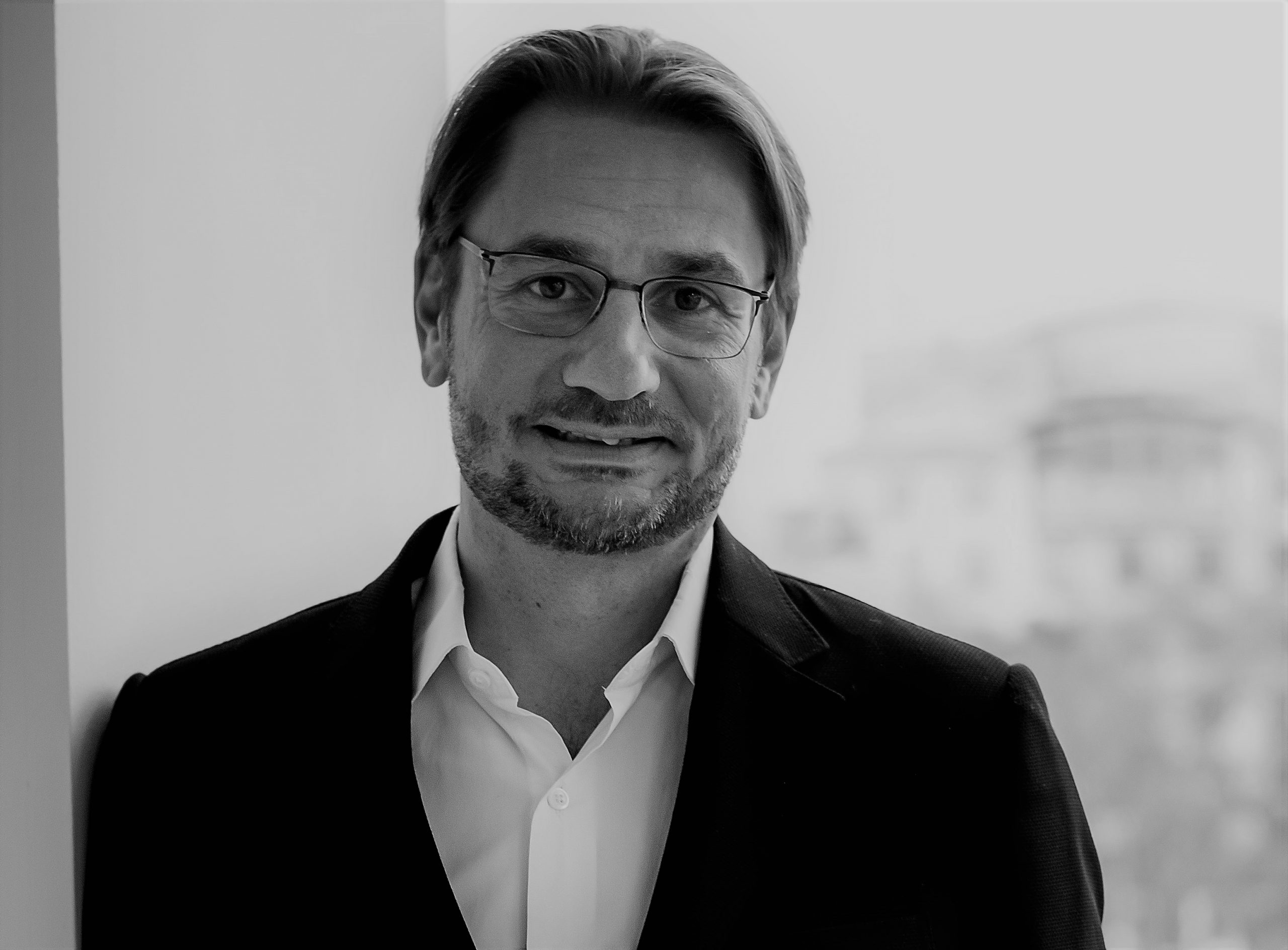 "We are not selling space; we're selling experience"
Hubert Viriot
Hubert is optimistic that 'travel 2.0' after Covid may be a marketplace that is tilted even more towards the core strengths of the YOTEL brand and offering. "If there's more focus on affordability, useful technology, and creating a fun environment, that helps me make my case to potential investors.
"Most hoteliers and investors who understand this business agree that tourism is going to bounce back, and will eventually grow beyond the levels we saw pre-Covid, even if the business itself looks a little different," he concludes. "As we speak we're still signing new hotels, even in the middle of this crisis."
To discover more about YOTEL, visit the company's website
Get the inside track on hotel development
You can study International Hotel Development and Finance as a Bachelor specialization at Glion.