There are so many subjects to study for a Bachelor's degree, why choose hospitality? If you want to know the answer to that question – or more precisely, five answers – then read on…
Do you love to travel and experience new places? Do you enjoy teamworking and interacting with people? Are you hungry to make a career in a dynamic and fast-growing industry? If the answer to any or all of these questions is 'yes' then studying for a hospitality degree might just be the best decision you ever make.
Having a professionally-focused degree to your name has a direct impact on the level at which you can expect to enter the hospitality industry. Indeed, in some fast-developing markets like China and India, it can be hard to get a hospitality job at all without a relevant qualification. According to research by consultants Oliver Wyman, some 83% of entry-level hospitality jobs offered in China demand a Bachelor's degree, with 61% for India. And when it comes to industry specialization the two markets are equally demanding, with a respective 74% and 83% requirement for a hospitality related education.
Those hard numbers are compelling, but the reasons to study hospitality management go much deeper, touching on what you want to be – and where you want to go – as an individual. Here are just five reasons we've selected to convince you that a hospitality degree is your ticket to a bright future…
1. It delivers the industry-specific knowledge you need
To make a successful career in the hospitality industry requires specific knowledge and skills. It's possible to develop these through years of first-hand experience; but studying for a specialized degree accelerates your learning, enabling you to aim for a manager-in-training (MIT) or similar fast-track graduate trainee role.
A typical hospitality business degree provides you with a thorough understanding of the industry's inner workings, including customer service, marketing, operations management, and financial management.
This knowledge can help you excel in various roles within hospitality, from hotel management to event planning. Furthermore, it will bring you up-to-date with industry trends and changes, making you a valuable asset to any organization.
2. You'll open doors to a rewarding career in hospitality and beyond
You'd be surprised at the sheer breadth of hospitality jobs on offer. From revenue management to digital marketing, from guest services to food & beverage, and from event planning to human resources. Whatever your career ambitions, there's a hospitality job that can fulfill them.
And of course a hospitality career is about far more than just hotels. It also encompasses the wider experience economy including sports and events, casinos, private travel, luxury vacation rentals, spa & wellness, and much more.
But that's not all. With their exceptional blend of hard and soft skills, Glion graduates find doors opening to a vast spectrum of industries outside hospitality; some of which might surprise you! Take a look through our alumni stories and you will find people working in banking and finance, real estate, technology startups, you name it. The only limit to your potential career options is your own imagination!
Are you serious about a career in hospitality?
Download our brochure to discover more about our programs and where a hospitality degree can take you.
Download a brochure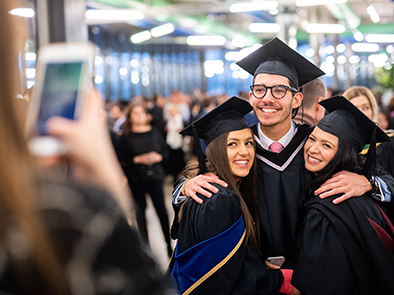 3. You'll acquire transferable skills
You may have heard the expression 'non-linear career'. What it means is that today's employees typically progress by bouncing between roles and industries, rather than following the more direct and linear career trajectory that was common among previous generations.
It makes a career more exciting and stimulating, offering opportunities to take chances and try new things in new locations. But the ticket for this non-linear trip is possessing transferable skills that your future potential employers are looking for.
While a hospitality business degree provides you with industry-specific knowledge, it also helps you develop a set of transferable skills that can be applied to other sectors and roles. These include communication, problem-solving, teamwork, and leadership. Effective communication is essential in any industry, and problem-solving skills are highly sought after by employers. Teamwork and leadership skills are also essential, whether you're managing a team in a hotel or leading a project in a corporate environment. By acquiring these skills, you can enhance your employability across various industries.
4. You'll graduate with real-world professional experience
Many hospitality business degrees – including Glion's – offer hands-on learning opportunities through internships as well as business projects that enable you to work with real companies. Experience such as this is worth its weight in gold, and it should be a prime consideration when you are choosing your program.
Internships in particular provide you with an opportunity to gain practical skills and first-hand insights into the industry. For example, you may be able to shadow a hotel manager or restaurant manager; or work with a team of event planners to plan a conference. This direct professional experience can help you build your confidence, gain practical skills, and make valuable industry connections. Additionally, it can help you identify the areas within the hospitality and tourism industry that interest you the most.
If you'd like to discover more about the Bachelor's internship experience from the student perspective, click here and here to read two stories.
5. You'll become part of hospitality's most powerful network
Networking is crucial in any industry, and hospitality is no exception. By studying at Glion you will join an élite, worldwide alumni network that is now 16,000-strong and counting!
Glion alumni are only too happy to support one another in their business and career endeavors. The network is your ready-made, gold plated international contact book; once you are part of it you will be able to interact with fellow alumni online as well as participating in exclusive alumni events staged throughout the world.
Not only this, but you can also add the network connections you make through your professional internships and business projects, field trips, and industry visits; not forgetting your expert faculty, who are only too happy to stay in touch with graduates and offer advice when asked.
It means you are never alone, no matter where – or to which industry – your career takes you. That's an incredible extra return on your investment in a Glion education!
Study hospitality managment at Glion and launch your career in the global hospitality industry.
Glion is a world-renowned hospitality school with over 50 years of experience. Our Bachelor program is designed to give you the knowledge, skills, and network you need to succeed in the global hospitality industry.
Bachelor of hospitality management