Customer engagement has been attracting more attention in recent years, and if you are looking at a hospitality career, it's a vital area of the business to know about.
While once it was enough to just offer a good service, there are now new tools, approaches, and expectations that mean lacking in engaged customer service could seriously damage your business.
This is largely thanks to developments in analytics and higher competition in many sectors, including hospitality. Companies now need specific information to stay ahead and outdo their competition.
Having effective customer engagement strategies can help a business in a wide range of ways, and working in customer engagement can be a very rewarding career.
In this article, we will go over what customer engagement is, how it affects the hospitality industry, and what you need to know to succeed in a customer-focused career.
What is customer engagement?
Customer engagement is all about building a relationship between a business and its customers.
This is a long-term approach to making sure customers are familiar with your brand and receive excellent service that makes them want to come back again and again.
The concept of customer engagement includes all the ways that customers become aware of your brand and start to form an impression of your company, including direct communications to the customer, advertising, social media posts, customer care, and even packaging and other factors to do with the product or service you offer. 
With the advent of social media and online marketing, there are even more customer engagement platform options that businesses can use to keep customers engaged even when they are not actively using your product or service, throughout the whole customer lifecycle.
Customer engagement vs customer experience
Customer or guest experience is all about a customer's journey with the brand. This will usually be initiated by the customer, who reaches out to the company for a specific reason.
Customer experience is still incredibly important, but it has a narrower scope than customer engagement, which is led by the company and includes all possible ways the customer could interact in the future.
Of course, both are needed to make sure that the customer has a positive experience with your brand.
Discover world-class training and techniques in guest experience
This intensive Master's degree combines immersive learning and professional internships to give you all the skills you need in luxury management and guest experience
Master's in customer experience
Customer engagement vs customer service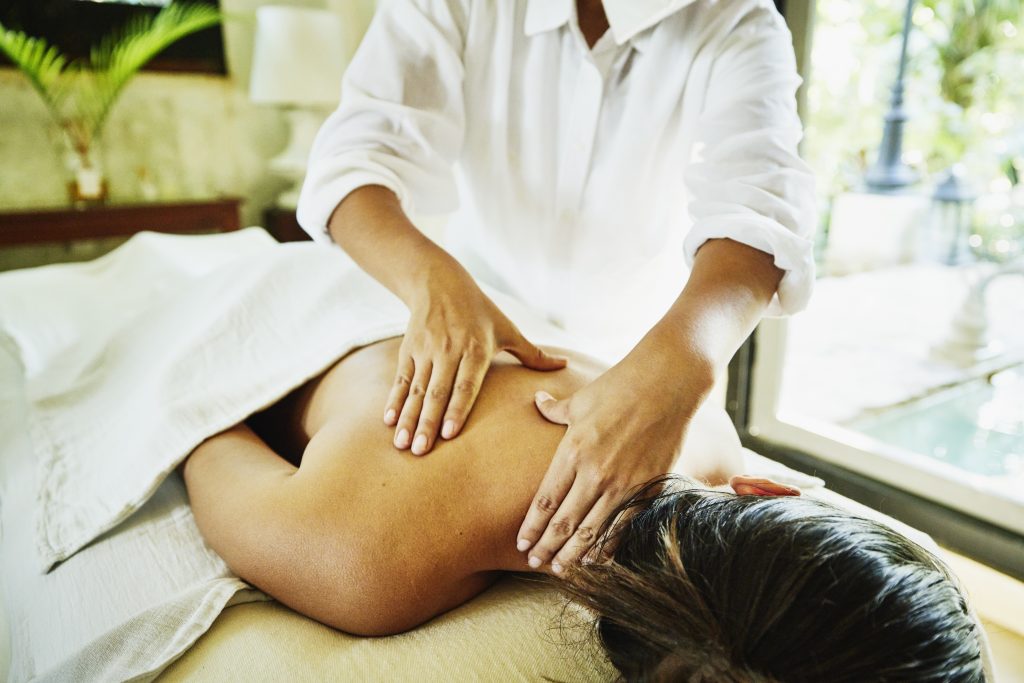 Photo credit: "Thomas Barwick/DigitalVision via Getty Images"
Customer service is also more focused than customer engagement. This encompasses how a customer is treated directly by members of staff, including before, during, and after their purchase of your products or services.
On the other hand, customer engagement includes communications such as email newsletters, adverts, and social media. Of course, you want to make sure your customers feel engaged by customer service during their interactions as well, since excellent customer support is critical to business success.
Examples of customer engagement
A good customer engagement strategy will include a lot of different ways of fostering customer interaction, such as:
Welcome emails

Customer surveys

Customer support logs and follow-ups

Announcements for new offers or services

Apps with relevant notifications for a personalized experience

Loyalty programs and rewards

Social media posts that encourage interaction
Why is customer engagement important?
Having good customer engagement is important because it means that you can be frequently in your customers' minds, and it can be the start of great long-term relationships with your customers.
This can help boost your business in a number of ways. There are also several useful metrics that you can access about customer engagement that help give you an idea of how well-received your brand is, along with areas where you can improve.
The importance of customer engagement in hospitality
Just as the importance of hospitality in business cannot be underestimated, customer engagement is a vital part of making sure that customers get the level of attention that they expect.
Hospitality is a highly competitive field, and customer engagement can help a business stand out from its competitors.
In fact, there are a lot of different benefits that a hospitality business can get from customer engagement, which we will cover below.
The benefits of customer engagement in hospitality
Photo credit: "Thomas Barwick/ DigitalVision via Getty Images"
Here are some of the main customer engagement benefits that a hospitality business can enjoy:.
Improved customer satisfaction and enhanced customer relations
If your customers have an open and easy relationship with your brand, it helps them know exactly what to expect.
Having more channels to connect with your customers also means that they can reach out to you if they have any needs that aren't being met with improved customer advocacy.
All of this can help improve customer satisfaction and the customer relationship you have.
You'll also be getting better customer insights, which can help you improve what you offer and again leads to an enhanced customer experience and decreases customer attrition.
Increased customer loyalty and retention
Improved customer satisfaction leads directly to more customer loyalty and increased customer retention.
Simply put, if your customers are happy they are more likely to come back to your company again and again and be a loyal customer for years to come.
Opportunities for improved customer feedback also mean that you can make sure your services are updated in line with what customers want, which is one of the more effective customer retention strategies you can use.
You'll also find increased customer referrals from satisfied customers.
Enhanced reputation and brand image
A large part of customer engagement can be effective before customers even use your services, and if done well, you can get an improved brand image by using the right types of engagement.
This is particularly important in the hospitality industry where there is a lot of competition from well-known brands.
Improving brand image increases the likelihood that a potential customer will take that first step on the customer journey with you.
Increased revenue and profitability
All of this leads to increased sales and increased revenue. Engaged customers are more likely to feel connected to your brand, and satisfied customers are likely to become brand advocates for your hospitality venue.
All of this leads to having more customers and being able to charge a higher rate for your services, as well as giving an increased customer lifetime value, that is, how much each customer spends with the company across all their interactions with the company.
Improved business performance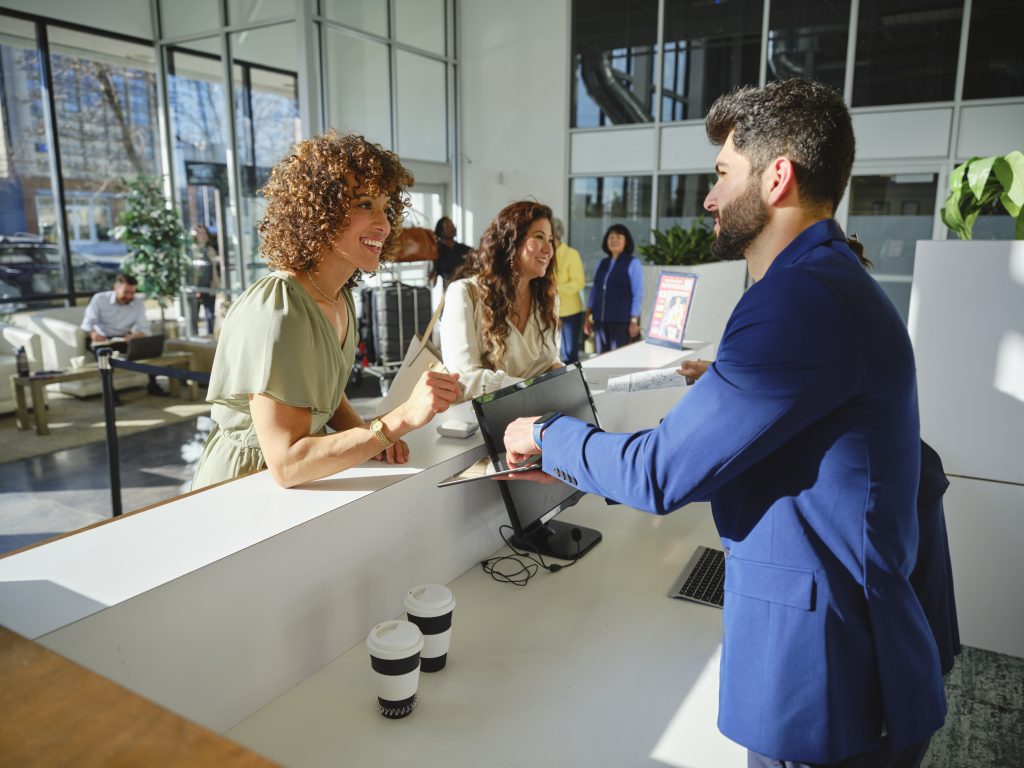 Photo credit: "RichLegg/E+ via Getty Images"
Not only does great customer engagement lead to better sales, but it can help you improve your business performance in other ways.
Engaged customers are more likely to reach out to the company with feedback, which is vital for you to improve what you offer, whether that's a personalized customer experience or a change to your general way of doing things.
This feedback can also help you stay abreast of hospitality industry trends to make sure that you stay as one of the leading companies in the hospitality sector.
Improved employee satisfaction and retention
Better customer engagement can even help hotel management create a more positive working environment and retain staff.
Better feedback from customers and more satisfied customers can help make a more pleasant working environment. On top of this, if your customers and staff feel more connected it can help satisfaction for your staff as well.
More opportunities for professional growth and development
The feedback and interactions you get with customers who are engaged are vital.
This helps make sure that everyone in the company knows how they can improve, and it also gives management an idea of what to aim for. This can be combined with professional development plans to really make the most of the information you get.
What do I need to work in customer engagement for hospitality?
Photo credit: "Anastasiia Krivenok/[Moment via Getty Images"
Working within customer engagement for hospitality is rewarding, but there are a lot of skills that you need, as well as qualifications such as hospitality degrees that can help you get ahead.
Careers within customer engagement
Generally, as a customer engagement specialist, you would be working within a marketing team or as part of a customer service team.
This is because these are the main two departments that you would have to collaborate with.
This would involve planning engagement strategies and analyzing the data that you get from them in order to assess how successful your strategies have been.
Customer engagement is also substantially about managing the employees who interact with customers, which makes this a great role if you want to be working in a managerial position and direct how the company presents itself to customers.
Education and qualifications for customer engagement
One of the best paths into hospitality customer engagement is through a hospitality degree.
This will help you become familiar with the industry and the customers you will be engaging with. For example, a Master's in hospitality business would mean you could immerse yourself in techniques and developments that are vital for success in this role.
There are also qualifications that focus on customer service, customer engagement, or brand management if you want to specialize.
Transform your career with world-class hospitality degrees at Glion
This applied business degree is a platform for launching a dynamic career in any area of hospitality, including customer engagement
Bachelor's in hospitality business management
Important skills for customer engagement
There are many important skills that you should acquire if you want to reap the benefits of customer engagement, including:
Written and verbal communication

Data analysis

Marketing

Time management

Project management

Team working

Team leading

Creativity
Benefits of customer engagement: summary
Customer engagement is vital for modern hospitality businesses to thrive.
Many businesses are competing for the same customers, so using tools such as social media or email campaigns as well as focusing on branding and customer experience can all help.
Some of the benefits of customer engagement are better name recognition, increased revenue, and improved customer loyalty, all of which help a business in the long and short term.
If you want a career in customer engagement, consider a degree from Glion, which will give you the skills and experience you need.
Photo credits
Main image: Thomas Barwick/DigitalVision via Getty Images